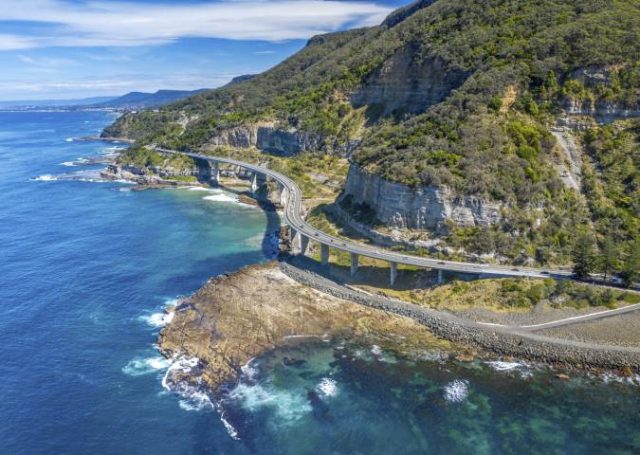 Consider yourself a bit of a road trip novice? If you're looking for memorable road trips from Sydney for when we can get out on the open road again, here are five easy routes to get you started. Whether it's stunning beaches, national parklands, kid-friendly attractions, cellar doors, or high-octane adventures you're after, there's a little something for everyone.
For families: Blue Mountains
Families travelling with restless children will love the fact the Blue Mountains is just a 1.5-hour drive west of Sydney. Once you arrive, you have endless expanses of UNESCO World Heritage-listed national parkland to explore, from sheer sandstone escarpments to waterfall-cooled valleys, with plenty of kid-friendly hikes and attractions in between. Tackle the Grand Canyon walk, a 6.3km loop offering views you won't forget in a hurry.
Move on to Scenic World in Katoomba, where you can admire the Three Sisters rock formation from the Scenic Skyway, Cableway and Railway — the latter is the steepest of its kind in the world.
Then get a front-row seat to the seasons at the Blue Mountains Botanic Garden Mount Tomah, where walking trails reveal the 14,000 plants that make these grounds so captivating. 
For adventure seekers: Port Stephens
A 2.5-hour drive north of Sydney along the Pacific coast, Port Stephens is not only the dolphin capital of Australia — home to a resident population of 140 bottlenose dolphins — but also claims the largest moving coastal sand dunes in the southern hemisphere.  
Adrenaline junkies will want to sign up for a day out with Sand Dune Adventures, which offers quad-biking excursions over the Stockton Sand Dunes, also revealing the significance of this part of the country to the local Aboriginal community.
Cool down on the water, taking a kayak out to explore the crystal-clear waters of Shoal Bay; keep watch for those dolphins. The other big marine mammals to look out for are whales. Trek to Tomaree Head Summit (2.2km return) — the perfect vantage to spot these gentle giants on their annual migration between May and November.
For gourmands: Hunter Valley
Cellar doors, distilleries, fromageries and fine-dining restaurants await in the Hunter Valley, a 2.5-hour drive north of Sydney. Australia's oldest wine region has more than 150 cellar doors, highlights of which include Leogate Estate Wines, known for bottling some of the finest chardonnay, semillon and shiraz in New South Wales.  
Oenophiles will also appreciate the hilltop setting at Audrey Wilkinson, where you can enjoy a cheese-and-wine tasting or find a spot among the vines for a gourmet picnic. Then bed down in one of the estate's three cottages, each with sweeping views of the countryside.
Love your wine full of character? Stop past Tamburlaine Organic Wines, one of Australia's largest independent organic wine producers.
For a memorable meal, make a reservation at highly-awarded Muse Restaurant, located at Hungerford Hill winery. The contemporary Australian menu here focuses on Hunter produce, with an emphasis on native ingredients.
For nature lovers: Grand Pacific Drive
One of Australia's greatest road trips, the 140km-long Grand Pacific Drive unites coastal drama with rainforest, secluded beaches and ancient rock formations. Your route begins in the Royal National Park, 40km south of Sydney. The oldest of its kind in the country, this park is webbed with hiking trails and lookouts, not in the least Wedding Cake Rock (which — as its name suggests — looks like a slice of wedding cake) and Eagle Rock, for sunset vistas. Note that there are no fences or barriers on the cliffs surrounding Eagle Rock, so do be sure to take care when visiting.
Further south, the Sea Cliff Bridge snakes 665m over the crashing waves of the Pacific Ocean. There are a number of vantage points to gain perspective of the structure, at the same time offering glimpses of the manta rays that glide below, the sea birds soaring above, and the whales far off in the distance.
Continue south to Kiama, where the Blowhole shoots seawater up to 30m into the air; then to Jervis Bay, for whale and dolphin encounters, snorkelling and diving with seals, and paddle boarding across crystal-blue water.  
For happy campers: Glenworth Valley
There's no better way to connect with the great outdoors than pitching a tent (or having someone else do it for you) in the wilderness. An easy hour's drive north of Sydney, camping paradise awaits in Glenworth Valley. From glamping in style in luxurious bell tents to reconnecting in secluded cabins with spectacular views of the valley to putting up your own canvas beside cool rivers — this part of the Central Coast is like nature writ large.  
This is also a major hub outdoor adventures, with facilities for horse riding, quad biking and kayaking, among other activities. Don't miss the running of the horses — the moment 200 horses rush across the valley's riding yards every afternoon.