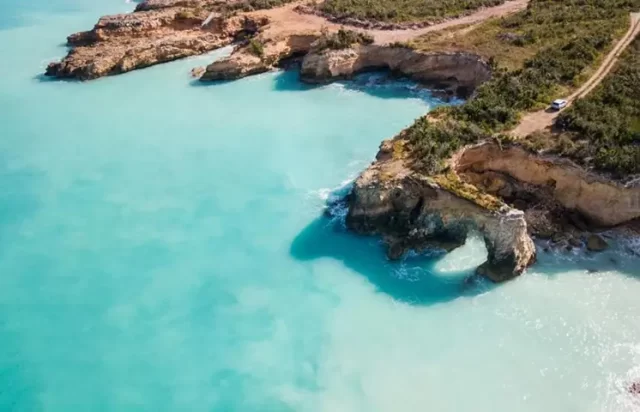 The Caribbean has always been a great spot for those interested in fishing both recreationally and competitively. The region's clear, warm waters are home to an incredible breadth of aquatic life – including some of the most elusive game fish in the world. In quiet Anguilla – the Caribbean destination traditionally beloved for its postcard-perfect beaches and incredible accommodations – fishing is quickly becoming a top attraction. Whether you prefer fishing from the deck of a sailboat or just casting your line from the comfort of the picturesque shore, Anguilla is an ideal destination for those seeking to land a big one on their tropical getaway.
The great thing about fishing is that it can either be immensely exciting or profoundly relaxing – and Anguilla has options for both! We don't want to keep you on the hook: read on below for a beginner's guide to fishing in Anguilla.
Sandy Ground: Anguilla's Charter Hub
Already a popular destination in Anguilla for its offering of prime white sand, energetic restaurants, and aquatic excursions, Sandy Ground is also one of the island's best places to fish. Here, floating in the calm and crystalline waters on the north side of the island, you'll find a myriad of fishing boats moored in the harbour and no shortage of smiling charter captains happy to take you out for an expedition. The fishing boats and charters usually come and go throughout the day around the south and middle part of the beach, leaving the north side a little quieter – perfect for those who'd prefer to cast from the shore in peace. This part of the island is bustling during the annual Anguillan carnival, with parties and a bigger concentration of boats.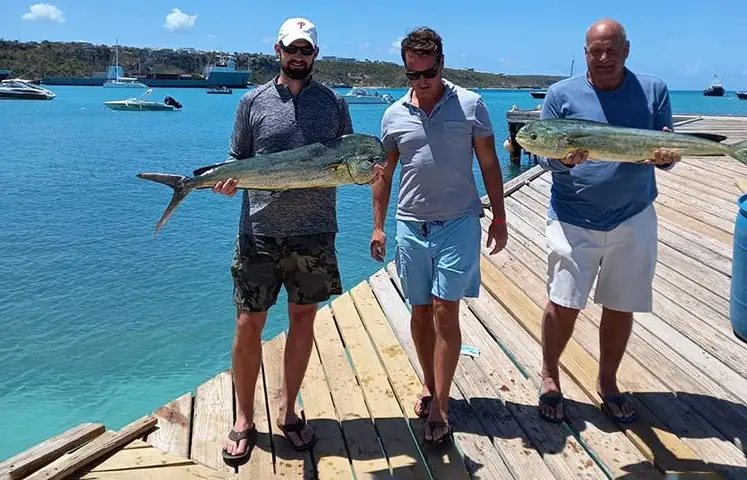 Among the most popular charters on the island are the "Nature Boy" and "Gotcha", offering great fishing tours that include snacks and beverages all-inclusive, helping you to focus on the task of reeling in a whopper. These services also offer deep-sea fishing for those that are looking for the most desirable species of sport fish including red snappers, barracuda, kingfish, sailfish and more. Those interested in fishing from the shore are encouraged to do so but will require a 'sport fishing license' that generally costs $80 USD per day. It's always a good idea to inquire with the property you're staying at about fishing tours, as many will organize them for you at preferential rates.
Shoal Bay East: Fishing the Reef
Shoal Bay East, located on the northern coast of Anguilla, is considered one of the island's most beautiful beaches – its quiet bay is just over three kilometres long and features powdery white sand and crystal-clear waters. As a fishing spot, Shoal Bay East has an impressive claim to fame: it's encircled by a teeming barrier reef! Visitors can expect to catch a variety of species that live amongst the corals, including snapper, grouper, jack, and barracuda. The reef is home to a startling array of other marine life that is better observed than caught, including colourful tropical fish, sea turtles, and stingrays. The waters around Shoal Bay East are also shallow, making it an excellent spot for fly fishing if you prefer to do your best work from the comfort of the shore. Adding to Shoal Bay East's list of virtues, it's also eminently accessible: visitors can easily reach the bay via car or taxi and can rent fishing equipment on-site.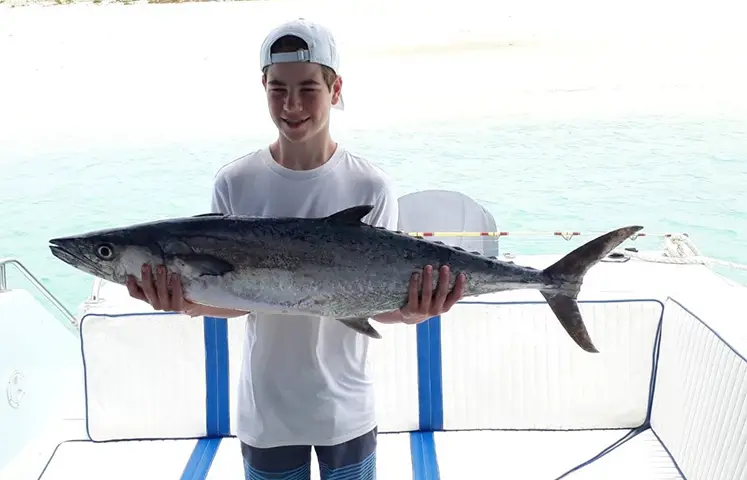 Dog Island: Offshore Thrills
Dog Island is a small, uninhabited island located less than ten kilometres off the north shore of Anguilla. The island – accessible only by boat and devoid of any traditional tourism facilities – may not hold overwhelming appeal for the average traveller but is beloved by a certain clientele. Anguilla's fishing charters love heading to Dog Island, and it's no mystery why: the waters around it are deep and clear, providing excellent visibility for fishing. Dog Island is particularly well-known for its big game fishing, and visitors can expect to angle legendary sport species such as marlin and tuna. The island is located in an area known as the Anguilla Channel, where nutrient-rich water from the Atlantic attracts a variety of fish species. Fishing charters servicing the area typically provide all necessary equipment and can accommodate different levels of experience. Some fishing charters also offer snorkelling and beach combing on Dog Island as part of the excursion.
As a final note of general advice, Anguilla's locals are very welcoming when it comes to recommending fishing spots and activities, so don't be afraid to ask around. As long as they obey the rules and regulations of any fishing events that may be going on, the visiting fisherman will make many friends during their stay in Anguilla. For more information on the island of Anguilla and its world-class fishing, head over to https://ivisitanguilla.com/.