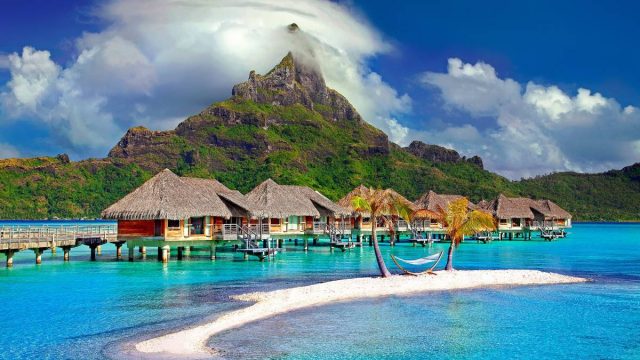 Retirement is the time to sit back and enjoy the spoils of your lifelong efforts. It is the perfect time to reward yourself for all the years of hard work and what better way than travelling the world in style? Make sure you are financially stable enough to splash on a holiday like this or have some assets that you can monetise, such as property through equity release mortgage. Without further ado, if you are looking for a well-earned holiday to pamper yourself, here are 5 of our suggestions for luxurious holiday destinations.
Bora Bora
If you are looking for the perfect beach holiday, look no further. Bora Bora is a stunning island that is not crowded like Mallorca or Ibiza and hosts a range of luxurious hotels, clear blue waters and beautiful landscapes. Located in the Society Islands of French Polynesia, this picturesque group of islands could be the ideal place to spend weeks with your significant other, sipping cocktails all day and night on the beach.
Costa Rica
For the more adventurous holiday-goers, Costa Rica is a great destination with rugged rainforests, serene coastlines and colourful wildlife. This adventure will provide the perfect blend of long walks through tropical nature, fun activities and relaxation on the beach. In-between all the sunbathing and bird watching you can also enjoy some tasty local cuisine in one of the budding new restaurants and bars that have popped up in recent years. There are also five star hotels available with all the amenities you could wish for.
Dubai
Next on the list we have Dubai, which is often seen as a synonym to luxury. Spinning the globe and landing in the Middle East for this holiday from heaven, Dubai is warm all year-round so you can fly whenever suits you. If you want to live the high life and skip winter at home, then this is the place for you. Dubai has great shopping locations, fascinating hotels with world-class spas, lavish restaurants and jaw-dropping architecture. You can also take a journey into the dessert or even check out the tallest building in the world, the Burj Khalifa.
Bali
A very popular destination indeed, Bali is one of the most beautiful Indonesian islands. A true shining jewel among more than 17,000 islands in the region, this tropical getaway is also perfect for a holiday all year round. With consistently warm weather and shorelines as far as the eye can see, Bali is another great beach holiday. Whether it's choppy waves to surf or still crystal clear waters you are looking for, you can find it on one of the many available beaches. Bali also has a rich cultural history, with many religious temples that can offer an insight into ancient teachings.
French alps
Something a little different to finish off and a truly luxurious holiday, we have the French alps. If you like to ski and drink wine then this is the perfect destination for you. Rent a chalet where you can wake up to incredible views of snowy mountains and later take to the slopes with all the family before returning to your warm cabin with a hot chocolate in front of the fire. For those who may choose to visit in the summer, while you may not be skiing or snowboarding as much, you can still enjoy long walks and spas to relax and wash away all your worries.
Now you have a list of dream holiday destinations to choose from. All that is left is to make a choice and book your next flight. Take your time choosing, ensure you have enough money in the pot and have fun planning.