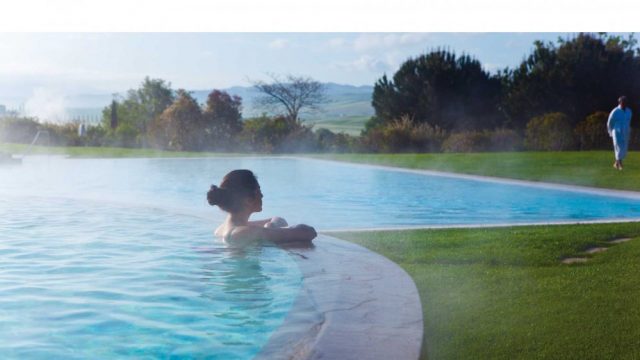 The ADLER Spa Resort Balance in Italy's stunning Dolomite Mountains combines pioneering holistic medical and wellness programs with the indulgent amenities and high-end luxury of a 5-star spa resort. Here, scientifically-proven techniques in functional orthopedic traumatology, and neural, posture and pain-relieving laser therapies are enhanced by relaxing and rejuvenating massages, wraps and other spa treatments, gourmet health-promoting dining and enjoyable indoor and outdoor fitness options. The ADLER Balance holistic approach to wellness, designed to promote vitality at every age, draws on classic and alternative medicine traditions.
Known as ADLER MED, the program takes an interdisciplinary approach, tapping into genetic medicine, nutritional science, biochemistry, physiology, psychophysiology, mental training and exercise as well as cosmetic surgery and aesthetic medicine. A medical team of English-speaking doctors and specialists work with each guest to create an individualized wellness program that can range from one day to several weeks. Packages focused on detoxification, weight loss/nutrition, stress management, aesthetic rejuvenation, functional orthopedics, and general preventive medicine and well-being can be tailored to individual needs.
Every ADLER MED visit begins with a medical evaluation. An onsite lab provides same-day results for blood, saliva, intestinal flora and other tests so there's no wasted time, and cutting edge technology can often help nip potential problems in the bud. For example, bio-electric checkups can reveal disorders that might be treated with targeted exercises and treatments and a tailored nutrition plan. This can be further honed with a bio-electrical impedance analysis of body composition and basal metabolic rate.
Pampering spa treatments such as compresses, massages and thermal baths, reinforce health and relaxation, while individual coaching, guided hiking, ski and e-bike excursions and exercise and other classes help set a base for ongoing fitness. And the setting is ideal. Walking, swimming and simply being out in the clean mountain air has a cleansing effect. Dining at ADLER Balance is a gourmet and luxurious event, even when adhering to low-cal and other special dietary requirements. The resort's award-winning chef, Armin Mairhofer, works with local producers to source organic ingredients so guests can enjoy creative, flavorful cuisine that draws on traditions from the region, the Mediterranean and the world.
Since the goal is to create sustainable good health, every patient ends their visit with a consult and an individualized plan to help them incorporate the wellness techniques they've learned into their lives at home. This often includes customized recipes using simple ingredients that take into consideration their tastes, lifestyle, specific body composition and metabolic profile, exercise programs and techniques for relaxation and stress control that build on their progress at ADLER Balance.
The 30-suite ADLER Spa Resort Balance, where the Dolomites' Adler MED program is based, is a serene hideaway, open to guests aged 14 and up. Patients visiting with families can stay at the adjoining sister resort, the 130-room ADLER Spa Resort Thermae. The two resorts share the "Aguana Water & Wellness World," 3,500 sq. meters of indoor and outdoor pools and hot tubs, with lovely waterfalls and massaging jets, a dreamy salt grotto, and distinctive saunas and steam baths with infused with natural ingredients ranging from organic hay to lavender.
The innovative ADLER MED program is also offered at the 5-star, 90-room ADLER Thermae Spa and Relax Resort in Tuscany. Set between the wine areas of Montepulciano and Montalcino, the Tuscany ADLER Thermae spa is acclaimed for its thermal baths and glorious setting in rolling hills of the Val D'Orcia, a UNESCO World Heritage site.
For more information, about: