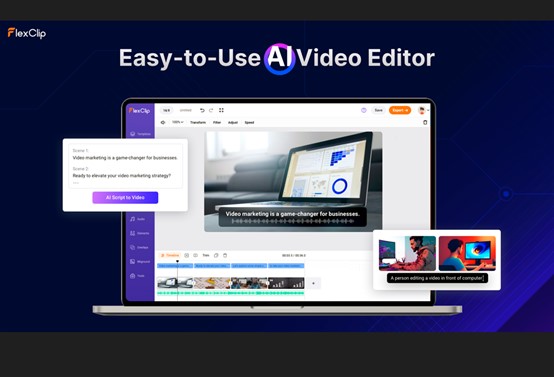 Modern browsers have become so powerful that you often do not need to install a separate application on your computer to solve a problem. It is enough to launch Chrome or Firefox, and there will definitely be a service that will complete your task online.
In this article, I want to discuss the FlexClip service, which will help you edit videos online. Of course, you should expect something other than Adobe or DaVinchi quality from such solutions. But they can solve basic and many professional tasks. So what can FlexClip do?
Beginning of work
After authorization in the service, you can start working on a video from scratch or choose one of the hundreds of templates on various topics. This option is great if you have an idea for a video but need more experience in creating high-quality effects and transitions.
When you select a template, you can go to its preview. Other FlexClip templates with similar themes will also be shown here. If everything is OK, click the Customize button and proceed to video editing.
Video Editor
The editor itself does not cause difficulties when working. It will be easy for beginners to figure out what's what. But for professionals, more than some basic features may be needed.
As with any video editor, here you can add your videos and perform various actions, such as cropping, splitting, changing the speed and aspect ratio, adding watermarks, filters, and color correction. You can also add your audio or voice acting.
Unfortunately, FlexClip cannot work with multiple tracks. There is not even a separate audio track. Everything is placed on a single timeline.
Otherwise, you can make simple editing, swap clips, and add various effects. I want to talk about a few of them below.
What can be added to the project
Templates
Whether you started a project from scratch or have already applied a ready-made template, FlexClip allows you to add templates to your video at any time.
Templates are ready-made video projects with transitions, special effects, music, and other goodies. You have to replace the text, adjust the slides for yourself, and the video is ready.
Text and overlay
You can add various text inserts to the project. These can be both titles and text elements to add to the clip.
Video, photo and music
Here, unlike the Media section, you can add stock videos, photos, and audio, which will be free with a subscription to FlexClip. The sections have category navigation and a convenient search to find exactly what you need.
Elements
If you are familiar with the word "clipart", you will find them exactly here. This section contains various decorative things, such as buttons, shapes, arrows, masks, frames, and other figure shapes.
Backgrounds
Backgrounds – they are backgrounds in any application. What I liked about FlexClip is that it offers videos as backgrounds. This is in addition to the usual color backgrounds. There is also a division into categories.
AI video work
Like all self-respecting modern tools, FlexClip has support for artificial intelligence. There are three types of generators:
AI Text to Video
To do this, go to the Tools section and select Text to Video. Enter your prompt in any language, based on which the video track will be added to your project.
Do not expect anything supernatural from this tool. Unlike video generation entirely by artificial intelligence, FlexClip will select the most suitable video from its library and add it to the project.
If you don't have your ideas, click Use examples; the service will offer some stash.
AI Video Script
In the same section, you need to go to the AI Video Script tool and briefly describe the idea of your video and select its duration: short, medium, or long.
And when you click on the generate button, a script for your future video will be created with a breakdown into scenes, indicating locations and words for the announcer.
The script can easily be added to the previous tool and generate a video.
AI Image Generator
FlexClip allows you to generate images based on Stable Diffusion. To do this, in the corresponding tool, you need to write a request to the generator and select the style and size of the image.
As a result, you will get two images to add to the project or generate new ones.
Video export
When your masterpiece is ready, you can watch it online or immediately export it to video or gif format. Here's what I came up with while writing this review. I didn't put in any effort at all.
I enjoyed working with FlexClip, although there are more robust online video editors. However, plenty of cool templates and stock clips can be added to your project.
All in all, this is an excellent option for quickly creating not-so-complex videos. The service is more suitable for beginners and home users.