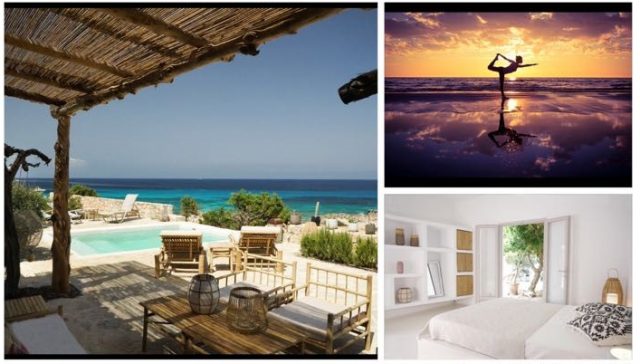 Farm to table at Formentera Yoga – A raft of inspiring yoga and meditation retreats for 2019, designed to balance, heal and nourish.  From April until September 2019 and situated on some of Europe's finest beaches 
New for 2019 – understanding the healing properties of medicinal foods in a series of nutritional workshops, along with the optional add on of Electric Hydrofoils, Rolfing treatments and rejuvenating Japanese Kobido facials
Moon Villa retreat 2-6 May 2019 and 18-22 June 2019
This bohemian yet luxurious healing foods retreat, offers a delicious home-cooked farm to table menu, using pure medicinal ingredients foraged from the local forests. Learn how to nourish your body and improve your gut health with ph/blood sugar balancing nutritional workshops, and go deep with top quality yoga and meditation classes.

Accommodation is at the super-gorgeous rustic hideaway Moon Villa with 180 degree sea views. This heavenly beachfront escape offers a four night getaway with nine comfortable en-suite rooms surrounded by Jasmine and Fig Trees and gardens planted with fragrant botanical herbs. Plus, if you would like to learn to literally fly above the water, this year for the ultimate exhilarating sports experience, Formentera Yoga have collaborated with Ibiza Foils at Moon Villa. This year's newest and most dynamic fitness trend (as well as an exhilarating bucket list experience) that will compliment your yoga and meditation practice perfectly. Full instructor sea and land training supplied alongside. To view these amazing EFoils in action click here. 
Perfect for: Foodies, artists, creative types or just those who want to escape to develop their yoga practice in a peaceful home away from home environment. Suitable for those with some experience of yoga and meditation. Twice daily yin yoga classes and meditation to balance your chakras, reduce stress and calm the mind and nutritional workshops included.
Dates: 2-6 May 2019 and 18-22 June 2019
Gecko Beach Club retreat
4-8 June 2019 and 24-28 September 2019
Formentera Yoga's holistic haven five-star beach club in the Balearics, offers pampering treatments, beach activities and healthy food with lots and lots of great yoga. Suitable for all levels and set on a the sparkling shores of Formentera's Playa Migjorn beach, with views across the Mediterranean, this super-luxe 12 bedroom retreat is the perfect June getaway. Included in the retreat package are relaxing and rejuvenating Japanese Kobido facials (billed better than Botox) and a Rolfing session to balance your alignment. Listed in Conde Nast Traveller's 'Best yoga retreats in the world' this retreat is on the tick box of every London wellbeing expert. You'll be treated to twice-daily group yoga classes and garden meditation circles, plus silent sunrise beach walks across the flower-strewn boardwalks. The menu is delicious and healthy with plenty of vegetarian dishes using local and seasonal ingredients. Plus you can have a sneaky cocktail at the pool bar if you really want one!
Perfect for: Pre-summer super-charging, beach lounging, as well as top quality yoga and meditation with the additional add-on of Japanese Kobido Facials and Rolfing treatments.
Dates: 4-8 June 2019 and 24-28 September 2019
Visit www.formenterayoga.com