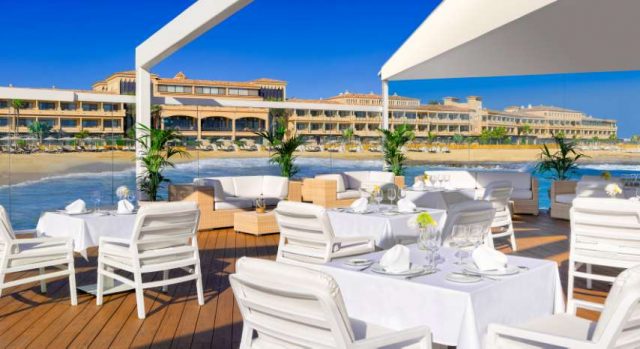 Fuerteventura is renowned for its year-round sunshine, volcanic landscape and tranquil island vibe, but increasingly for its wellness scene. Wellness tourism – now worth a staggering $639bn globally according to the Association of Travel Agent's 2019 Travel Trends report – seeks to relax the mind, body and soul through physical and mentally cleansing activities and this Canarian archipelago island offers the perfect solution.
The five-star Gran Hotel Atlantis Bahía Real, surrounded by azure waters and borders the soft white sand of Corralejo Natural Dune Park, offers guests a luxurious sanctuary from which to explore the great outdoors, breathing in the fresh sea air and indulging in some much needed 'me-time' – a natural remedy to recharge the batteries.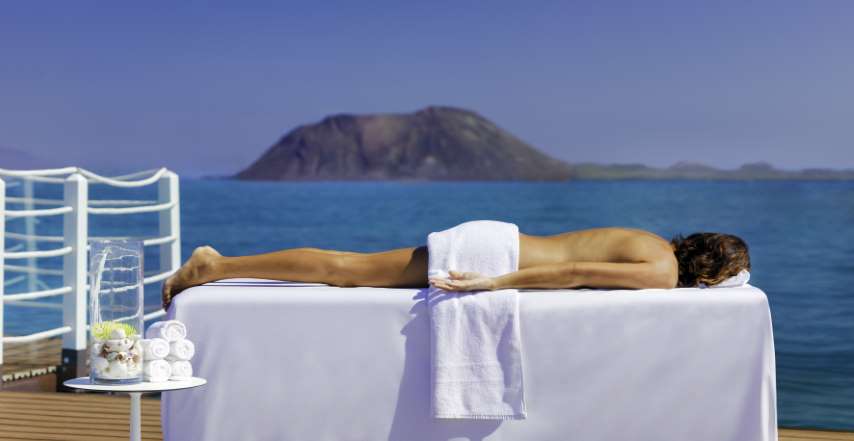 Fuerteventura's prized location makes it an ideal destination for health-conscious holidaymakers looking to exercise their bodies as much as their spirits. The beaches are well-known for their quality and desirable weather conditions for surfing, kite surfing, paddle-boarding and swimming. Alternatively, for those wanting to lower the tempo Gran Hotel's beach club and lounge, Coco Bahía, offers yoga and Pilates classes on the 'chill-out' terrace overlooking the sea. With minimalist purple and white décor, comfy Balinese beds and relaxing ambient music, it's the perfect place to enjoy a freshly prepared healthy snack including salads and energising smoothies post-workout.
Favoured on the island for its culinary offering, Gran Hotel Atlantis Bahia Real also boasts some of the highest quality restaurants including La Cúpula, led by Michelin star chef Carles Gaig and offers a fusion of local flavours and fresh produce with an international twist. For a light, revitalising lunch, guests can dine at the Yamatori restaurant which offers a deliciously healthy sushi menu as well as Asian-style low-carb dishes for a filling yet balanced meal. Guests can also kick start their day at the tropical garden patio of the Alacena Real featuring over 230 healthy breakfast options and the largest range of natural tropical juices, starting each day with an energy boost.
The hotel's SPA Bahia Vital is a peaceful haven for visitors to unwind with a menu of beauty treatments and massages that help synchronise mental and physical health and wellbeing. Aloe Vera, sourced locally, ensures guests the most authentic of treatments. Framed with panoramic views of the beachfront and the nearby Los Lobos Island, the spa has a calming aura for guests to completely switch off. The state-of-the-art facilities include a hydrotherapy circuit with spa jets, water-beds, massage seats with hydro jets, swan neck jets, whirlpools, a shower temple, ice cold plunge pool, foot spas, sauna and steam room as well as an invigorating ice fountain to refresh the skin.
For more information, please visit atlantisbahiareal.com / visitfuerteventura.es.