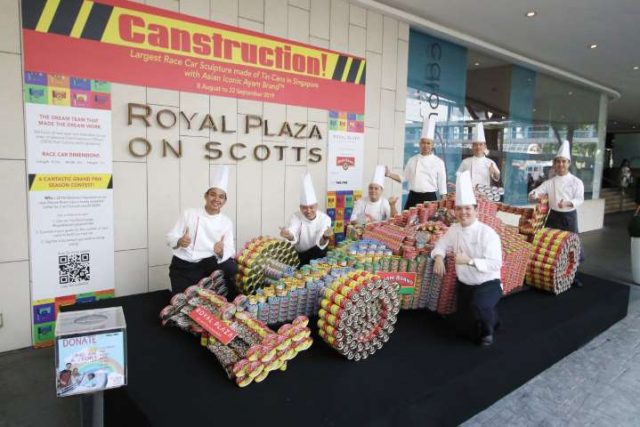 It is the time of the year for the electrifying Singapore night race and Royal Plaza on Scotts joins in the fun with the Largest Race Car Sculpture made of Tin Cans in Singapore. In collaboration with Ayam Brand™, the race car is built with over 8000 Ayam Brand™ tin cans, and will be on showcase at the hotel façade from now to 22 September 2019.
Get up close with the 4.5-metre-long, 2-metre-wide and 1-metre-tall race car sculpture, built by Royal Plaza on Scotts' very own stellar "pit crew". The talented crew, comprising of Chief Experience Officers* (CEOs) from culinary and engineering, put in 360 hours of hard work and dedication to build the race car sculpture from scratch. Led by Executive Chef Darren Ong, the crew started planning for the project at the start of the year and went through several rounds of revision before finalising the end product.
This year, Royal Plaza on Scotts teams up with Ayam Brand™, a Singapore-born household name in Asia, which has been creating memorable meal occasions for families for over 125 years. Altogether, eight different types of Ayam Brand™ tin cans are used to form various parts of the race car, from the wheels to body spoilers. Look out for the assorted tin cans in their iconic packaging, many of them a familiar favourite in the kitchen and on the dining table.