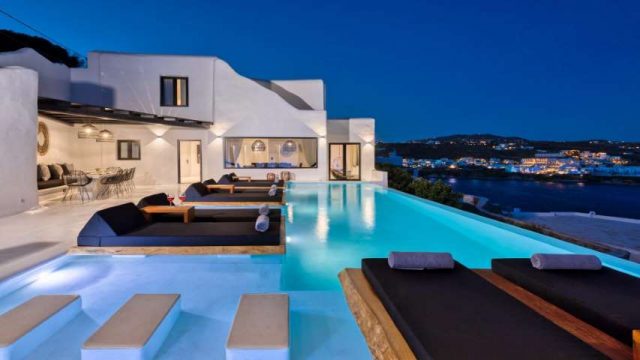 With hundreds of thousands of visitors every single summer that rush from the corners of the Earth to experience the unbeatable and so enticing allure of Mykonos, it is no wonder that the Island of the Winds is so favoured by A-lists, celebs, athletes, jet setters, and VIPs alike. Some of the most heart-stopping Mykonos Villas that exude grandeur and luxury from their every inch adorn the hillsides and mountain tops of this wildly cosmopolitan party mecca. Four of the most elegant new additions to the Kinglike Concierge family indeed comprise perhaps the finest specimen of chicness, traditional Cycladic architecture, and luxury. Let's cut to the chase!
Villa Atelier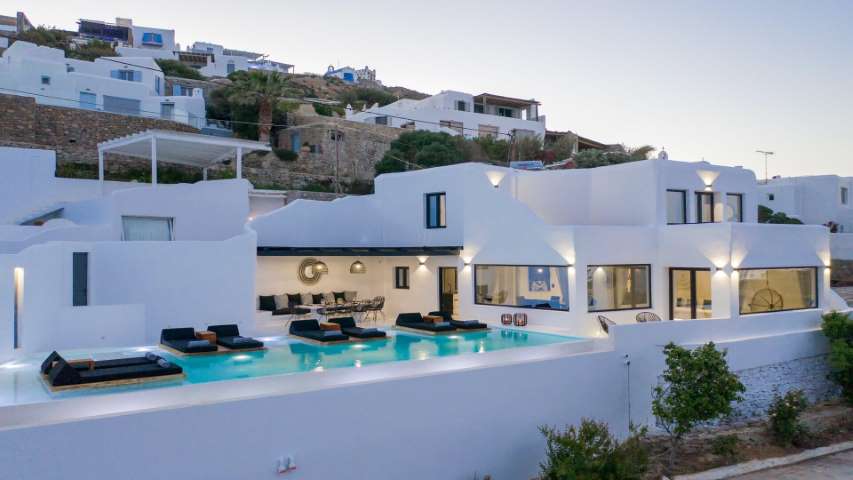 A delightful 5-bedroom villa that turns heads with its sumptuousness and grace. It features an ultra-flattering and strategically thought through design that allows unobstructed heart-stopping sea views and wonderful panoramas of the cloudless Mediterranean sky from nearly all around the property. Expertly divided into two floors for maximum privacy, it combines a wide range of amenities with an exhaustive list of services and comforts that contribute to royalty-like, memorable holidays. Refined splendour and exquisite details of understated elegance define Villa Atelier which pleases with things like lavish ensuite bedrooms, private balconies, designated outdoor areas for composure, relaxation and fun, an infinity pool that overlooks the Aegean Sea, a fully equipped kitchen, and so many more.
To learn more or to book a stay visit > Villa Atelier
Villa Bellavista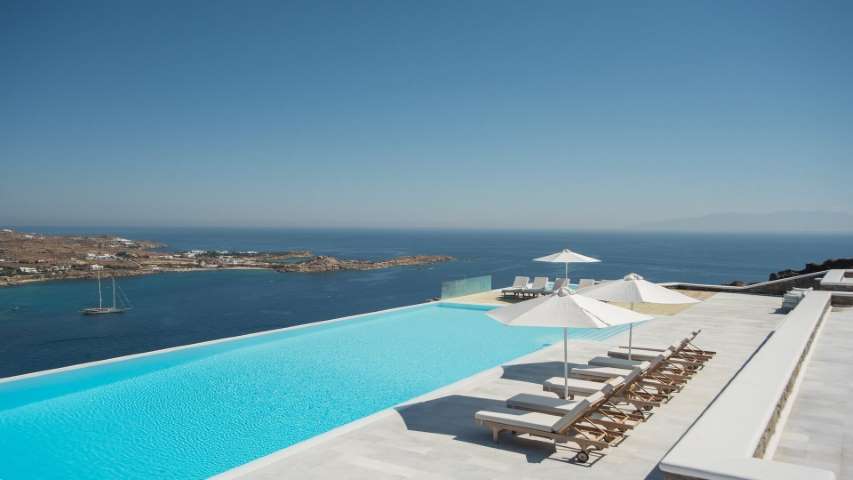 A Cycladic pearl sitting on a hillside at privileged Agios Lazaros region. Its primary location is one of the main reasons why it is favoured by so many celebrities and top athletes who admit falling in love with the luxury mansion from the first glance. Can't blame them. With more than enough room for up to 20 guests to enjoy the company of one another and, at the same time, their personal time and space when they so desire throughout the day, Villa Bellavista is a marvel on its own. Plenty of indoor and outdoor dining, living, and sitting areas, supreme elegance, well-appointed ensuite bedrooms, little nooks for even more privacy, an infinity pool with a heated Jacuzzi, and a fully equipped pool bar are some of the features that help infuse the unique Mykonos charm and allure.
To learn more or to book a stay visit > Villa Bellavista
Villa Blendy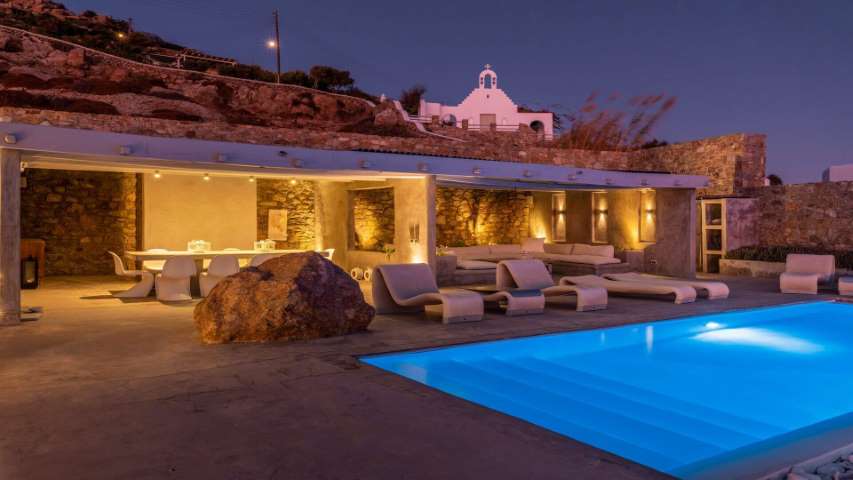 Just a few kilometres away from the bustling and lively Mykonos capital, 5-bedroom Villa Blendy occupies an elite spot at Kounoupas area. Come a bit closer, and you will be instantly drawn into its almost-unreal appeal. The minimalistic style, the carefully selected details, the opulence that defines each and every space, the ample room for privacy, fun, entertainment, and relaxation, the lavishness, the stupendous views of the Aegean Sea, the Mykonos coastline, and the Cycladic islands of Delos, Paros, Naxos, and Syros are ingredients for exceptional VIP vacations. What is even more enticing about Villa Blendy is the fact that all the hot beaches and beach bars are within an arm's reach, including the party meccas, Super Paradise and Paradise beach.
To learn more or to book a stay visit > Villa Blendy
Villa Groovy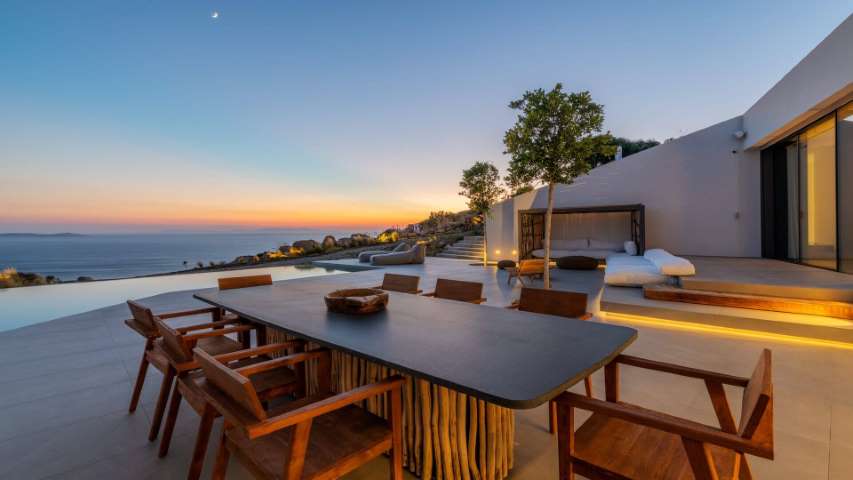 Agios Lazaros is not only home to some of the most glorious sunset views ever laid eyes upon but also the superbly luxurious and gracious Villa Groovy. With the capacity to accommodate the needs of up to 12 guests and serve all of their requirements the most complete way imagines, this beautiful mansion offers a wealth of amenities, including a cellar, indoor gym, infinity pool, built-in BBQ, private home theatre, and many more. Feel free to enjoy the absolute tranquillity infused here while sipping your morning cup of tea or evening cocktail and experience the majestic and invigorating sensation of the Mykonos bewitchment.
To learn more or to book a stay visit > Villa Groovy
About Kinglike
Kinglike Concierge has been serving guests with luxury mansions located on privileged locations throughout Mykonos island for more than a decade. Their clientele comprises of Hollywood stars, celebrities, A-lists, and royal members who seek authentic, personalised experiences, a full range of VIP services, top quality, and memorable holidays. The luxury property rental agency has an impressive portfolio of more than 250 villas that keeps expanding by the day. Through functions like 24/7 guest support and an extensive list of complimentary concierge services, they help create the most unforgettable moments for each and every one of their customers.