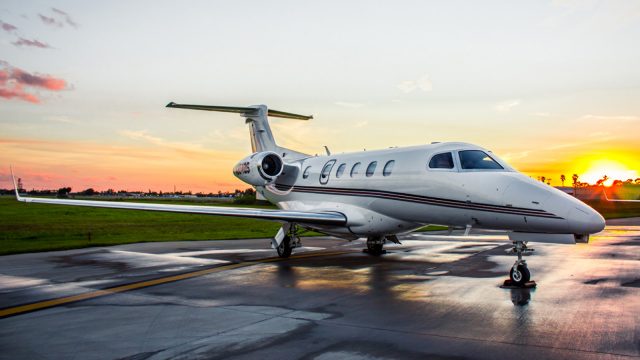 Four Seasons Hotels and Resorts, the world's leading luxury hospitality company, and NetJets, the worldwide leader in private aviation, are launching three new made-to-order packages that deliver the ultimate in personalised luxury travel. The dynamic packages combine world class Four Seasons accommodation with the freedom of flying private with NetJets.
Following the multiple-destination itineraries introduced last year by the two iconic brands, Four Seasons guests and NetJets owners can now visit Anguilla, Orlando or the Bahamas and create a uniquely customisable escape, complete with unmatched service, flexibility and access.
"Together with NetJets, we've combined our intimate knowledge of the luxury consumer to offer a product that is truly unmatched in the market," says J. Allen Smith, President and CEO, Four Seasons Hotels and Resorts. "Our new single-property packages offer guests the same ease and flexibility of a NetJets private aviation experience alongside signature Four Seasons service and quality. These new NetJets experiences deliver a custom-made Four Seasons escape designed and inspired by the preferences of our luxury travellers."
All three packages feature air transportation from NetJets, offering access from 5,000 airports in 170 countries around the globe, and luxury accommodations from Four Seasons. Travellers can fully customise each escape, with a menu of specialty à la carte activities for added personalisation.
"Our collaboration with Four Seasons delivers an exceptional private aviation experience with the best in luxury hospitality. These three new package concepts are the latest example of our ongoing commitment to innovation in customised luxury travel," says Patrick Gallagher, EVP of Sales and Marketing, NetJets.
In addition to gaining access to the power of the NetJets private fleet – the largest in the world – passengers will benefit from a dedicated concierge who will work with each guest to customise their itinerary into a completely one-of-a-kind experience, ensuring no two journeys are the same.
About the Fully Customisable Packages
Each of the three new property collaborations allows guests to substitute or add activities along the way, for a completely unique made-to-order experience. Timing is flexible, based on availability, leaving room for modifications as needed. Ideal for intimate escapes, trips may also be booked by up to 14 guests travelling together, perfect for family vacations or friend getaways.
Anguilla: A seaside escape in the Caribbean's culinary capital
While surrounded by the mesmerising turquoise waters of Anguilla, Four Seasons and NetJets package guests will leave the stresses of everyday life far behind as they take in the ocean views at Four Seasons Resort and Residences Anguilla. Guests will have the option of staying in one of the beachfront Resort's villas or private residences, each offering a full-service island experience.
While enjoying a four or five-bedroom 7,000 square foot (650 square metre) villa, guests will have access to a full gourmet kitchen and private pool. A personal golf cart and a lifestyle assistant will be on hand for reservations and in-villa amenities and services. As another option, guests have the choice of a one, two, or three-bedroom residence.
Guests can also choose from a list of à la carte add-ons, tailoring their journey with additional local experiences. Travellers can enjoy a gourmet picnic lunch on a private island for an idyllic day of snorkeling, swimming and sunbathing. Adventurers can choose to go horseback riding on a deserted beach or explore the island on a 4 x 4 off-roading ATV ride. An experienced local guide offers a beach bar hop excursion showcasing Anguilla's tucked-away gems and a day trip to St. Barts, known as the Rodeo Drive of the Caribbean.
Orlando: Vibrant lakeside luxury
Guests will enjoy the Orlando vacation of their dreams as they touch down in Florida for a stay at Four Seasons Resort Orlando at Walt Disney World Resort, Orlando's first and only AAA Five Diamond Award-rated resort. Boasting a total of six restaurants and a luxury spa, the Resort is also home to the Tranquilo Golf Club and newly renovated USD 2.5 million world class practice facility. After a daily gourmet breakfast, kids can keep busy at the five-acre (two hectare) water park and fun-filled recreation island.
All package guests can choose from several customised add-ons to suit their individual preferences. On offer is a spa and wellness retreat, featuring a private poolside morning yoga class, couples treatment with complimentary upgrade to a spa bungalow and champagne and strawberries. Foodies can book a private cooking class in the Resort's custom demonstration kitchen with award-winning Executive Chef Fabrizio Schenardi. Golf enthusiasts can opt for a half-day golf experience at the state-of-the-art Tranquilo Golf Club facility.
The Bahamas: An enclave of remarkable seclusion
While visiting Paradise Island, guests can explore the 8-kilometre (5-mile) stretch of natural white-sand beach as they connect with their beautiful Bahamian surroundings at The Ocean Club, A Four Seasons Resort, Bahamas. During their stay at the famed Caribbean hideaway, travellers can choose from a spacious one or two-bedroom suite, or a luxury three or four-bedroom villa.
Suite guests will enjoy 24-hour butler service, ensuring someone is on hand to attend to guest needs around the clock. Villa guests will also enjoy the convenience of butler service, as well as breakfast prepared daily by the private villa chef, dedicated household and culinary staff, and private chauffeured golf cart.
Further customisation is available to guests with à la carte add-ons including the Catch, Cook, Cocktail experience, where guests board a 55 foot Hatteras yacht for a deep-sea fishing adventure to help catch the evening's dinner followed by a lesson in crafting the perfect cocktail. A diving expedition has guests exploring some of the world's most magnificent marine wildlife. Guests can relax on a half day Lost in Paradise boat trip featuring a stop at a secluded sandbank to enjoy snorkeling and a butler-served lunch.
Note that certain terms and conditions apply. Packages are valid for travel through July 31, 2019. All offers are subject to availability at the time of reservation and are not valid in conjunction with any other offer. Minimum 3-night stay is required.
About Four Seasons Hotels and Resorts
Four Seasons has long been committed to transforming the way people travel, having launched the hospitality industry's first fully-branded private jet experience with TCS World Travel in 2015. The continued collaboration with NetJets is an opportunity for luxury travellers to enjoy the benefits of private jet travel and elevate their journeys through Four Seasons accommodations and curated Extraordinary Experiences.
About NetJets
NetJets Inc., a Berkshire Hathaway company, is the worldwide leader in private aviation. More than 50 years ago, it launched the world's first private jet charter and management company. It went on to pioneer shared aircraft ownership – offering the advantages of owning a private jet, without the responsibilities. Today, it continues to innovate from cockpit and cabin to safety and accessibility. As the owner and operator of the world's largest and most diverse private jet fleet, NetJets hires only the most experienced and accomplished pilots and safety is its first and highest priority. its full range of aviation options help individuals and businesses do more and miss less via the NetJets, Executive Jet Management, and Marquis Jet Card service brands in North America and Europe.