Four Seasons Hotel Casa Medina Bogota wants to take guests higher, farther and faster to visit sites of historical significance and natural beauty in the Andes that, though quite a haul from Colombia's capital via road trip, are easily accessible by air. Introducing two new Signature Helicopter Expeditions designed exclusively for Four Seasons guests, with transportation in the comfort of a Bell 206 L3 helicopter (for 1 to 4 passengers) or Eurocopter AS 350 (for 1 to 6 passengers) and spectacular views of amazing landscapes and the towering mountains the better part of the way.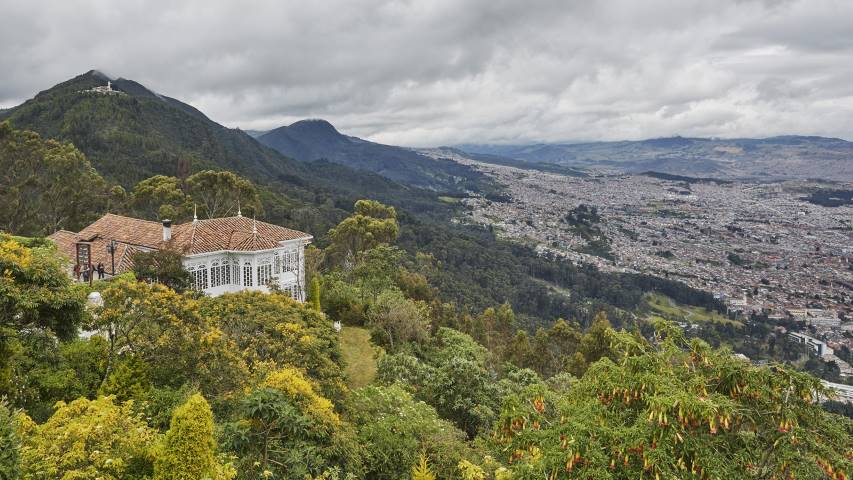 One Signature Helicopter Expedition starts with a hovering view over mystical emerald-coloured Gustavita Lake, scene of the legend of El Dorado in which a mythical Muisca king covered himself with gold dust and plunged from a raft into the water. That sparked a legend that, as legends do, grew to a city, kingdom, and eventually an empire of gold. Guests will also tour the Zapaquira Salt Cathedral, an impressive Roman Catholic church located 200 metres (650 feet) underground in an old salt mine. Brimming with history, the Cathedral has been called a "Jewel of Modern Architecture" and was recently declared the first "wonder" of Colombia.
The second Signature Helicopter Expedition travels to Villa de Leyva, a colonial town also located in the eastern Andes that was founded in 1572. With no major trade routes or mineral deposits nearby, Villa de Leyva saw little in the way of development for centuries, and it remains one of the few towns in Colombia to have preserved much of its colonial style and architecture, including cobblestone streets and many original buildings. Declared a National Monument in 1954, Villa de Leyva is a fascinating destination, with local history and culture, art and gastronomy, and a number of wineries made even more so through Four Seasons insider access that will see guests meeting locals, visiting artisans, and more.
As with every experience offered by Four Seasons Hotel Casa Medina, the Signature Helicopter Expeditions are choreographed for the pleasure of guests from start to finish, with transportation in a Bell 205 L3 helicopter, English-speaking guide, and convenient transportation to Guaymaral Airport (40 minutes from the Hotels) and back.
Helicopter Expedition: Salt Cathedral and The Legend of El Dorado – Following a 45-minute flight from Bogota, hover over Guatavita Lake where the legend of El Dorado took place, and then continue on via copter to land at the Zipaquira Salt Cathedral built within the tunnels of an old salt mine. A local host will take guests through its history and construction process, as well as its religious sculptures and symbols. Duration: 5 hours (including transfer times); includes airport transfer, English-speaking host, local transportation, entrance fees, hydration and snacks. Reserve at least 72 hours in advance.
Helicopter Expedition: Villa de Leyva – Sit back and enjoy a 55-minute from Bogota to the colonial town of Villa de Leyva, with views of the Andean tundra, lush mountain ranges, vast deserts, and the diversity of the Colombian Andes along the way. Upon arrival, explore the beauty and fascinating history, culture, art and gastronomic scene, with insider access to meet captivating locals, try traditional foods, visit artisans, and enjoy a day in the countryside. Duration: 6-7 hours (including transfer times); includes airport transfer, English-speaking host, local transportation, hydration and snacks. Reserve at least 72 hours in advance; lunch is not included.