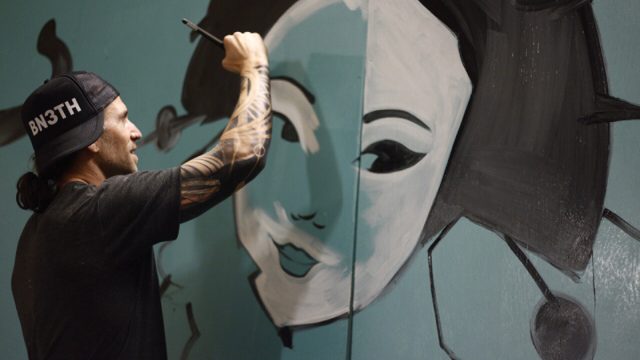 This holiday season, Four Seasons Resort and Residences Whistler is warming guests up post-ski with a hidden ramen-ya restaurant, Let's Ramen Restaurant + Bar. Collaborating a triangle of local talent, Four Seasons Whistler has enlisted three resident creatives – street muralist Kris Kupskay, designer visionary Ola Smazynski of Flock Events, and Four Seasons own gastronomic visionary Eren Guryel – to craft this limited-time-only mountain haunt.
Accessed through a postern door, with only a neon sign to show revellers the way, the pop-up restaurant will serve relaxed Japanese cuisine, imported beers and warm sake in a space that blends modern Japanese minimalist elements, bold colors and curated street-style artwork – perhaps leaving guests feeling as though they are in a city somewhere not a mountain town.
Whistler artist Kris Kupskay has decorated the walls with his distinct local designs, amalgamating a number of Japanese elements with his edgy street aesthetic. Speaking of his contribution, "On a mission to enhance Let's Ramen Restaurant + Bar's guest experience, street-style paint drips meet a traditional Japanese composition in the form of dragons, tigers and geishas. Enjoy!"
Home-grown visionary Ola Smazynski of Flock Events says her interior inspiration for the ramen bar came from her "recent travels to European cities where ramen is popping up everywhere, along little alley ways in old brick buildings to grand hotels, ramen has very much become a hot ticket item. The idea is to bring to you a little something unexpected."  A large communal table allows for great casual after ski mingling or make it a date night and sit at a window nook.
The simple, street inspired menu gains a gastronomic edge with each dish crafted by Four Seasons Executive Chef Eren Guryel. Patrons can escape the winter chills from the inside with Eren's hot ramen bowls and their choice of noodle, broth, proteins and sides or come in for a quick bite from one of his yatai inspired share dishes. When asked about the dish, Eren begins poetically "Ravenous Appetites Must Eat Noodles … noodles and broth, many cultures have a dish made from these two components and there are many variations.  One thing that doesn't vary is the warm satiated feeling you'll enjoy after eating a bowl.  Highly recommended, especially after a long day in the snow on the mountain."
Opening Monday, December 17, 2018 for a limited time
Hours: 3:00-8:00 pm