The neighborhood of Asakusa, in the heart of Tokyo, is home to the conveniently located Tobu Railway Asakusa Station. From here, you can start your trip to Nikko, and also hop on one of the many trains connecting the capital to popular tourist destinations in the Kanto region. A relaxing stroll along the Sumida river will take you to some of Tokyo's most famous attractions in less than half an hour, while a 2-hour train ride is enough to reach the old town of Nikko, a treasure trove of beautiful natural landscapes and traditional Japanese architecture in Tochigi prefecture.
From Asakusa to TOKYO SKYTREE Across the SUMIDA RIVER WALK
Newly opened in 2020, the SUMIDA RIVER WALK is the fastest way to get from Asakusa to TOKYO SKYTREE. Visitors can look through the glass floor alongside the 160-meter-long promenade and see the surface of the Sumida River and boats in operation. The color chosen for the bridge design is "SKYTREE White", which matches the color of TOKYO SKYTREE to create a sense of unity. Moreover, both TOKYO SKYTREE and the bridge turn on their illuminations in synchrony at sunset: the joint performance, with special illuminations according to seasons or events, is a must-see.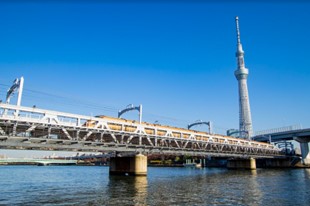 The walk begins at TOKYO mizumachi, a one-of-a-kind space located just beneath the railway viaduct that blends in with the surrounding waterscape. TOKYO mizumachi hosts many stores, from those specializing in houseware goods and lifestyle items to small shops selling traditional Japanese snacks.
TOKYO mizumachi is also the perfect place to stop for a bite to eat, as it offers a wide choice of restaurants, cafes, and bakeries catering to all tastes and budgets.
TOKYO SKYTREE and TOKYO Solamachi
After a leisurely walk across the Sumida river, you'll find yourself face-to-face with the majestic TOKYO SKYTREE, the world's tallest self-supporting radio tower and one of the city's most famous landmarks.
At the foot of the tower is the modern TOKYO Solamachi mall, hosting over 300 shops and restaurants. This multi-floor shopping paradise sells everything from apparel and cosmetic goods to books and traditional Japanese wares. The structure also houses several museums and galleries, as well as an aquarium and a planetarium. Of course, a tower this tall can't come without an observation deck for a breathtaking panoramic view of the city – TOKYO SKYTREE has two, one 350 meters above ground level (the Tembo Deck) and one 100 meters higher (the Tembo Galleria). The massive glass windows provide a 360-degree view up to 70 kilometers away, far enough to see Mount Fuji on a clear day.
If you want to make the most of your visit to TOKYO SKYTREE, we recommend making a reservation at Sky Restaurant 634 (musashi), a fine dining restaurant positioned 345m above Tokyo that specializes in a combination of French cooking style and Japanese taste. The greatest time of day to visit the restaurant is at sunset, when the city lights up directly in front of your eyes, making your eating experience even more amazing.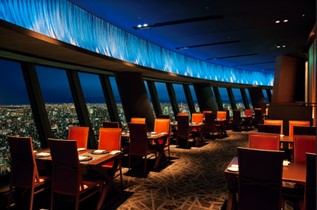 TOKYO SKYTREE is worth a second visit after nightfall, where you'll have the chance to enjoy the tower's light show. The light design takes inspiration from Japanese aesthetics and changes every day, each pattern symbolizing a different facet of Sumida-ku's rich history.
From Asakusa to Nikko with Tobu's Nikko Pass
After you've seen everything there is to see in Tokyo, take a train from Tobu Railway Asakusa Station to the old city of Nikko, a gem located north of the capital in Tochigi prefecture. The area is home to some of the country's biggest shrines and temples, including the Nikko Toshogu Shrine, a UNESCO World Heritage site. In addition to its historical landmarks, Nikko is known for its stunning natural landscapes, which include mountains, waterfalls, and lakes. You can enjoy the natural scenery in each of the four seasons, but especially in autumn the wonders of fall foliage will be on full display.
We recommend taking advantage of the NIKKO PASS, which provides access to numerous benefits and discounts when traveling from Asakusa to Nikko. These include a round-trip train ticket to Nikko, unlimited local bus and train service, and discounts on a variety of tourist attractions, including Edo Wonderland and Tobu World Square.
Travel in Comfort Aboard the SPACIA X Express Train
Traveling to the ancient town of Nikko is about to become more comfortable than ever: Tobu Railways has announced the SPACIA X Limited Express Train, which will run between Tobu Asakusa Station and Nikko starting in July 2023.
This futuristic train comes with various amenities (including private rooms and a cafe lounge) and six types of seats. Among them, the cockpit-style suite provides the best view of the surrounding scenery. With a classic yet modern design, this luxury limited express train welcomes a variety of passengers.