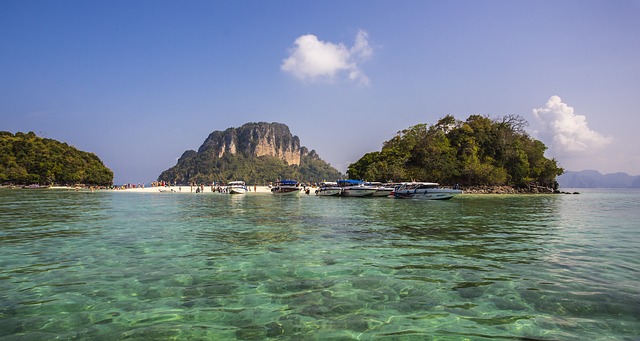 We anticipate that 2023 will be a significant year for travel to Asia.
Most areas' countries have removed their Covid-19 entry restrictions or are in the process of doing so. International flights are becoming more common again. Additionally, numerous beautiful new hotels are sprouting up left and right.
We've collected up to 10 hotels and resorts set to debut in 2023, from a remote luxury lodge in the Himalayas to urban sanctuaries with ambitious architecture.
Some are destinations in and of themselves, while others are lighthearted and calm places to be. This list of well-known hotels opening in Asia will spark a world of adventures in the upcoming year.
Andaz Jomtien Beach in Pattaya
South Pattaya, located 90 minutes south of Bangkok, is getting ready to welcome a brand-new resident.
The Andaz Pattaya, scheduled to debut in February 2023, should offer everything you need for a fantastic holiday, including beach access, Thai-inspired architecture, six restaurants, and an actual Panpuri spa.
All 204 rooms at this hotel have light and airy décor and a sizable balcony with a daybed, whether you're staying in a teakwood villa or a beachfront suite.
The six-bedroom Heritage House or the four-bedroom Manor House will have additional space for larger families or groups to spread out.
Three swimming pools, a beach, and farm-to-table cuisine are available to guests while they are staying at the resort.
Fish Club, a beachfront seafood restaurant, will provide ocean vistas and weekend entertainment, while Ruen Thai Tea House will amp up the appeal inside a restored historic structure.
Then there is the "village square," which, in a homage to traditional Thai villages, includes three eateries and a lounge.
Tokyo's Bulgari Hotel
The hotel scene in Tokyo is set to get much more opulent. The Bulgari Hotel Tokyo will be located on the top seven floors of a brand-new skyscraper that will be built close to the wealthy Ginza neighborhood and the Imperial Palace. It is scheduled to open in the spring of 2023.
The hotel's 98 rooms and suites, including the sumptuous 45th-floor Bvlgari Suite, channel the dolce vita with fine artistry, art, and design. It was created by the Italian architectural firm Antonio Citterio Patricia Viel.
A 25-meter indoor pool and a few delectable culinary concepts will be found at the Bulgari Hotel Tokyo, giving the city yet another homage to the affluent Italian way of life.
Gourmets will particularly like the fireside Lounge and an Il Cioccolato shop in addition to the brand's iconic Il Bar and Il Ristorante ideas.
Indonesia's Cap Karoso
Sumba might be the best option for travelers who adore Bali but want a slower pace of life and a less commercial setting.
This unspoiled island, which can be reached by flight in about an hour from Bali, is home to gorgeous lagoons and coral reefs, jungles, mountains, and soon, a striking new resort called Cap Karoso, which is scheduled to open in early 2023.
The project's creators, Fabrice and Evguenia Ivara seek to benefit by promoting community and the environment.
For instance, the couple has continuously sought advice from Sumba's indigenous population. In addition, they pledged to use 50% solar energy for electricity, hire 80% of the workforce locally, and reduce the need for air conditioning through clever design and landscaping.
The hotel will have 47 rooms and 20 villas, all of which have been designed by GFAB Architects and incorporate a variety of regional accents, such as modern Indonesian art, hand-crafted teaware, hand-carved wood furniture, and Sumbanese sculptures.
Additionally, an organic farm serves as a farming school for the neighborhood, and cultural outings highlight the island's horseback riding, fishing, and spiritual traditions.
Suzhou's Four Seasons Hotel
Mainland While the country may still need to welcome tourists from other countries, the recent relaxation of Covid-19 domestic restrictions by the central government may indicate a full reopening later this year.
Travelers will once again be able to discover China's vast cultural riches and the hotels that have opened in the last three years, with more to come if and when the country reopens to tourism.
The Four Seasons will launch an opulent option in Suzhou, around a half-hour by train from Shanghai, in late 2023.
Suzhou, one of the most well-known canal cities in eastern China, is renowned for its vast network of old stone bridges that span tranquil canals, UNESCO-listed classical gardens, and historic pagodas.
The Four Seasons will be located on a 22-acre private island in Jinji Lake's thriving business sector, showcasing the city's modern side.
The hotel will provide guests with all they need in addition to its 200 rooms, suites, and villas by offering a lavish spa, lush gardens, indoor and outdoor pools, a kids' club, and a running track that circles the island.
The Four Seasons name is well renowned for its culinary adventures. And in keeping with its fashionable reputation, the Suzhou hotel intends to create a chic Chinese eatery and a lobby bar with unobstructed views of the lake.
Innit Lombok
Innit Lombok may inspire a trip to Indonesia for people seeking a tropical beach lifestyle combined with opulent modern architecture.
The resort, which is situated on a 250-meter private beach on the southeast coast of the Bali-proximate island of Lombok, promises to offer an oceanfront retreat with authentic Lombok experiences at its doorstep.
Discover impressive waterfalls, climb Mount Rinjani to reach Segara Anak Crater Lake, or stay by the seaside for surfing, paddle boarding, fishing, and excursions to nearby communities.
Innit Lombok will have three unique areas: seven beachfront villas, an elevated "Bridge Hotel" with 26 ocean-view suites sandwiched between two hills, and 27 private residences atop one of the hills. It is planned to open in phases beginning in early 2023.
The two-bedroom beach cottages, 35-meter pool, and waterfront restaurant Anakampung will open first. The restaurant's menu will focus on freshly caught seafood from neighborhood fishermen.
When finished, every villa and room will have a tropical-luxe design by Indonesian architects Andra Martin and Gregorius Supie Yolodi that uses various organic materials.
For instance, the villa facades have open-concept living spaces on the sand and vertical wooden slats.
Terrazzo floors, teakwood from Indonesia, custom rattan furniture, and stones from Lombok complete the nature-inspired design.
Innit Lombok will also feature an outdoor theater, spa, gym, art pavilion, cooking courses, and an organic farm that will provide the restaurant with fresh fruits and vegetables, so there will be plenty of things to do.
Taking a recreational trip in a luxury hotel is just one of the ways to relax. There are tons of other ways that you can enjoy your vacation trips, and what's even more intriguing is that you can pay for your trips through cryptocurrency. This is an important trend, given how quickly cryptocurrencies have taken over the digital world. You can do this through reliable platforms like SpartaCrypto, the first cryptocurrency market service that can fully handle the scale and velocity of transactions across multiple marketplaces, allowing sellers to access cryptocurrency buyers risk-free, while handling the transaction securely and funds its sellers in USD. SpartaCrypto plans to become the most extensive online crypto marketplace selling luxury items such as vacation packages, cars; classic cars; motorcycles; electric vehicles including bikes, cars, and motorcycles; and high-end watches.They are currently taking Bitcoin, Ethereum, Bitcoin Cash, Litecoin, USDT, and USDC, and are also working on adding more to their list of supported cryptocurrencies.