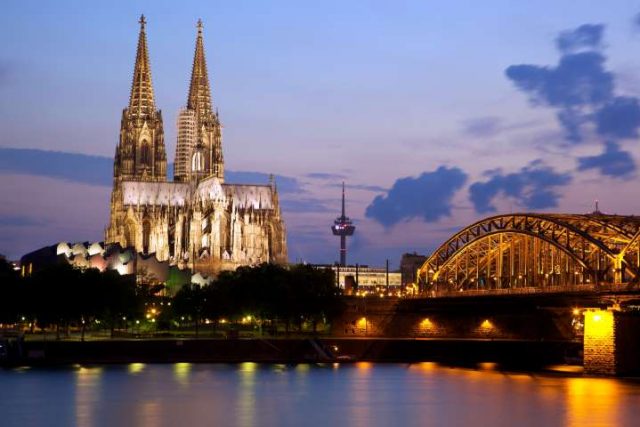 Fancy a road trip? Crusader Vehicles have ranked the best locations in Europe to drive to from London
Lille, Cologne, and Ghent take the top spots for cheap food, drink, and accommodation costs, with dinner and a night stay for two costing as little as £96
Luxembourg placed the highest for entertainment amongst the European destinations with the city offering over 700 restaurants and pubs
Last year, 4.3 million holidaymakers travelled between the UK and France through the Eurotunnel alone. With flexible driving laws and insurance premiums this is understandably a popular method of transport for many holidaymakers. To make it even easier for British holidaymakers, Crusader Vehicles have listed the 10 best places to travel in Europe for the perfect combination of good weather, pubs, accommodation, and distance from London.
From the cost of dinner for two to the amount of sunshine and entertainment in these destinations, you can plan your 2019 staycation here.
Where to Eat and Drink
Research suggests you should travel to Lille, France for the cheapest meals out, with dinner for two costing only £28 for the experience! If you're after a cheap pint, Europe is the place to be with half of the destinations charging less than £3 a pint. Ghent, Belgium takes the top spot with pints in this city costing £1.53, whether you're travelling with friends or family, everyone will be pleased with these bargains.
Parisian Sunshine
Head to the French capital if you are craving some sunshine, as Paris has the lowest amount of rainfall, the longest sunlight hours, and the highest average temperature of all locations studied. With an annual temperature of 20 degrees celsius and nearly 250 sunshine hours, Paris tops the weather rankings.
Where To Stay
Rouen, France places first for the cheapest accommodation with a hotel stay for two averaging at only £51 a night. This port city has lots to offer including picturesque cobblestoned streets and medieval half-timbered houses. This is closely followed by the student towns Brussels, Belgium (£60) and Cologne, Germany (£60).
Getting Far, Far Away
If you're after a trip far away from British soil, Cologne should be the top of your road trip bucket list. Situated 336.9 miles away from London, this will give you plenty of time to enjoy the journey with your loved ones and listen to that playlist you've spent weeks creating.
Keeping Occupied
Taking long queues and overcrowding of tourists into consideration, the number of attractions, pubs and restaurants were divided by the average population. The historic Luxembourg City comes out on top as it is filled with sights to see and places to eat and drink with 770 landmarks, restaurants, and pubs filling the relatively quiet setting.

Best Overall
Lille – Located the second closest to London out of the places studied, with a 150-mile journey, Lille ranks highest overall with dinner in the area costing only £28.
Rouen – This city offers the cheapest accommodation for two at only £51 a night, and the second cheapest dinner, as a meal for two averages at £40. This sounds like the perfect location for a couples retreat.
Paris – France's capital is known for its art, fashion, gastronomy and culture, this study shows it also has great weather, ranking highest out of all the European cities.
Ghent – To those who know this university town and cultural hub, it will come of no surprise that here is where you will find the cheapest pint in Europe at only £1.53.
Bruges – Located only 139 miles from London, this city is filled with culture and has over 700 restaurants, pubs, and landmarks.
Top 5 Cheapest Accommodation, Food, and Drink:
| | | | | | |
| --- | --- | --- | --- | --- | --- |
| Rank | Location | Accommodation For Two | Dinner For Two | Cost of a Pint | Total |
| 1 | Rouen | £51.00 | £40.00 | £4.50 | £95.50 |
| 2 | Lille | £68.00 | £28.00 | £4.24 | £100.24 |
| 3 | Cologne | £60.00 | £40.00 | £3.20 | £103.20 |
| 4 | Rotterdam | £68.00 | £48.00 | £1.86 | £117.86 |
| 5 | Ghent | £70.00 | £48.00 | £1.53 | £119.53 |