From September 15th to October 15th, Hispanic Heritage Month provides a unique opportunity to recognize and honor the rich cultural contributions of Hispanic and Latino communities to the United States. Casa de Sierra Nevada, a haven for authentic Mexican culture and cuisine shares their recipes on what to eat and drink during this celebratory month with a delicious pairing that embodies the spirit of Mexican tradition.
Pozole Verde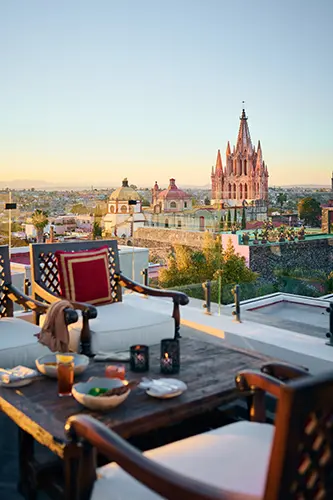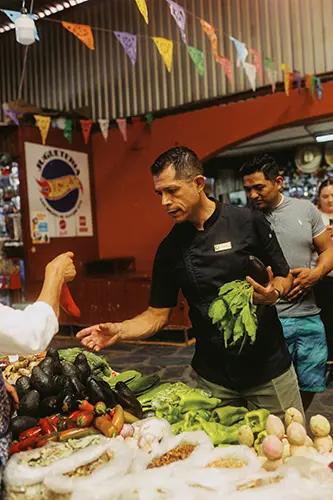 Pozole is a hearty Mexican soup with a special place in the hearts of many. There's a friendly debate over whether white, red, or green pozole reigns supreme, but what's undeniable is that there's a pozole for every palate. Rooted in the Nahuatl word "pozolli," which means "foamy," this dish tells a story dating back to ancient times. Chef Ruben, from the hotel's renowned Sazón Cooking School, shares his authentic Green Pozole recipe. This variation hails from Guerrero, Mexico, but its flavors can be enjoyed across the nation. The magic behind this dish lies in the cacahuazintle corn kernels (hominy corn), pre-cooked for hours until they blossom like flowers, creating a foamy appearance in the broth. Legend has it that even Emperor Moctezuma relished this dish, offering it to the god Xipe Tótec, the lord of fertility, corn, and war.
INGREDIENTS
1kg chicken breast 6 cilantro sprigs 1/2 onion
1 garlic head
2 jalapeño peppers
5 green tomatos
1 lettuce leaf plus 3 lettuce in chiffonade for garnish
2 epazote sprigs
1 parsley sprig
1 avocado leaf
1 celery piece, small
1/2 kg white hominy (precook)
Aromatic herbs (oregano, cumin, cloves, peppercorn, bay leaves) Salt to taste
TO ENJOY WITH
Radish slices, fillete lettuce, lime, corn tostadas
PREPARATION
Boil the hominy in a pressure pot with water for 1 hour, strain it.
I a skillet sautée green tomatos, jalapeños, epzaote, avocado leaf, onion, aromatic herbs and garlic. Mix in a blender with fresh cilantro, parsley and lettuce. Set aside.
Boil chicken in water with onion, garlic and salt for 1 hour. Remove chicken and shred.
Add the green sauce, more oregano and let it boil for 5 minutes. Finally, add the chicken. Boil again very well.
Serve with radish and freshly sliced lettuce. Enjoy with tostadas and lime to your choice.
Mezcalita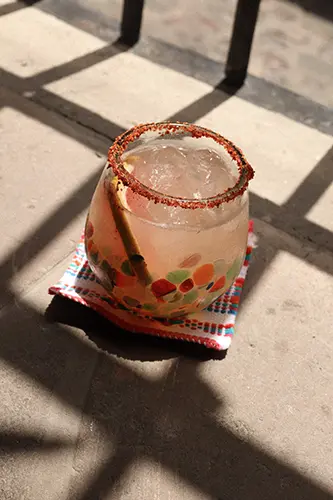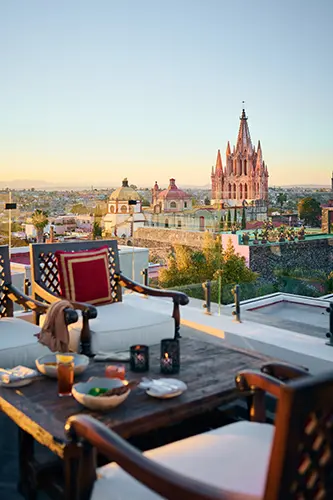 To enhance the Pozole Verde dish, Eleazar Barbosa, lead mixologist from Tunki Rooftop by Handshake recommends complementing it with a Mezcalita. This spirited drink encapsulates the very spirit of Mexican celebration. Crafted with Mezcal Amaras, grapefruit juice, mesquite honey, and a touch of fresh lemon juice, it transforms into a delightful and culturally significant libation that perfectly complements the Pozole Verde dish.
INGREDIENTS
1 ½ oz Mezcal Amarás
1 oz fresh grapefruit juice
½ oz fresh lemon juice
½ oz Mesquite honey Ice
1 old fashion glass with chili powder on top (we suggest Tajin) Slice of grapefruit to decorate
PREPARATION
To prepare your glasses: Pour some Tajín on a small, rimmed plate. Run a wedge of lime around the top of each glass. Dip the top of the glass into the salt blend at a 45-degree angle and roll it from side to side to catch the Tajín. Add ice cubes to your glass and set it aside.
Fill a cocktail shaker with ice. Add the mezcal, grapefruit juice, lemon juice, and Mesquite honey. Securely fasten the lid and shake well. Pour the mixture into your prepared glass and garnish with a grapefruit wedge.
Sazon Cooking School, is an 18th-century mansion-turned-fully operating cooking school that guests can experience to learn how to cook authentic Mexican dishes. Chef Ruben takes guests on a journey through the market and back to the kitchen to create irresistible regional favorites and elegant Mexican Masterpieces.