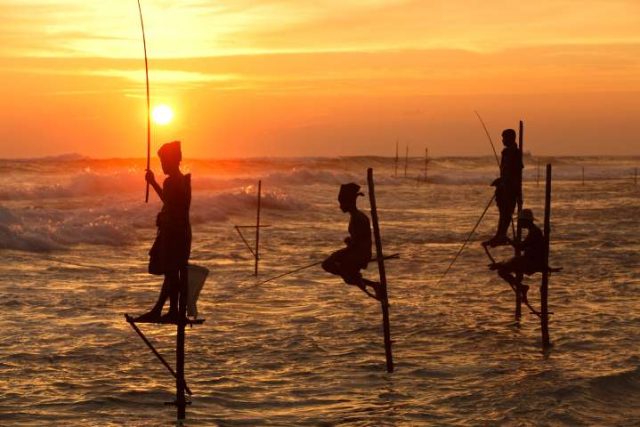 By: Zoey Goto
It's easy to lose your heart to the palm tree-lined beaches of Sri Lanka, but venture off the sandy beaten track and you'll discover a hidden world of hip design hotels hidden in the rainforest and luxury houseboats gliding over tranquil lakes. Zoey Goto visited the island to explore the road less traveled.
---
Where to Stay
Stay overnight in the beating heart of the rainforest, at the Palmstone retreat in Kitulgala, which is a 3-hour drive from Colombo airport. This beautiful boutique hotel has just six chalets, and the ambiance of staying in someone's stylish home, rather than a traditional hotel. All the apartments use floor to ceiling windows to soak up the views of the surrounding rainforest, complete with monkeys playing overhead, and the babbling stream that runs through the retreat.
Palmstone is also ideally located for water sports enthusiasts, with the Kelani River just a short drive away. Used as the filming location for the 1957 movie epic The Bridge On The River Kwai, this waterway now boasts many white water rafting centers. There are also tea plantations, historic caves, secret waterfalls and jungle treks to be explored in the local area.
Alternatively, the Flow houseboats on Bolgoda Lake are just 40 minutes from the commercial capital of Colombo, and offer respite from the bustle of the city. Docked in a private marina, Flow has two houseboats, one with two bedrooms and one with three. At first glance they are reminiscent of the houseboats of Kerala in Southern India, but step on-board and you'll find them to be far more spacious and luxurious, with four-poster beds, freestanding baths, and antique furnishings. The marina where the boats are docked is part of a private members club, where water sports such as jet ski and speedboat adventures can be arranged.
There's plenty to keep you occupied whilst staying at Flow, including fishing expeditions, a nature-watching cruise, moonlight alfresco film screenings in the marina, spa treatments, or for a truly unique dining experience, a lavish castaway picnic on a local private island.
Why Now?
In recent years Sri Lanka had become a must-visit try destination, seen as an undiscovered tropical paradise. In early 2019, Lonely Planet voted Sri Lanka the best country in the world to visit, due to its recent crop of hotel openings, emerging surf scene, rich mix of cultures, abundance of wildlife and friendliness towards visitors. This is a country that is really having its moment in the spotlight.
There are currently good value deals available and for those looking to avoid the mass-market tourism trail, Sri Lanka's strength lies is in the intimate, bespoke experiences it offers.
What To See
Sri Lanka's diverse religious make up is reflected in the many vibrant Hindu temples, mosques, Catholic churches and Buddhist places of worship, dotted throughout the island. As Colombo's oldest Buddhist temple, Gangaramaya is worth visiting, but equally the smaller temples and churches that line the side streets of Bolgoda Lake near Flow have a unique charm and offer more intimacy.
Adam's Peak is a two-hour drive from Palmstone retreat, and attracts thousands of visitors each day. The sacred mountain is situated in the center of the island and has huge religious significance across multi faiths. The temples and botanical gardens of Kandy, Sri Lanka's second largest city, are also within driving distance of Palmstone, as are the tea plantations and colonial houses of Nuwara Eliya, an area of hill country known locally as Little England due to the lasting influence of the British colonial period.
If you want to get up close to Sri Lanka's wildlife, it's worth adding a couple of additional days into your trip for a safari trip. Wilpattu National Park is known for its lakes and leopards, Minneriya National Park has an abundance of elephants, whilst Yala National Park is the place to spot crocodiles, leopards and exotic birds.
When to Visit
Due to its close proximity to the Equator, Sri Lanka has an average year-round temperature of 80°F. However, there are two monsoon seasons on the island to keep in mind when planning a visit. The best time to visit the west and south coasts and hill country (where Palmstone and Flow are located) is from December to March, whilst the best weather on the east coast is from April/May to September.