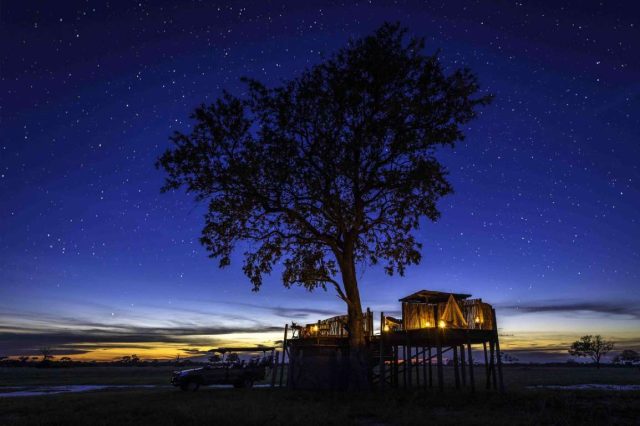 Wake up to the sound of a hippo snorting away some two metres below the treetop sanctuary in Botswana, or from the roof of the desert oasis in Namibia watch as the brightest red sun slowly sinks below the horizon line.
The Wilderness Star Bed experience:
Go beyond rose petal filled bathtubs and romantic candle-lit dinners, to an intimate experience like no other. Combine seclusion, romance, and a healthy dose of thrill and adrenaline when staying in one of Wilderness' Star Bed sleep outs. Climb high into the trees and discover a place devoid of other human life, a rare find, yet rarer still to see it abundant with wildlife. Share a drink with the buffalo, and hear a lion roaring in the distance. Get cosy in a sanctuary made for two for an early bedtime but between the adrenaline, the romance, and the night noises we can't guarantee much sleep. But instead a night to remember. From the clear night skies of Namibia to the elephant wonderlands of Botswana, experience a rare form of privacy in some of Africa's most remote areas.
Sleep under the stars in Botswana
Wilderness Savuti offers six spacious en suite tents and sits on the banks of the channel creating an exceptional Botswana safari. A short drive away, the camp's Star Bed is the star of the show, a two-storey sleep-out deck, complete with ablutions, overlooks the source of the mystical channel: the Zibadianja Lagoon. Guests staying in the Star Bed will sleep in a hide overlooking the mighty Linyanti River and famed elephant pathways.
Escape to Wilderness Tubu Tree, one of Earth's ultimate untamed places. The camp is tucked deep in the Hunda Island of the Okavango Delta and situated perfectly to enjoy passing wildlife. The viewes are extensive with elevated tents on raised platforms which easy access to iconic African wildlife. At night, the hide is transformed into a Star Bed that provides a unique sleep-out experience – a great way to be thoroughly immersed in the sights, sounds and scents of the wilderness.
Sleep under the stars in Zimbabwe
Wilderness Linkwasha is spectacularly positioned on the edge of Hwange National Park's productive Ngamo Plains with nine expansive tented suites overlooking a waterhole frequented by thirsty herds of buffalo and antelope. For guests who dare to be brave, spend the night in the Star Bed, where a chorus of owls and chilling whoops of hyenas create a breath-taking soundtrack to fall asleep to.
Ruckomechi guests can experience adventure in the floodplains on a game drive in search of wildlife followed by canoeing or tiger fishing on the Zambezi River. Nestled in a lush albida forest on the banks of the Zambezi River, Ruckomechi's 10 spacious suites (including two family units) create a serene environment. Guests can even indulge in dinner served under a blanket of stars or at the intimate Star Bed sleep-out.