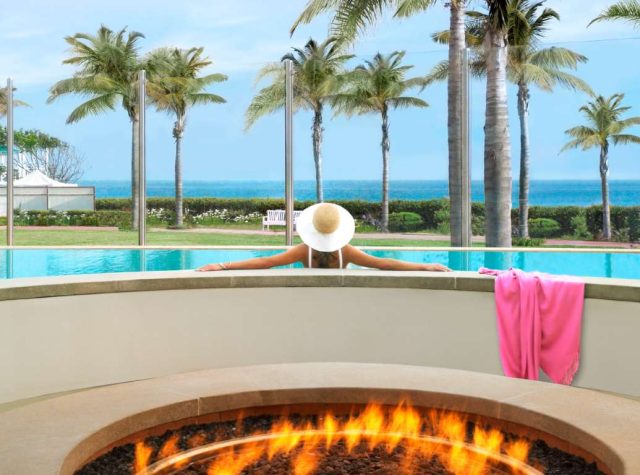 While the holiday season is about connecting with friends and family, the most important relationship to nurture is with oneself. Traveling solo can provide an entirely unique experience, allowing individuals to connect with themselves, call the shots when exploring, and make new memories and friends. Whether solo travelers are in search of an escape from the noise of their daily life, to spend some time in solitude, or to scratch off that trip from the bucket list before year-end, San Diego is the ideal destination for visitors to take off on their own adventure.
Where to Stay
San Diego has several hotel options ideally suited for solos. For travelers looking for more of a city experience, centrally located in the heart of Downtown San Diego and close to the San Diego International Airport, the Marriott Marquis San Diego Marina is a grand waterfront hotel inspired by California Coastal Culture. Guests can enjoy onsite dining options, like the Tequila Bar & Grille, serving up Cali Baja-inspired cuisine and one of the world's most extensive tequila menus in true San Diego fashion. After dinner, visitors walk a few steps to The Rady Shell at Jacob's Park, San Diego's newest year-round bayside outdoor concert venue, to enjoy music from the San Diego Symphony and other well-known artists.
Independent travelers searching for a beachy and coastal stay should consider the Catamaran Resort Hotel and Spa. Located on the shores of Mission Bay and mere steps from San Diego's young and laid-back neighborhood of Pacific Beach, the hotel has plenty of things to do nearby, so there's no need to travel far. In the hotel's backyard, right on the Bay, Action Sports Rentals offers rental equipment for exciting outdoor activities, including standup paddle boarding, kayaking, sailing, and biking around the Bay. Curious wanderers can explore Pacific Beach's neighborhood to surf, check out the area's restaurants and bars, or visit Mission Beach's iconic Belmont Park amusement park for a ride on the Giant Dipper roller coaster.
Tours for Travelers Looking for Company
From guided sightseeing tours to whale watching excursions and everything in between, solo travelers can find their perfect adventure in San Diego and make friends along the way. A hop-on hop-off tour is a great way to explore some of the most popular spots during a vacation. Old Town Trolley Tours takes visitors through the city, exploring different neighborhoods while sharing fun and interesting facts about San Diego. Visitors can also combine their sightseeing with a bit of exercise by taking a bike or kayak tour of San Diego with Bike & Kayak Tours Inc La Jolla. Kayakers will likely see an array of marine life, including sea lions, seals, Garibaldi, leopard sharks, shovelnose guitarfish and the occasional dolphin. Bikers can witness the 360-degree view from atop Mt. Soledad, bike backstreets of scenic, coastal San Diego and visit local sights.
Visitors can also witness the magic of migrating whales year-round during a whale watching tour, recognizing two distinct "seasons" for whale watching off the coast of San Diego, including Gray Whale season (December-April) and Blue Whale season (June-October). San Diego Whale Watch tours feature a variety of marine animals, including sea birds, sea lions, seals, dolphins and, of course, whales on this two-and-a-half-hour journey. San Diego Sailing Tours offers a more upscale opportunity to step aboard a classic sailing yacht for a relaxing cruise on the Bay or a gorgeous sunset sail on the Pacific.