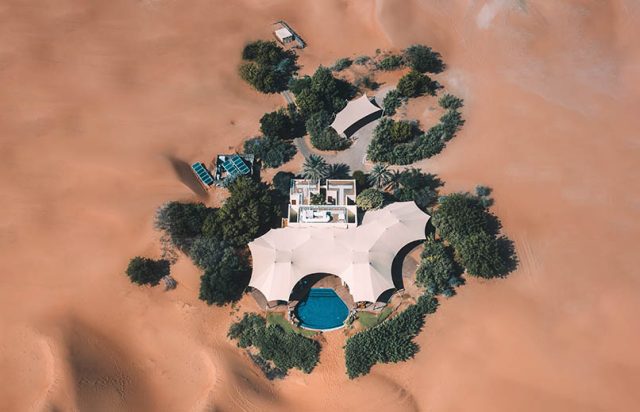 Dubai is rich in sustainable activities, from environmentally conscious hotels and zero-waste dining experiences to sustainable attractions and so much more. Travelers visiting Dubai on and beyond Earth Day this April will discover a host of luxurious yet sustainable experiences, of which many are hidden gems or local secrets
Sustainable Stays
While taking in the waterfront views along the Palm Jumeriah, guests at Andaz Dubai The Palm can dine on dishes made from the hotel's on-site hydroponic farm. Those interested in Dubai's desert scene should book a room at Al Maha, an eco-friendly resort that utilizes an LED lighting system alongside solar panels and sustainable water management systems to ensure their operations minimally impact the environment. Other options include Anantara The Palm Dubai Resort, which is committed to reach 0 percent plastic use across the resort, Sofitel Dubai The Palm, which has attained certifications such as Planet 21, Green Globe and ISO 14001 or Rove Hotels, which has garnered a Green Key eco-label for its composting practices and water and energy reduction.
Conscious Dining:
Whether it is within LOWE's distinctive 'Waste NOT' multi-course menu that creatively repurposes what would usually be considered food scraps into fine dining dishes, BOCA's extensive vegan menu, Tieble's simplistic farm-to-table approach, or SEVA Table's macrobiotic salads, mushroom burgers and veggie soups, Dubai's array of restaurants offer options and inspiration for the environmentally-conscious foodie.
Green Attractions and Experiences:
Those looking for sustainable experiences beyond hotel lobbies and dining tables can visit The Green Planet, an indoor tropical rainforest that is home to over 3,000 species of plants, animals and birds, or the Dubai Desert Conservation Reserve (DDCR)'s, desert experiences that include camel trekking, authentic Bedouin camp experiences organized by licensed operators and overnight safaris – perfect for the adventure-seeking traveler. Those seeking a better understanding of green initiatives and projects can learn more at Dubai's Expo City – Terra, a pavilion that holds the highest available accreditation for sustainable architecture and offers immersive experiences that show the impacts of human choices on the environment. Other educational experiences include Mohammed bin Rashid Al Maktoum Solar Park's Innovation Center or Al Marmoon Desert Conservation Reserve, which is the largest nature reserve in the UAE, covering 10 percent of Dubai's total area and encompassing the Al Qudra Lakes. For a hands-on experience, visitors can get involved with Goumbook Ghaf Tree Planting's initiatives to leave a planted indigenous tree and a positive impact from your journey.