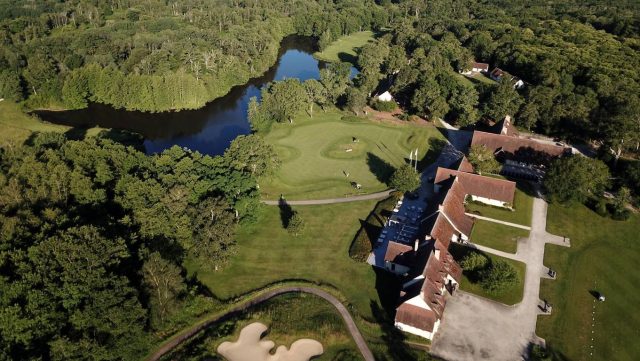 A panel of judges for Golf Inc., the international trade publication that provides owners and operators with industry trends, insights, and best practices, has voted Les Borde Golf Club as one of the best private club renovations in its 25th annual Clubhouse of the Year competition.
The best-in-kind award recognizes the finest clubhouse renovations from around the globe in private club and public course categories, including new and renovated.
Stated one of three Clubhouse of the Year judges about Les Bordes in his appraisal:
"Excellent project that is beautifully and sensitively renovated for members," said Mark Melzer, AIA, LEED AP, Chairman of MDR Architects & Planners. "Masculine features are cleanly detailed, and both the interior and exterior spaces evoke an uncluttered humility, which allows one to enjoy the majestic forest and native landscaping all around."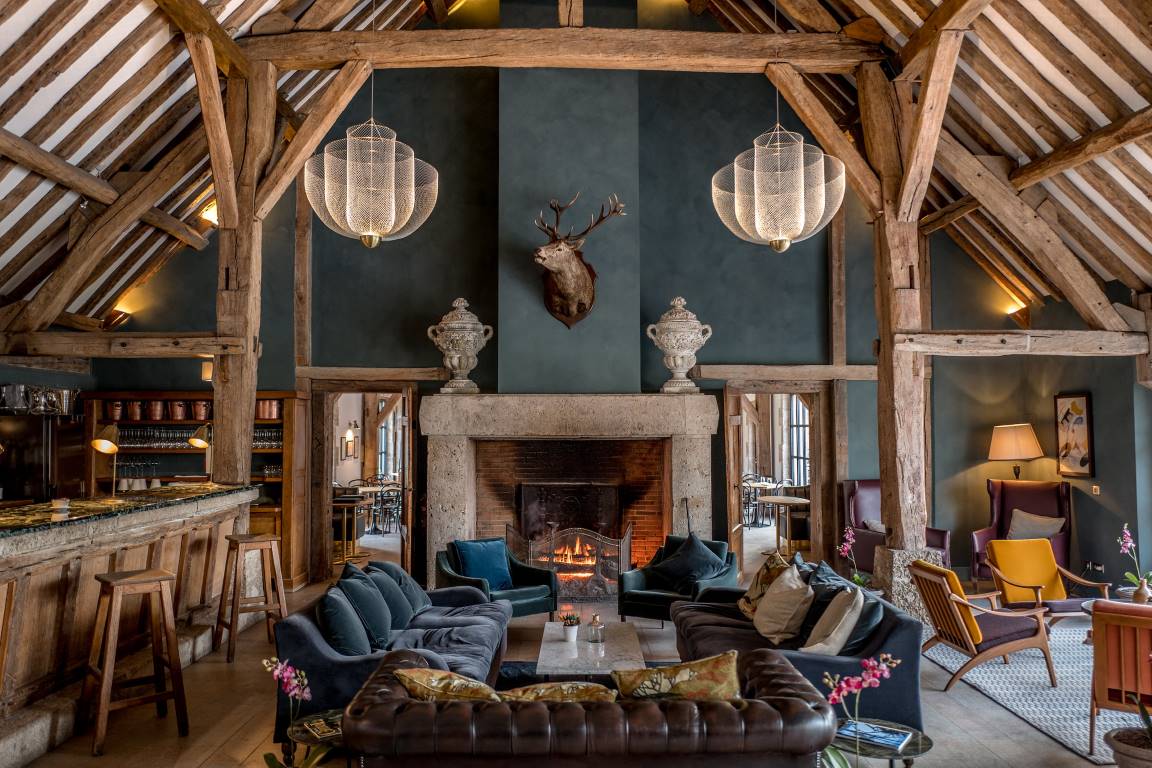 That Melzer noted the beauty and care involved in the renovation is precisely what Les Bordes sought.
"This honor is deeply appreciated for the painstaking work that went into it," said Jack Laws, Les Bordes Director of Golf. "That this resounding praise comes on the heels of our New Course by Gil Hanse debuting to great reception in summer 2021 underscores that our members enjoy first-class facilities, amenities and service throughout."
Neighboring the historic village of Beaugency, and just a 90 miles from Paris, the world-famous Les Bordes is spread across 1,400 acres of the magnificent Loire Valley and Sologne Forest. Located in the UNESCO World Heritage region renowned for historic chateaux, medieval towns, fine wines, great food and unspoiled landscapes, the estate was originally established in 1987 by Baron Marcel Bich. It offers peaceful leisure and exhilarating sport in a unique natural setting blessed with glimpses of red deer, wild boar, sweeping lakes and natural habitats.
Les Bordes is a place where members go for complete escape, yet offers convenient travel connections, a tranquil and refined setting, and first-class amenities and scintillating activities for everyone in the family.
The estate is home to the prestigious Les Bordes Golf Club, a private members' club which aims to deliver the best combined 46 holes of golf in continental Europe – including its second 18-hole layout, the New Course, which was authored by universally acclaimed architect Gil Hanse and opened in July.
Michaelis Boyd Associates designed the clubhouse renovation (Michael Sanders, Architect), while Laurent Baffy served as clubhouse contractor.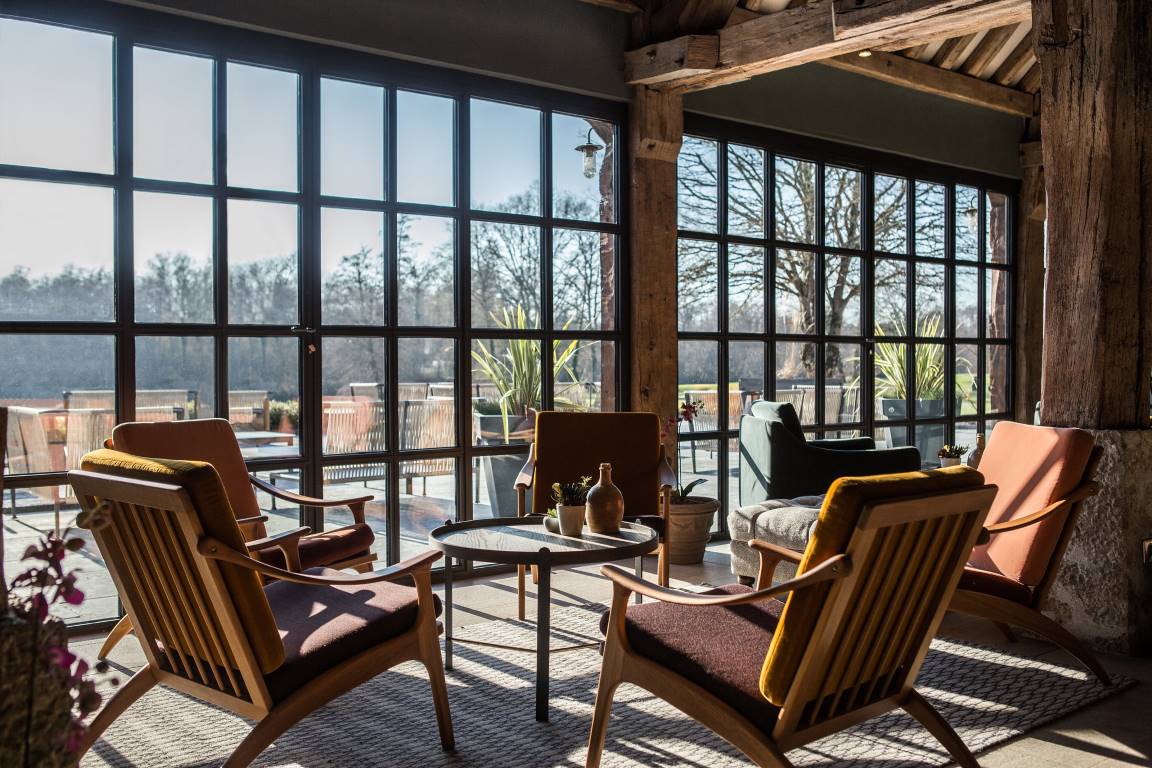 "The key to bringing personality into a renovation project is balance – our goal was to create contemporary, light-filled spaces but also retain as many original features as possible," said Sanders. "A clubhouse has always been a space to meet and socialize, but also to unwind and recuperate after a long day. We wanted guests to feel connected to their environment, and for the space to feel like an extension of their day out on the course, so in the bar we installed modern Crittall-style external doors to open up the space and give views towards the grounds, bringing nature and light in."
Michaelis Boyd Associatesdesigned three parts of the clubhouse: the bar, the restaurant and the private dining area.
In the bar, the Crittall glazing doors provide a wide-open view onto the course, the first tee, lakes and coppices. The industrial feel of the metal and glass complement the weathered stonework and clay roof tiles of the clubhouse – marrying the old and the new together. Original elements such as the limestone flooring and stone fireplace add a sense of grandeur and tradition, and preserving the dramatic high ceilings and exposed beams of the existing building adds to the authenticity of the site.
Creating a luxurious and cozy atmosphere was a prime objective – the interiors are comfortable, deep teal walls accent marble and walnut finishes. Brass latticed chandeliers dot the space to provide a soft glow by dusk and sculptural interest by day, and an eclectic mix of antique accessories, curated artwork and furniture upholstered in sumptuous velvets and warming leathers create a sense of home away from home. The bar extends onto the terrace, where grey hued limestone and contemporary cast iron-like outdoor furniture evokes the feeling of Parisienne brasseries. White parasols and cleverly place planter boxes provide shade and shelter, allowing patrons to enjoy their natural surroundings.
In the restaurant, the pale limestone flooring, stone-quoined door openings and heavy wooden lintels bring a charming, slightly monastic feel to the dining space. A convivial eight-metre-long bespoke navy leather banquette was placed in the centre of the room, flanked by marble and sawn timber surfaces. Accents of brass add a touch of luxury to the more utilitarian space.
Finally, the clubhouse private dining room was reimagined as a relaxing den, softly lit by wall lights with cloche hoods, strategically placed mirrors and a feature pendant allowing light to bounce in the space. The perfect spot to share wholesome meals and lazy conversations with friends.
Taking inspiration from the historic priory and agricultural buildings dotted around the estate, Michaelis Boyd's designs have brilliantly retained original features whilst injecting a modern vernacular to create contemporary, light filled spaces.
Phase one of the real estate development – Cour du Baron Residences – features 48 residential dwellings nestled in a secluded wooded area to the south of the site. Michaelis Boyd designed three distinct styles which translate across the two to six-bedroom homes with exterior materials favouring a simple palette, allowing a natural connection between the varied architectural languages. Each property will boast an extensive outdoor area interconnecting with the surrounding woodland, creating an authentic connection with the natural world. Each of the different styles is available in a variety of sizes to suit every individual and their family.
Les Bordes was lovingly created in response to a growing demand for somewhere to escape, and answers this perfectly with its offering of community living centered around wellness and a wholesome, coveted lifestyle. Set among a woodland with a variety of natural features, the project is founded on core values of sustainability, respectfully using the unspoiled landscape to create areas for the community to enjoy.
Just some of the enriching amenities include natural fishing lakes, walking and cycling trails, an animal petting farm for children, outdoor play areas, and a natural swimming lake with its very own white sand beach – completely unique of anywhere else in the Loire Valley. Others include a renowned equestrian club, archery, tennis courts that will soon become a full club for training and leisure, and for younger family members, go-kart track and pony riding, with a kids' club, ice-cream shop and zip lines coming later this year.
Governed separately from the residential community and rest of the estate, the world-famous Les Bordes Golf Club remains exclusively private.
Further transformative plans include the announced partnership with international travel and lifestyle experts Six Senses, for the regeneration of the on-site 19th Century 'Chateau Bel Air' into an 88-key boutique hotel and spa, as well as introducing the branded residences throughout the woodland that will be available for private ownership. Also, the creation of a community village square with restaurants, shops, a farmer's market and outdoor amphitheater centered around the estate's 13th Century priory, and, of course, the variety of residential homes designed by Michaelis Boyd, to which there has been a lot of interest from existing golf members prior to the general release.
For more information: www.lesbordes.com, www.lesbordesgolfclub.com