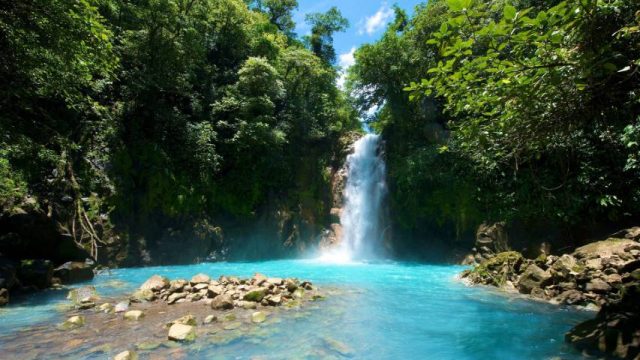 Costa Rica has been awarded the prestigious Earthshot Prize, an award created by the Duke and Duchess of Cambridge to recognise contribution to environmental sustainability, bestowed by the Royal Foundation in the category of Protecting and Restoring Nature. At the awards ceremony on October 17, Prince William and Catherine, Duchess of Cambridge presented Costa Rica and four other winners a grant worth £1 million ($1.7) to develop and scale up their ideas. 
Nominated by The United Nations Development Program, Costa Rica's dedication to reversing previous generations of deforestation and its implementation of the Payment of Environmental Services programme, which provides payments to communities and farm owners to protect forests, plant trees, and restore ecosystems, has allowed a high percentage of biodiversity to be flourish in Protected Wild Areas.
President of the Republic, Carlos Alvarado, upon hearing news of the win said; "The country demonstrates once again to the world that we are pioneers in successfully developing conservation models on land. We know that we must be diligent and act now to counteract the impacts of climate change, or the effects will be irreversible. " The president announced plans alongside The Ministry of Energy (MINAE) to invest the Earthshot prize money in replicating and strengthening the Payment of Environmental Services model in marine conservation, and sharing the programmes knowledge and practices globally.
The Earthshot Prize launched after two years of work by the Duke and Duchess of Cambridge's charity, The Royal Foundation, to support the global effort in protecting and restoring the environment, as well as to identify proven solutions to the biggest environmental issues facing the planet.
Since 1997, when the Payment of Environmental Services programme began, Costa Rica's forests have doubled in size and led to the country attracting tourists looking to explore the biodiversity and wildlife of protected areas, which has resulted in a $4 billion contribution to the economy.
Costa Rica has gained recognition worldwide for renewable energy development and sustainable tourism efforts, with Coldplay recently announcing that they would begin their upcoming "Music Of The Spheres" world tour in Costa Rica thanks to the country's electric grid infrastructure, which is 99% renewable. The concert will be powered with renewable sources of low-emission energy, such as solar installations, used cooking oil, a kinetic stadium floor, and fan-driven kinetic bikes.