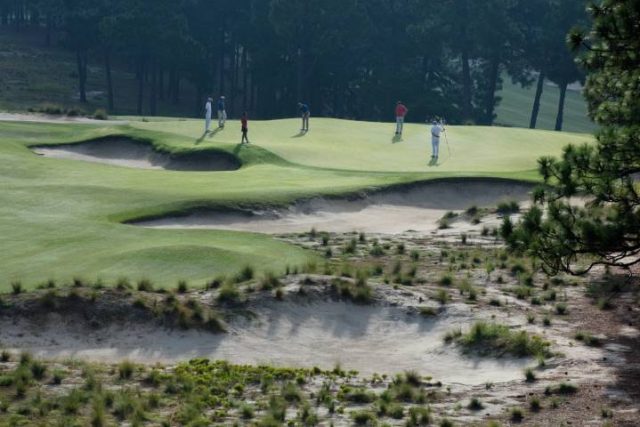 Leadership Majors is a new experiential golf and professional development company that delivers competition alongside peers at world-class destinations the weekend before major championships. Additionally, the retreats include leadership lessons that apply not just to the boardroom, but also to golfers' games.
The events for 2022 are:
March 31-April 3, 2022
September 15-18, 2022
Each event is limited to 24 players on a first-come, first-serve basis. They feature 54 holes of golf on world class courses (also includes a fourth round on a par-3 course) and three Leadership Development Sessions from an expert. The cost from now until January 1, 2022 is $4,950 which includes all golf, lodging, meals, and transportation to/from the airport. (The price increases to $5,950 for the first event after Jan. 1.)
The brainchild of Thane Marcus Ringler, Leadership Majors pairs two areas in which he is an expert – golf and professional development. Ringler played golf through college and four years on the professional circuits, then redirected his focus to coaching others on performance and development.
Through his experience in both fields, Ringler serves as the facilitator that bridges the divide between what the leadership expert brings and how those concepts directly apply to players' games and improving scores.
"Becoming a leader worth following is hard," said Ringler. "But it can still be a fun, memorable, and extraordinary experience along the way. That is the vision behind The Leadership Majors."
Each event includes three rounds of golf on first-class 18-hole courses, an additional round on a short course, three Leadership Development Sessions from an expert in principles that apply to business and golf, and a group of peers to share the experience with while encouraging and challenging each other through friendly competition. Further, this combination allows participants to expense a Leadership Major experience under the professional development budget.
Each event will have a slightly different emphasis, but they will all be handicap-based competitions to level the playing field and make it competitive for everyone. Different tee-boxes for different age groups will be used to create further parity.
In addition to competition and camaraderie on renowned courses and inspirational professional development, each attendee receives a curated gift box and competes to win prizes throughout the event. Also, participants develop new relationships and gain access to business resources.
Ten percent of all profits go to the First Tee of Denver. For more information, visit https://www.theleadershipmajors.com.