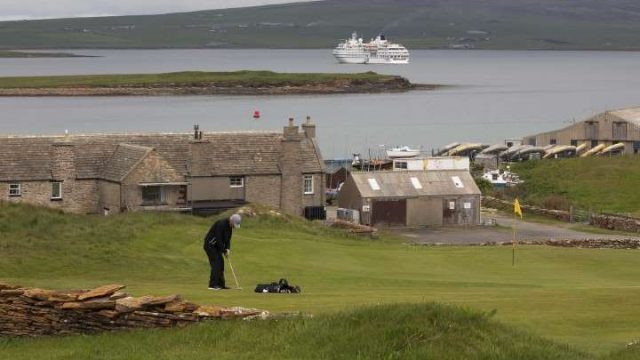 One Ocean Expeditions (OOE) leads the way in the golfing holiday industry with an innovative duo of expedition cruises that see golfers and non-golfers accessing remarkable destinations and impressive golf courses new to the expedition cruise industry.
Following 2018's successful launch of the 'Fiddles and Sticks Golf Expedition' on Canada's East Coast, the inaugural 'Scotland & Ireland Golf Expedition', which ran in June 2019, has been an overwhelming success. During the 8-day voyage departing Dublin and sailing along the rugged coastlines of the Atlantic Ocean, golfers woke each day to a new course, accessing exclusive waterfronts by Zodiac boat transfers.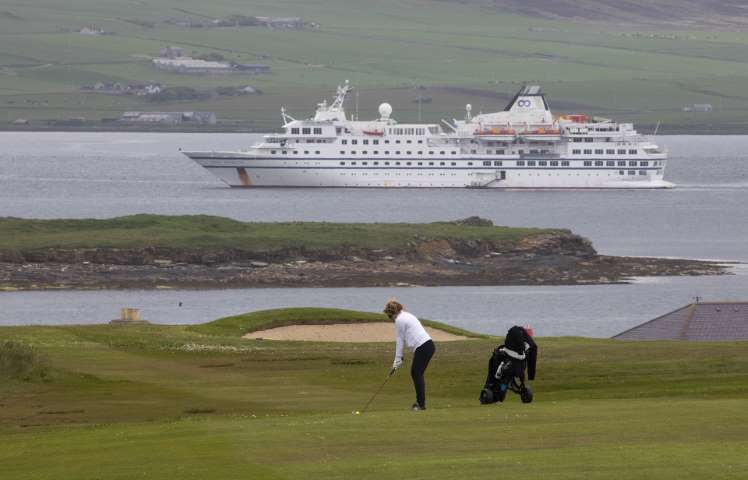 "Visiting Scotland and Ireland, the birthplace of golf and whisky, was outstanding," said Michael Cunningham, a guest onboard the voyage. "Playing some of the finest golf links in the world; hiking, biking and kayaking the Hebrides and Orkney Islands and discovering historical reminders of early civilisations dating over 5,000 years. This is truly an itinerary unlike any other! One Ocean Expeditions has discovered a niche that is difficult to match. To experience all of this in attentive, casual luxury aboard RCGS Resolute is a journey that I recommend everyone should have on their bucket list."
With an abundance of options, including notable World's Top 100 courses Castle Stuart, Ballyliffin, Royal Dornach and Royal Aberdeen, golfers are able to follow in the historical footsteps of the world's greatest golfers and golf course designers, such as Old Tom Morris. With a golf specialist onboard for guidance, golfers travel off the beaten track through rugged landscapes and historical greens. One of the highlights of this trip was celebrating with golf guest Anne Carney, as she achieved her personal best, scoring an impressive Eagle on hole #4 at Machrihanish Dunes Golf Club.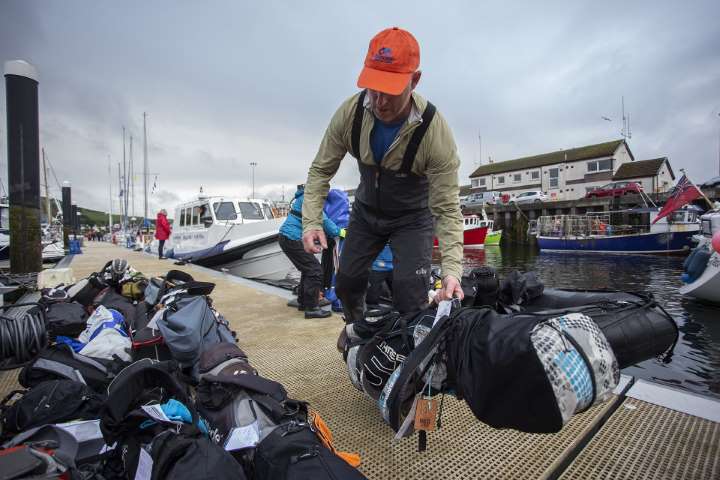 Operating with a focus on Celtic culture, history and golf, the voyage is a must-do for golfers and travellers with varied interests. In addition to hitting the links, guests have the option to join daily excursions to iconic sites such as Campbeltown (the 'whisky capital of the world'), the Orkney Islands and historical sites, including Skara Brae and the Standing Stones in the Outer Hebrides.
The 2019 Canada's East Coast Fiddles & Sticks voyage recently completed its second successful run, confirming golfers appetite for this type of innovative product. Offering a high dose of soft adventures and stunning landscapes, golfers were excited to play the seaside courses of Cabot Links, Cabot Cliffs, Dundarave and Highland Links – ranked amongst Canada's top ten courses. One particular guest was thrilled to sink a hole in one on #16 Cabot Cliffs with 1:12000 odds.
The voyage also featured sensational excursions including Canada's remote Parks Canada Nature Reserve Sable Island, with its famed wild horses and more than 300 shipwrecks and Saint-Pierre et Miquelon, a small group of French islands. At the same time a wide variety of activities such as hiking, cycling, sea kayaking and stand-up paddle boarding, provided every guest with an opportunity to experience the different facets and pristine beauty of Canada's Atlantic coast.
The 2020 Scotland and Ireland Golf Expedition will sail from Dublin to Leith 6-13 June 2020.
For more information about the Scotland & Ireland Golf Expedition: www.oneoceanexpeditions.com/north-atlantic-islands/scotland-golf