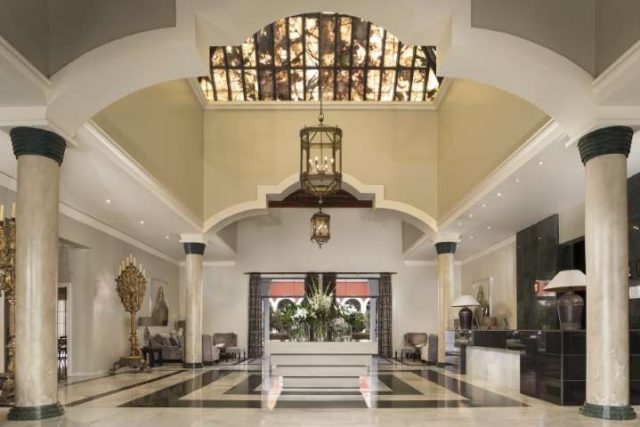 Following an extensive four-year refurbishment the five-star Gran Lujo Meliá Sancti Petri hotel will relaunch in March 2019, as the new Gran Meliá Sancti Petri. The Gran Meliá Lujo hotel celebrates its 20th anniversary this year and it will be the third Gran Meliá Hotels & Resorts property in Andalusia and the eighth in Spain.
The luxury hotel is located on the beach front of La Barrosa, Cádiz and set amongst picturesque hills, rivers and farmland bordering Spain's southern coast in Andalusia. Surrounded by five golf courses, Gran Meliá Sancti Petri has 227 rooms and suites, which have been refurbished along with all public spaces to take on Gran Melia's luxurious and contemporary branding, as well as offering a range of new experiences.
Located across three floors, rooms are spacious and decorated in traditional Spanish style with terracotta flooring, as well as a private terrace with incredible views overlooking the sea, the golf course, the gardens or the hotel pool area. All rooms feature Clarins amenities and Nespresso in-room coffee machines, with the latest technology from Google Chrome Cast and Press Reader. In keeping with Andalusian style, the property features seven fountains in the main patio and the surrounding olive trees decorate the terracotta floors.
Gran Meliá Sancti Petri is recognised as one of the most beautiful buildings in the Andalusian province. It has been inspired by the most impressive architectural jewels of Andalusia, such as the Mosque of Cordoba and the Alhambra. Gran Meliá Sancti Petri stands in an authentic neo-Mudejar palace and maintains its Nasrid style with stunning marble courtyards, Arab gardens and swimming pools. It has a relaxing spa and offers an extensive range of beauty treatments and therapies, as well as a 24-hour gym.
Guests can also enjoy the exclusive RedLevel Service, at a supplementary cost, designed to provide a boutique experience within the hotel. It includes a private check-in, an exclusive RedLevel pool (adults only) and a butler service.
Gran Meliá Sancti Petri has direct access to Barrosa Beach and is perfect for discovering the white villages, the Sierra de Cádiz mountains and the coastline in Tarifa, which are renowned as some of Spain's most beautiful beaches and as a surfing destination.
The hotel has five restaurants, including Alevante by Ángel León and Duna Beach Club, open from May to October, which is situated on the beachfront and the perfect spot for watching the sunset andenjoyingAndalusian cuisine. El Patio, Aqua serves a range of Mediterranean and local fish and rice dishes with views of La Barrosa beach. Don Fernando Lounge & Discovery Center brings to life the legendary enclave of the Costa de Cádiz serving traditional Spanish wine and tapas and the Pool Bar offers a range of juices, refreshing cocktails and snacks. Guests can also sample local cuisine at the Cádiz Gourmet, which sells local wines, cheeses, oils and pastries.
Overlooking views of the Atlantic Sea, Alevante boasts 38 covers and is led by renowned Spanish four Michelin-starred chef, Ángel León. Known as "the Chef of the Sea", he brings a whole new range of flavours and aromas to Gran Meliá Sancti Petri. His avant-garde cuisine includes using plankton in some of his dishes, the Andalusian chef's innovative techniques have seen him become one of Spain's most celebrated culinary pioneers. Based on his restaurant, Aponiente, which is located on the port of Santa María, Cadiz, Ángel León's cooking reinvents sea-inspired cuisine, introducing new ingredients such as microalgae and Iberian ham sausages with a seafood twist.
GranMeliaHotels. www.granmelia.com