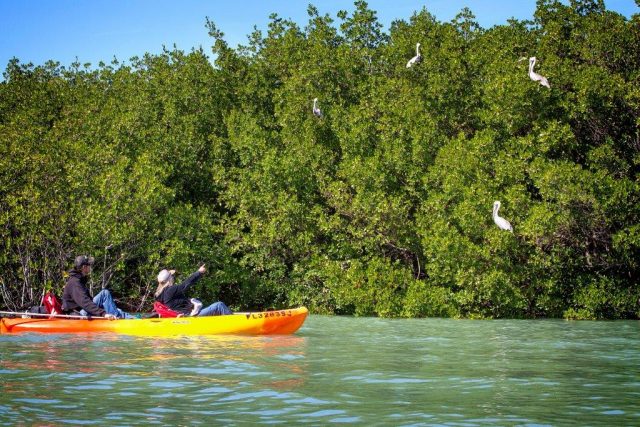 There's no need to pre-purchase tickets for the amusement park here because, in St. Lucie, nature is a big attraction. The only crowds you'll encounter might be a large flock of wading birds…so soak up the natural beauty of Florida in St. Lucie with a day of hiking, kayaking, or horseback riding.
Looking for some of Florida's best nature observation opportunities? Look no further than the 10,000+ acres of public nature preserves that exist in St. Lucie – Fort Pierce, Port St. Lucie & Hutchinson Island. Imagine a coastal south Florida destination that still retains its small-town charm, a slow-paced island lifestyle, and natural Florida landscapes that are reminiscent of generations ago. To the east on Hutchinson Island, find uncrowded and beautiful sandy beaches that awaken with the morning sun to the ranchland restorations and cypress hammocks in the western part of Fort Pierce that glow gold just before twilight.
Hiking:
Visitors can enjoy guided nature tours, or if preferred, immerse themselves in the beauty of nature on a self-guided hike. For Guided Nature Programs, visitors should contact St. Lucie County's Environmental Resources Department at (772) 462-2536 to register for FREE hikes. The Savannas Preserve State Park in Port St. Lucie also offers guided hikes, call 772-398-2779 or 772-340-7530 for more information.
Paddling:
The Indian River Lagoon, the nation's most biologically diverse estuary is a haven for Florida wildlife and nature observation. Drift through mangrove tunnels, spot manatees, sea turtles, or dolphins, view ospreys feeding their young along with pelicans, herons, egrets, roseate spoonbills, and more species of birds. Rent or reserve a guided tour to kayak or stand-up paddleboard. Or sit back, relax and enjoy a chartered wildlife boat cruise.
The St. Lucie River is a brackish body of water that winds through the heart of Port St. Lucie – visitors would never know that this quiet, majestic scenic river canopied by century-old oaks, Spanish moss, and palms is flowing through the middle of Florida's 8th largest city. Spot alligators sunning themselves on tree stumps and turtles diving below the surface. The birds that inhabit here are stunning. Guided paddling tours, equipment rentals, or chartered wildlife boat tours are available.
At the Savannas Preserve State Park, visitors will find a representative sample of a basin marsh that extended throughout south Florida prior to the rapid urban sprawl. Canoe or kayak these marshes and discover the diversity of habitats that wildlife enthusiasts and photographers go crazy for.
Horseback Riding:
The Florida cracker is not extinct here. St. Lucie's rich heritage of cattle ranchers and equine activities have continued on through today's recreational horseback riding opportunities that are available to all. Book a guided trail ride with experienced horses and guides and discover the beauty of St. Lucie's undisturbed nature from the back of a horse. For those looking to really make a memorable experience, Frederick Douglass Memorial Beach in Fort Pierce on Hutchinson Island is the only beach in south Florida that allows horses. Guided tours are available. Go to www.beachtoursonhorseback.com.
Love Birdwatching?
St. Lucie has several nature preserves that are listed on the Great Florida Birding & Wildlife Trail including Bear Point Sanctuary, Fort Pierce Inlet State Park, Indrio Savannahs Preserve, Pinelands Preserve, and Savannas Preserve State Park. The species vary amongst these natural areas where you will find wading birds such as herons, egrets, and the Roseate Spoonbill, to wild turkeys, Sandhill Cranes, and Spotted Sandpipers. When exploring be prepared with binoculars, water, insect repellant, and sunscreen. For more information on the Great Florida Birding Trail, visit www.floridabirdingtrail.com.
For All Things in St. Lucie:
St. Lucie – home to the historic city of Fort Pierce, the vibrant city of Port St. Lucie & beautiful beaches of Hutchinson Island is located on the Atlantic Ocean along the east coast of Florida, 120 miles southeast of Orlando and 115 miles north of Miami with direct access from Florida's Turnpike, Interstate 95 and State Road 70. The area offers an array of visitor activities including beautiful beaches, championship golf, excellent outdoor and nature adventures, a thriving arts and cultural scene, world-class fishing, and dozens of unique attractions. A variety of affordable accommodations such as hotels, motels, bed & breakfasts, vacation condos/homes, and an all-inclusive resort are available. Nearby commercial airports include Palm Beach International (PBI), Fort Lauderdale/Hollywood (FLL), and Miami International Airport (MIA). For more details visit www.visitstlucie.com