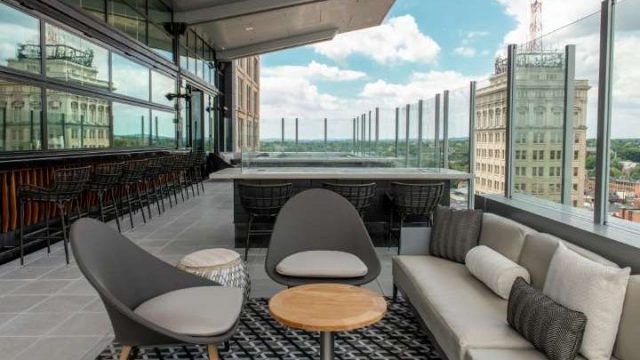 Lancaster City's highest rooftop bar, The Exchange, is now open bringing a vibrant social experience amidst the Lancaster sky. Sitting 12 stories above the historic Penn Square at 25 South Queen Street, Lancaster, Pa., The Exchange offers a whole new way of looking at the historic city with panoramic views, a lively music selection and an extensive beverage-driven menu, alongside modern exchangeable plates meant for easy conversation. With indoor/outdoor space open all four-seasons, The Exchange offers a high-energy experience for those 21 and over beginning at 4 pm daily during the week and at 12pm on weekends.
At 3,500 square feet, The Exchange offers seating for up to 140 guests in a lively setting with intimate seating, a patio and a floating bar for optimal socialization. With windows that open into the patio, guests can enjoy the summer weather and panoramic views, both indoor and out. Ample seating space on the outdoor patio offers the perfect meeting space for colleagues and friends to experience sweeping views of Lancaster City. A slanted roof and outdoor firepits help to provide warmth in the colder weather, all while offering open views of the city year-round.
"The Exchange will bring a vibrant social experience to the highest rooftop in Lancaster," said Michael McCoy, General Manager of The Exchange. "With live musical performances, and a beverage-driven menu alongside shareable plates and unforgettable views, our guests will experience this city like they never have before."
Capturing the excitement and airy experience amidst the bar is expert mixologist Frank Fontaine's handcrafted beverage menu. Showcasing Lancaster's rich culture with local and seasonal ingredients, Fontaine's menu offers both creative twist on the classics, while also offering quirky and fun cocktails for the adventurists. With drinks like the Midnight Rider and Licensed to Dill, guests will find cocktails to remember with wordplays and references to pop-culture. Drinks like the Pepp in Your Step, Fresh Start and P3 offer a fun experience with exciting spices and unique flavors. Wine enthusiasts and beer lovers will also find a wide selection of options, with local brews and wine by the glass.
To accompany the bar menu, Executive Chef Ryan McQuillan has created inventive, small plates with big flavors and local ingredients. Guests will be able to order options from a fully-equipped, open kitchen, including pizzas made from a wood-fired pizza oven like the Sausage & Corn Pizza made with locally made smoked mozzarella and honey, as well as "Chicken Fried" Maitake Mushrooms, Grilled Broccolini and Fried Chicken Bao Buns. The small, "exchangeable" plates are created with experience in mind to help guests enjoy conversation or music selection.
To enhance the experience, live musical performances will be regularly scheduled. Guests can check for upcoming live and DJ performances on The Exchange website, alongside special events.
The Exchange opens daily at 4 pm during the week and at 12pm on weekends. Proper dress is required and no reservation is needed. Must be 21 or older to enter.
For more information visit exchangeroof.com.