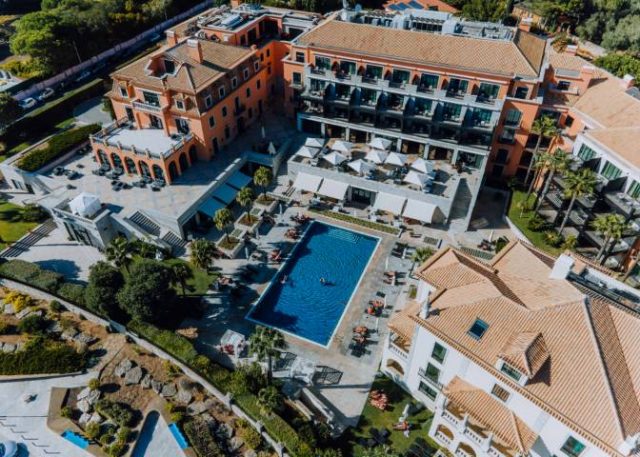 Spend a perfect summer day in a swimming pool with sea water, away from the beaches and with the exclusivity, comfort and security of Grande Real Villa Itália Hotel & Spa, in Cascais. 200 m2 of a seawater swimming pool, 800m2 of surrounding area and green spaces, 40 sun loungers, parking is free and there is always a green flag.
The "beach" is open every day, from 10:00 to 18:00, with a cost of €30 per person and per day. This price includes access to the pool, a sun lounger, a pool towel, and free parking. There is also a pool bar with snacks and light meals, where you do not even have to get up from the sun lounger.

The other great news is the return of the famous "Brunch à Boca do Mar". From June 6, you can enjoy family weekends in the best way. Inspired by the quality and tradition of Portuguese cuisine, "Brunch à Boca do Mar" offers a very complete and diverse offer, bringing together the best of national and international cuisine, with the Cascais sea as a background.
The "Brunch à Boca do Mar" is available on Sundays, between 12:30 and 16:00, with a cost of €35 per adult with drinks from the Hotel selection included. For children between 7 and 11 years old, Brunch will cost € 17.50, and children up to 6 years old do not pay. Above all this, parking is free.
If you go on a Sunday, you have the option of the "Brunch à Boca do Mar" + "Praia no Villa Itália" pack, for 50 € per person. You only must mention that this is the option you want, when you are booking, to guarantee your place in both services.
But if your wish is to find a haven for a relaxing weekend, check the hotel's special reopening accommodation offer and come to Grande Real Villa Itália Hotel & Spa, located on the seafront of Cascais. The perfect place for a stay that will make you travel back in time and feel freedom again. Summer holidays or getaway in Cascais with 20% off, valid for stays between June 1st and July 30th, 2021.
Find out more: www.granderealvillaitalia.realhotelsgroup.com