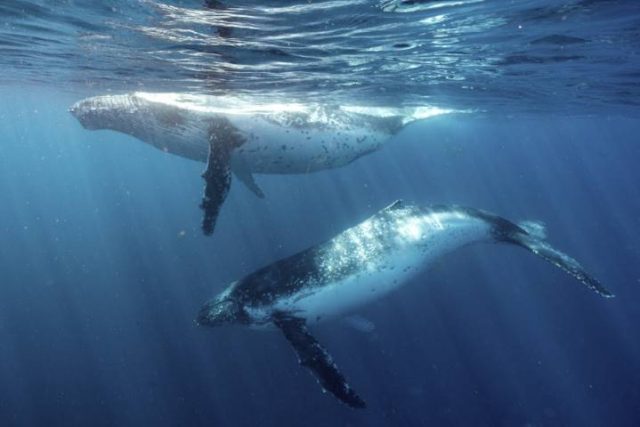 From May to November, thousands of whales migrate along the New South Wales coast from Antarctica to the South Pacific and back again. From Tweed Heads in the north to Eden in the south, you can observe the 'Humpback Highway' from lookouts on land (see the Wild About Whales website to find the best vantage points), or hop aboard a cruise to see these gentle giants up close.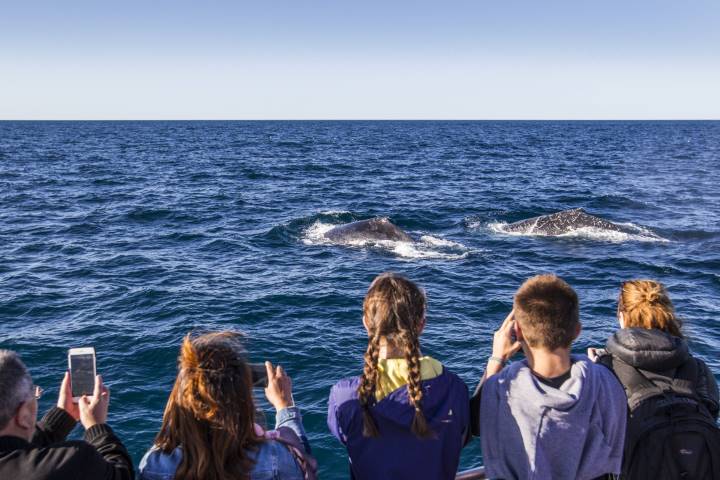 Spot whales on the North Coast
In far northern NSW, hop aboard the catamaran George Bass to spot whales with Coolangatta Whale Watch, boarding in Tweed Heads, an 8.5-hour drive (or 1.5-hour flight) north of Sydney.
Spot whales from Cape Byron, the Australian mainland's most easterly point, a 40-minute drive south of Tweed Heads, and on small cruise tours such as Whale Watching Byron Bay and Blue Bay Whale Watching, which departs from the pretty village of Brunswick Heads. If watching whales from a kayak is more your thing, head out with Go Sea Kayak Byron Bay or Cape Byron Kayaks.
A half-hour drive south of Byron Bay, Ballina is home to the Ballina Head and Black Head lookouts — both good for spotting whales. Or join a cruise with Out of the Blue Adventures, accompanied by a marine biologist.
At Iluka Bluff, an hour's drive south of Ballina, you'll find a dedicated whale-watching platform with outstanding views. Wooli Deep Sea Tours takes visitors out on the water to spot whales and explore the beautiful Solitary Islands Marine Park.
How about swimming alongside humpback whales? At Jetty Dive in Coffs Harbour, a 5.5-hour drive north of Sydney, you can don a wetsuit, mask and fins, and slide into the water alongside whales. The curious creatures often glide right up to the swimmers to take a closer look. 
Port Macquarie is the halfway point between Sydney and Byron Bay (four hours from either) and has a 9km Coastal Walk that is dotted with vantage points perfect for whale spotting. Cruise on Port Jet Cruise Adventures' Wave Rider, one of the fastest commercial whale-watching boats around, or get a bird's-eye view with Port Macquarie Seaplanes.
At Port Stephens, 2.5 hours from Sydney, grab your binoculars and head to Tomaree Head, Barry Park at Fingal Bay, Fishermans Bay, Birubi Point or Boat Harbour Headland. Cruise operators include Moonshadow-TQC Cruises, and Aquamarine Adventures.
In the city of Newcastle, two hours north of Sydney, NOVA Cruises heads out to spot whales in the open water. For great views from dry land, head to Shepherds Hill lookout, popular with locals.
Watch for whales in Sydney
Sit back and watch the whales pass by from the lookouts at Sydney Harbour's North and South Head. At the tip of the Northern Beaches, Barrenjoey Head at Palm Beach offers an elevated viewpoint. For on-the-water experiences, FantaSea Cruising, Bass & Flinders Cruises, Sydney Princess Cruises and Manly Ocean Adventures are just some of the whale-watching cruise boats that leave from Circular Quay, Darling Harbour and Manly.
See whales on the South Coast
Jervis Bay, a three-hour drive south of Sydney, is halfway along the whales' 4,000km migration route, and whales often stop here to rest and play with newborn calves. You can swim with whales with Dive Jervis Bay, or head out with cruise operators such as Jervis Bay Wild. Head to Penguin Head at Culburra Beach or the viewing platform in Booderee National Park to watch from the shore.
Joined to the mainland by a sand bar, Broulee Island, two hours south of Jervis Bay, is another great vantage point. At Toragy Point, a panoramic lookout has information about whales and marine life as well as great views.
An hour's drive further south, Narooma Charters runs whale-watching tours to stunning Montague Island. Also near Narooma, you can learn about the significance of whales in Aboriginal culture, through Ngaran Ngaran Culture Awareness, which includes Whale Dreaming ceremonies as part of its tours during the whale-watching season.
At the coastal town of Merimbula, Sapphire Coastal Adventures offers a 100 per cent whale spotting guarantee. It's an 80-minute drive south of Narooma or less than six hours from Sydney.
Last but not least is Eden, half an hour south of Merimbula. Whales are a huge part of the history of this small town, which was a whaling centre for centuries before becoming a whale-watching hub. In calm Twofold Bay, calves get a rest and whales feed before their final leg back to Antarctica. Take a self-drive tour along the Killer Whale Trail that takes you to five historic whaling sites, or get out on the water with Cat Balou Cruises or Freedom Charters. The Eden Whale Festival in October–November has events including a land-based whale-spotting tour and tours of historic Davidson Whaling Station, plus food, entertainment, music, film and fireworks.