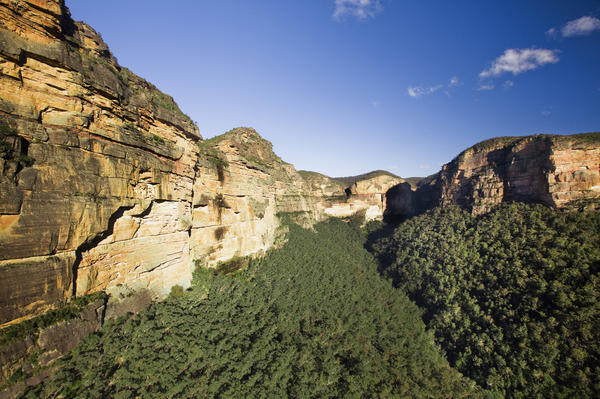 Great Walks of Australia, the collective brand that markets Australia as a key guided walking destination, is proud to announce the addition of a new walk for NSW, the Blue Mountains Grand Traverse by Auswalk. This brings the number of walks in the program to 12, with 10 of those showcased in the new Signature Collection.
Located in one of Australia's many unique and spectacular walking destinations, this walk is the 2nd in the collection for NSW, having recently adding the Seven Peaks Walk by Pinetrees on Lord Howe Island in April 2017. The Blue Mountains walk offers a fully supported opportunity to explore this important natural environment, only 90 minutes from Sydney, which features stunning cliffs, canyons rainforests and waterfalls. It is located in a UNESCO World Heritage listed area, as are the Great Walks products on Lord Howe and on Maria Island, Tasmania.
"This walk is an exciting addition to the collective given its proximity to Sydney, the important history of the area including walking tracks that are in some cases more than 100 years old, plus the demand we have from various international markets for a luxury guided walk in this area. It should be a popular addition," said Gina Woodward, Executive Officer of the collection.
The Blue Mountains Grand Traverse is a new 3 day/2 night walking experience including transport to and from Sydney. It's a luxury version of Auswalk's already popular Blue Mountains Traverse walking holiday. Walkers are 'lodge based' at the elegant Echoes property and each day walk in areas that take in the key highlights of this spectacular region. This five star boutique hotel, with private rooms and ensuites, offers a pampered end to each hiking day with walkers enjoying fine dining and uninterrupted views of the majestic Jamison Valley. Walk days take in the Grand Canyon, Ruined Castle and Valley of the Waters, as well as famous viewpoints such as those of Govetts Leap, the Three Sisters, Wentworth and Katoomba Falls.
Auswalk owner, Brett Neagle, said "We're extremely excited about this walk as it's a natural evolution for Auswalk to work with Great Walks. We have been offering this walking holiday, and other superb walking itineraries across Australia for the past 20 years. Our expertise is now going to be shared across Great Walks of Australia and we look forward to welcoming guests on this personalised experience with our fully accredited expert guides."
For further information, comment and images contact: www.auswalk.com.au