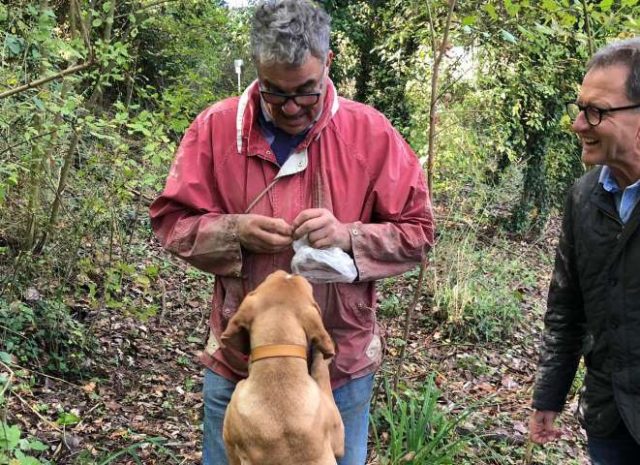 Repeat visitors to ADLER Spa Resort THERMAE already know the pleasures of activities like luxuriating in the hotel's thermal pools, enjoying treatments at the five-star spa and signing up for excursions like gravel biking, e-biking, wine tasting and even Gregorian-style choral singing. But mid-October is the best time of year for an especially delicious pursuit: Foraging for truffles, specifically the prized white ones of San Giovanni d'Asso.
Guests spend time with Gino, a passionate truffle hunter with more than two decades of experience. He owns a private, riverside truffière and looks for the fabulous fungi with the help of a very special canine companion: Willy, his sharp-nosed Lagotto Romagnolo (an Italian breed that's sometimes called a water retriever). Guests join the pair for one of their weekly four-mile walks. Here's how one guest describes her recent experience.
We hop in the hotel's mini-van and drive to the village of San Giovanni d'Asso, a hamlet near Montalcino, with a population of around one thousand people. We meet Gino and his four-legged friend, Willy, an adorable dog with infallible sniffing skills, who is already chomping at the bit. We make our way along the route following Willy's busy nose – the terrain isn't too challenging, but sturdy footwear is essential.
Truffle hunting can require quite a lot of patience. Rummaging among trees and bushes, Willy combs the undergrowth for the telltale scent. Then he starts digging frantically—that's the signal that he has finally located a ripe truffle. Sometimes the pungent fungi are just hidden under a thin layer of leaves, but they might also be growing more than a foot deep into the earth. As soon as Willy starts his excited pawing, Gino has to rush over and stop him from swallowing the delectable treasure! He attracts Willy's attention by calling his name; then he rewards his friend with a treat.
Foraging for truffles is a fascinating experience that brings us into close contact with nature. But there is more to it than just that. It is also a wonderful occasion to observe from up close the perfect synergy between man and dog, and their shared joy when the precious fungus is finally found. According to Gino, for truffle hunting, 2018 was an exceptional year. He would come back from every trip with truffles that weighed close to half a pound each, and once even found one that clocked in at three quarters of a pound.
Our day out ends with—what else?—a truffle tasting. Gino's wife, Serenella, welcomes us to Agriturismo La Canonica, serving us pasta sprinkled with fresh truffle shavings, pairing it with a tasty local red wine. As we enjoy our meal, we can't help but reflect on how truffles are a gift from nature, and their unpredictability is part of their unique charm.