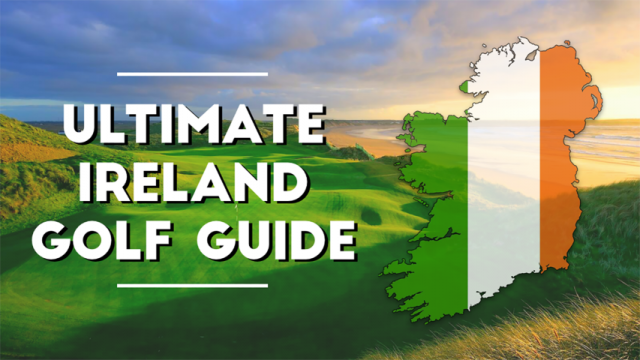 Ireland is home to some of the world's most outstanding and masterful golf course designs. With over 300 courses to choose from, golfscape highlights 8 of Ireland's top golf courses, as well as how to get to the Emerald Isle and where to stay during your visit. The Ultimate Ireland Golf Guide has everything you need to know, from signature holes all the way to outdoor hotel activities. Select the course of your choice, book your stay at one of the luxurious hotels or a cosy Airbnb, and get ready to find your pot of gold.
Getting to Ireland
Getting to Ireland can be done in two ways; by flight or ferry. Aer Lingus is the national airline of Ireland, flying internationally to destinations all over  the  world. From  in-flight  entertainment  to wifi in the sky, there's no better way to start your travels. On the other hand, getting to Ireland by ferry can be an exciting adventure. You get to bring your golf clubs along with no hassle – an
old-fashioned journey to the green of dreams.
Play at the best Irish golf courses
Whether you're looking to experience the East, Southwest, or Northwest, we've got you covered! Explore some of the region's finest greens, challenge the fairways, and truly experience Ireland golf like never before.
Portmarnock Hotel & Golf Links, Dublin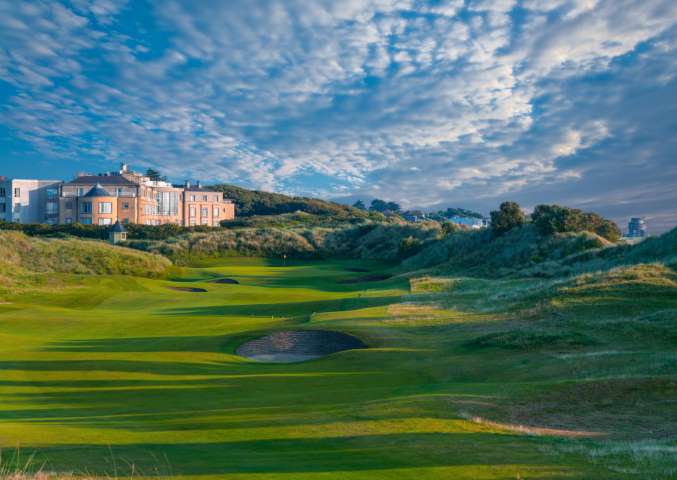 Just fifteen minutes away from Dublin International Airport, Portmarnock Hotel & Golf Links is the only coast resort and links course in Dublin. As one of Bernard Langer's magnificent designs, the course is set in the grounds of the old Jameson Estate of St. Marnocks. The 16th is known as the 'signature hole', which requires an accurate shot from an elevated tee box. This is undeniably one of the most challenging holes at Portmarnock. Moreover, the challenging round is made worthwhile by the incredible hotel amenities. These include an award-winning spa and two highly awarded restaurants.
"It's such a wonderful place. Those greens; the entire golf course is spectacular, and in perfect condition." – Katie Kearney, US Golf Sensation & Model
Carton House, Kildare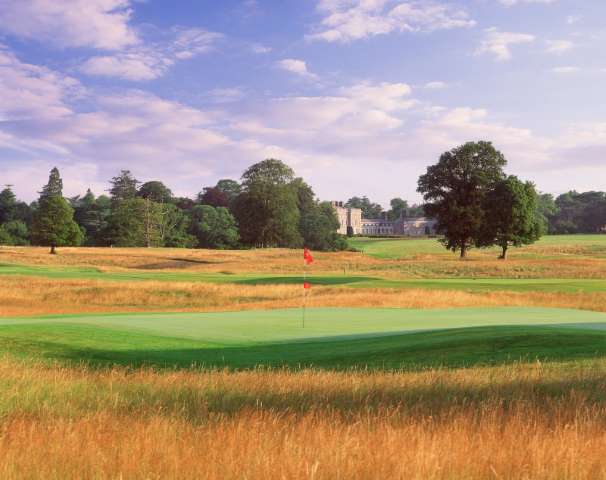 Only a 25-minute drive from the city center and Dublin International Airport, Carton House is a serene getaway from the hustle and bustle of the city. Whether you're looking for a challenging inland links-style course or a classic parkland experience, both set a challenge like no other. As one of the preferred golf courses in Ireland, the Montgomerie offers numerous bunkers and impeccable greens. Diversely, the O'Meara surrounds you in ancient woodlands. It is also home to a golden river and a breathtaking, historic backdrop on the 18th hole. With 3 outstanding eateries, wellness facilities, and a premium spa, Carton House presents you with a memorable experience where historic charm meets contemporary luxury.

Fota Island Resort, Cork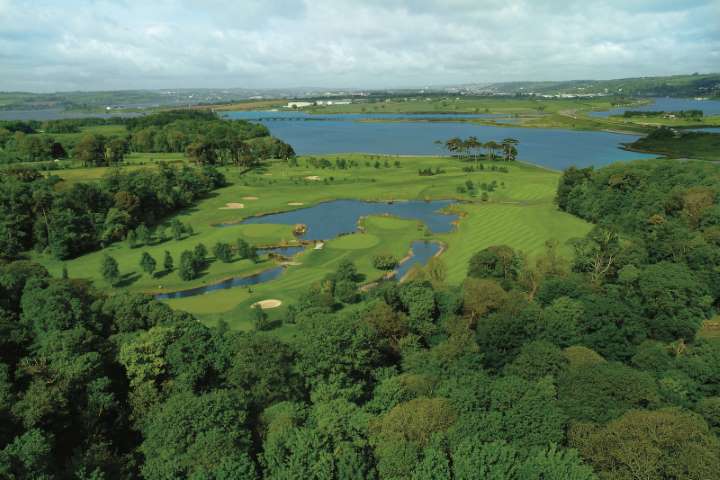 Fota Island Resort is home to three world-class championship golf courses – Deerpark, Belvelly, and Barryscourt. Beautifully set in parkland scenery, you'll find yourself wandering through tall oak trees and magnificent woodlands. Padraig Harrington's favorite hole is the 18th island green on the Deerpark course – one of Ireland's most remarkably picturesque golf holes. Adding to that, the resort has a luxurious 5-star hotel & spa, residential lodges, as well as an exceptional golf academy.
"The setting is gorgeous… you get to the top of the hill and it is all presented to you… the clubhouse, the lake, mature trees, bunkers, shrubs – magnificent. And doesn't everybody like being faced with a downhill shot to a big green!" – Padraig Harrington, Professional Golfer
Trump International Golf Links & Hotel, Doonbeg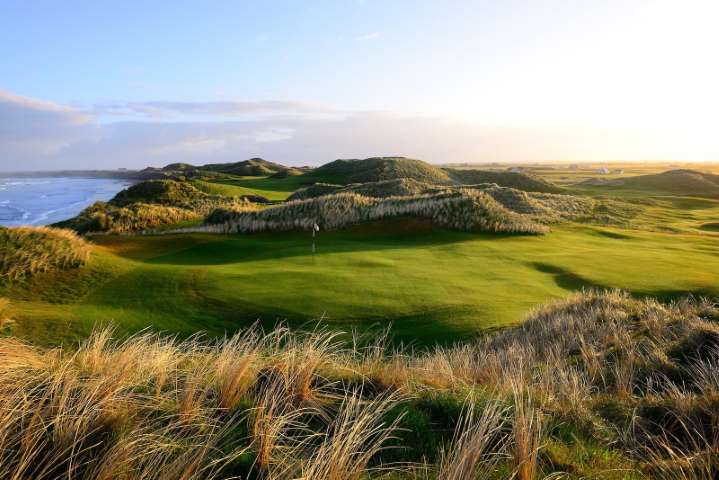 Spread across miles of crescent-shaped beach, Trump International Golf Links is a world- renowned championship golf course. The course earned its 'must play' status internationally following Dr Martin Hawtree's design philosophy of 'least disturbance'. The design results in flourished land as well as enhanced playability. With distinguished identities for each hole, players simultaneously feel rewarded and challenged. Golfers have the opportunity to experience the unusual combination of five par 3s and five par 5s. Moreover, the luxurious 5-star hotel suites, furnishings, and mesmerizing antiques will leave you in ultimate grace and comfort.
Adare Manor, Adare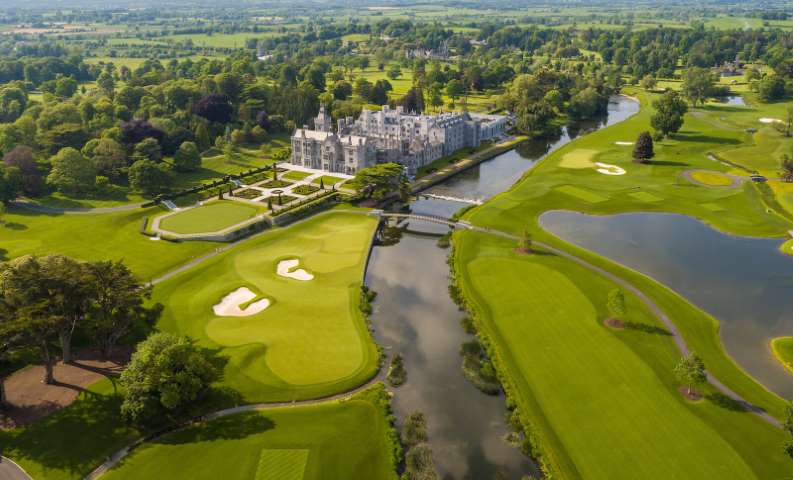 Recently re-opened in April 2018, The Golf Course at Adare Manor brings a new standard to Irish championship golf courses. With fewer bunkers than any other Tom Fazio design, Adare Manor is a challenging but fair test. Additionally, all 18 greens benefit from SubAir Aeration System, which removes moisture and guarantees firm play every day. Adare Manor is one of three golf courses in the UK & Ireland to implement this system. Furthermore, the course is located in the charming village of Adare in County Limerick, which is designated by the Irish government as a heritage town. Adding to that, you can immerse in an Irish Gundog Experience at one of Ireland's leading hotels. You definitely won't regret it!
Castlemartyr Resort, Cork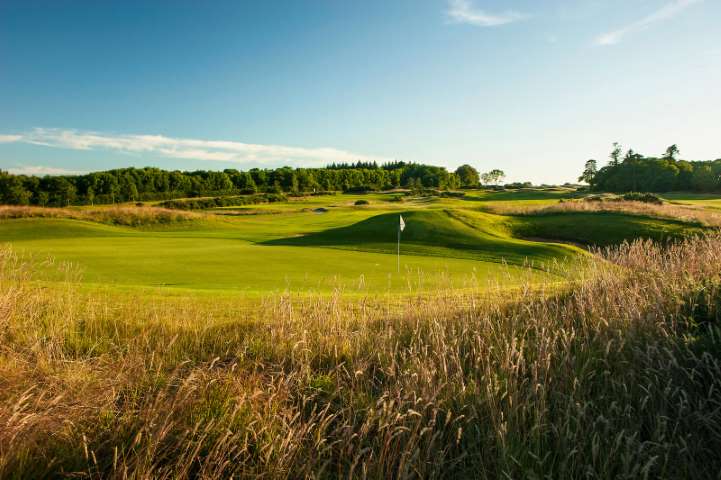 Designed by world-renowned Ron Kirby, the Castlemartyr Resort houses an 18-hole inland links– style course. Both a visually pleasing and challenging experience, the course offers an excellent round for players of all abilities. Nestled in an old manor estate in East Cork, you can enjoy walking trails while witnessing the birdlife within the beautiful grounds of the estate. The 5-star escape not only features an oasis of calm at the spa but also an array of activities. These include carriage rides, fishing, and clay pigeon shooting!
County Sligo Golf Club, Sligo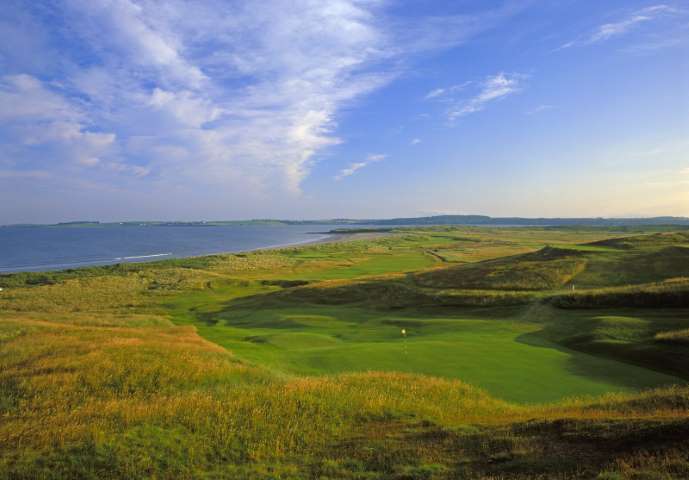 County Sligo Golf Club was originally designed as a 9 hole course in 1894. It is now a modern 27 hole complex with an outstanding clubhouse and state of the art facilities. Home to many prestigious events, County Sligo is the annual host of the West of Ireland Championship, played and won by Padraig, McIlroy, and Lowry. Here, you'll experience antique charm at the clubhouse that still retains the graceful Tudor style facade from the original architecture. Furthermore, the golf club has a 9 hole course and a superb driving range.
"A magnificent links and the stretch of holes from the 14th to 17th that run adjacent to the Atlantic Ocean are one of the best finishing stretches in golf" – Tom Watson, Professional Golfer
Tralee Golf Club, Tralee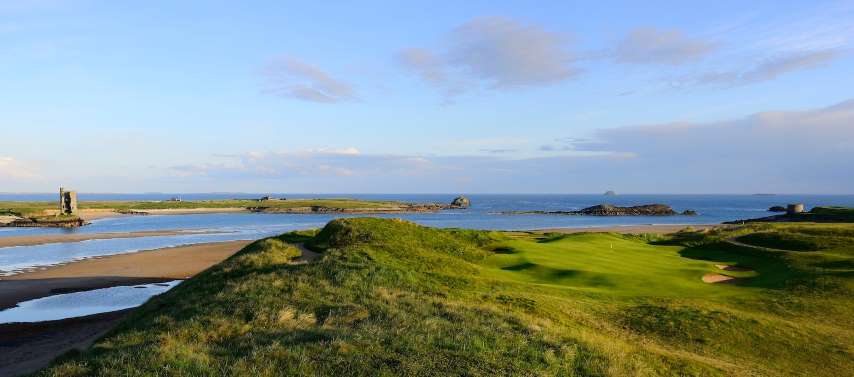 Known as Arnold Palmer's jewel, Tralee Golf Club is a daring course settled on a charming rugged coastal stretch just eight miles from Tralee. From towering dunes to clifftop tees, this golfing paradise is widely acclaimed as one of the world's finest links courses. You can enjoy the magnificent views of the Sliabh Mish mountains backdrop from the clubhouse and practice your game in the purpose-built Academy.
"I may have designed the first nine, but surely God designed the back nine" – Arnold Palmer, Professional Golfer & Golf Course Designer
Where to stay on the Emerald Isle
Not sure where to stay during your golf trip? Luckily, Portmarnock, Carton House, Fota Island, Trump Doonbeg, Adare Manor, and Castlemartyr Resort all include exceptional hotel facilities. In particular, Portmarnock's Fire & Ice spa treatment will transport you to a sea of calm with a complete holistic experience. Golfers recommend trying the traditional afternoon tea at the charming Seaview restaurant. Coupled with a panoramic view, you'll never want to leave. If you prefer to participate in outdoor activities, Fota Island Resort will leave you spoilt for choice. From archery to target practice, you'll be sure to have your days filled with adrenaline and excitement.
However, if you're looking to stay outside the course, there are many more options available. While Dublin International Airport may be your starting point on your visit to the Emerald Isle, you can spoil yourself at the refined Merrion in the heart of Dublin. This stylish hotel is home to Ireland's only two Michelin star restaurant. It is also a short walk from museums, pubs, and galleries. If you're planning to spend most of your time on the course rather than in the hotel, you can browse countless options on Airbnb all over the country! Find yourself a cosy place to stay and relax in your home away from home.
Explore Ireland outside the course
While playing golf in Ireland is enough to fulfill your journey in itself, there's a whole exciting world of history and culture to explore outside the fairway. Take a trip to the Guinness Storehouse and learn the rich history of the famous Irish beer. Visit one of the many ancient monuments and castles around the region. You might even be playing a round near one! Thanks
to the charming Irish hospitality, you'll not only learn to play like a local, you'll also discover the ins and outs of the Island.