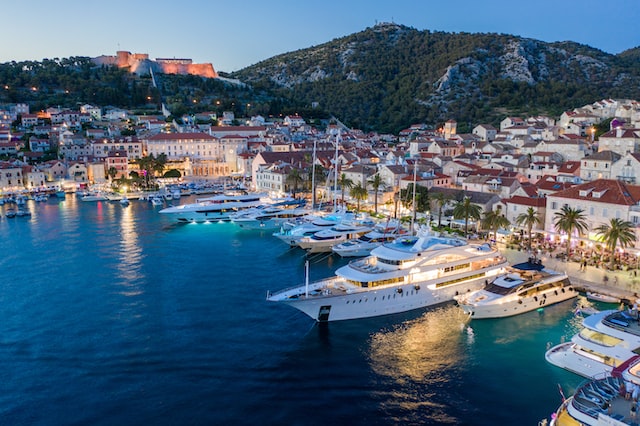 With its stunning beaches, crystal-clear waters, and rich cultural heritage, Croatia has become one of the most popular destinations for travelers seeking a unique and exciting holiday experience.
And for those who are looking for an adventure that is both exhilarating and unforgettable, sailing to Croatia's most visited islands is an experience that is hard to beat. From the lively nightlife of Hvar to the secluded beauty of Vis, the Croatian coastline offers a wealth of destinations that are just waiting to be explored.
Whether you're a seasoned sailor or a first-time adventurer, here's a guide for sailing in Croatia, and what you can expect from your journey.
Hvar
For good reason, Hvar is considered one of the most popular islands in Croatia. With its idyllic beaches, charming fishing villages, and buzzing nightlife, it's the perfect destination for anyone looking for a mix of relaxation and excitement.
If you're planning to charter a luxury yacht to sail to Hvar, be sure to make a stop at the delightful old town. This charming destination is famous for its picturesque harbor and well-preserved historic center. Take a stroll along the quaint cobblestone streets and admire the beautiful architecture of the old town. 
And for those looking for a more adventurous experience, don't miss the opportunity to explore the nearby Pakleni Islands. With crystal-clear waters and some of the best swimming and snorkeling spots in the region, these islands are a paradise for water enthusiasts.
Brač
Brač is another must-visit island in Croatia, and it's especially popular with outdoor enthusiasts. The island is home to the famous Zlatni Rat beach, which is considered one of the most beautiful beaches in the world. Brač is also known for its excellent windsurfing and kitesurfing conditions.
Vis
If you're looking for a more laid-back and secluded island experience, Vis is the perfect destination. The island was once a military stronghold and was closed off to tourists until 1989, which has helped to preserve its unspoiled beauty.
Vis is home to several beautiful beaches and coves, as well as historic sites like the 19th-century Fort George. You can also take a tour of the nearby Blue Cave, which is one of the most famous natural attractions in the Adriatic.
Korčula
Korčula is known as the birthplace of the famous explorer Marco Polo, and the island's historic center is a must-visit for anyone interested in history and culture. The town is filled with ancient buildings and monuments, including the stunning St. Mark's Cathedral.
Korčula is also known for its excellent wine, so be sure to stop at one of the local wineries to taste some of the island's best vintages.
Dubrovnik
While it's technically not an island, Dubrovnik is a must-visit destination for anyone sailing along the Croatian coast. The city is known for its stunning architecture, including the famous city walls that offer stunning views of the Adriatic Sea.
Dubrovnik is also a popular filming location for TV shows and movies, including Game of Thrones. You can take a tour of the city's famous filming locations to see where some of your favorite scenes were shot.
In conclusion, sailing to Croatia's most popular islands is an adventure that offers something for everyone. Whether you're looking for a relaxing beach getaway or an action-packed watersports adventure, the Croatian coast has it all. So why not plan your sailing trip today and experience the beauty and culture of Croatia for yourself?