Hattvika Lodge (www.hattvikalodge.no) in Norway, is delighted to announce its new fine dining restaurant, Fangst – which means 'catch' in English – proudly stating that its menu is based solely on local ingredients and no air miles.
Overlooking Ballstad harbour in Norway's breath-taking Lofoten archipelago, which has been home to a thriving fishing industry for hundreds of years, Fangst naturally bases many of its dishes on seafood, combining the catch of the day with locally sourced herbs, wild plants and seaweed. It even has its own landing quay to ensure safe and speedy delivery of the daily catch.
Using their extensive experience of blending Nordic flavours, Hattvika's expert chefs produce exquisite, culinary works of art, whose beauty on the plate is only surpassed by the complex flavours they bring to the palate.
Kristian Bøe, who co-owns and manages Hattvika Lodge with wife, Guri, comments: "We are extremely fortunate that our location in Northern Norway provides us with truly amazing raw ingredients on our doorstep, with delicacies such as shellfish and seaweed, and traditional Arctic specialities including moose, reindeer and flavoursome, marbled Lofoten lamb.
"We also have a long tradition of salted cod and organic cheeses on these islands, together with some unusual indigenous produce such as red algae and seaweed truffle, all of which add to our offering," he says.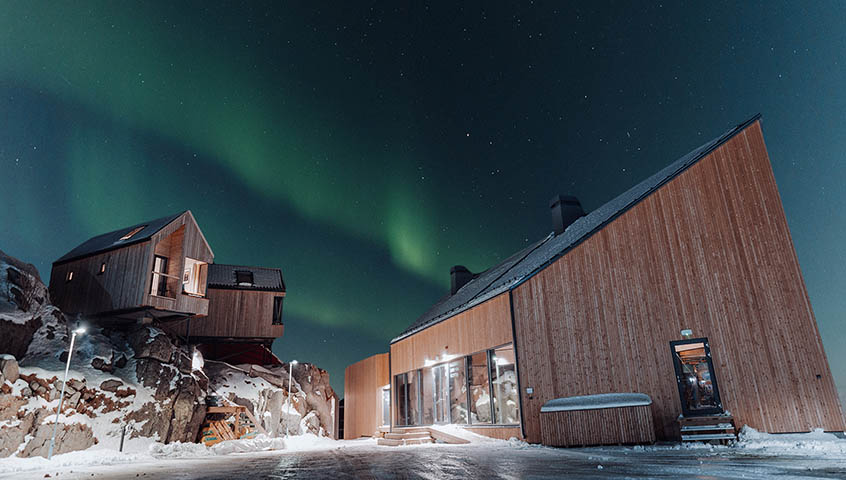 The Fangst restaurant's team of chefs, including newly appointed Head Chef, Marco Sorrentino, has devised a selection of set winter menus, including a seven-course Tasting Menu, all of which are based on seasonal and locally sourced ingredients.
Bøe continues: "Our main focuses are on delivering the best dishes 'From the Sea to the Table', on collaborating with local suppliers and other restaurants to ensure ongoing sustainability, and on working to achieve minimum food waste."
Fangst's modern interior was designed by local architects, VÅG Arkitektur, with seating by Norwegian brand, EIKUND. The bistro-style restaurant, which can seat 75 guests, incorporates an open-plan kitchen, and large picture windows framing views of the harbour and the chocolate box fishing village, allowing guests to enjoy both the external panoramic views and the creative performance of Hattvika's chefs.
The clean lines and seemingly effortless design which are so synonymous with Scandinavian style, contrast with the complexity of the dishes presented to diners. These include the likes of Langoustine with Sea Buckthorn Curd, Pickled Cucumber and Wild Garlic Hollandaise, Rump Steak of Reindeer with Blackcurrant Gel, Carrot Puree and Winter Cabbages, and Wild Cod, with Leek Puree, Champagne Sauce and a Variety of Seaweed from Lofoten.