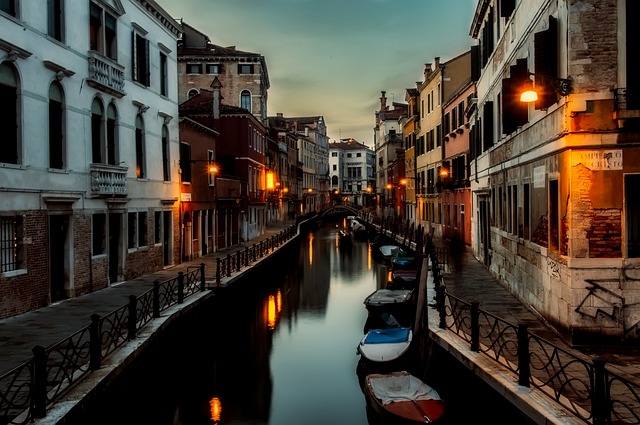 It's easy to fall in love with Italy's stunning nature and incredible architecture. From the chapels and relics that date centuries back to the jaw-dropping natural beauty of the hills, lakes, and cliffs, the country will fill your eyes and heart with a beautiful experience in your journey. But, of course, exciting food, music, and art scenes also await you. Since there are many fantastic places to visit in Italy, we shortlisted them to make it easier to decide which to see on your trip.
Venice
A picturesque city that feels like it's taken out from a postcard; that's what awaits in the city of Venice. It's the perfect getaway, especially if travelling with your partner. Riding a gondola is a must. It's a romantic experience that lets you admire the city's beauty as you sail through the canals. The tour may also include a singer or an instrument player to serenade you. Other attractions include Doge's Palace, St. Mark's Basilica, and Clock Tower, which are all located around the legendary St. Mark's Square.
Rome
Italy's capital city draws many tourists all year round, and it's not a surprise with its plethora of attractions that range from historic structures to modern amenities. The ancient relics of the Pantheon and the Colosseum will take you back in time, while the Spanish Steps will let you observe the positive energy that the crowd brings. Remember to try their famous gelato that you can easily find in one of its shops. Modern cafes, restaurants, stores, and hotels are also extensive. Since Rome and other cities are huge, you can use an Italy trip planner to make the most of your trip. For instance, you can enter your starting point and destination, and it will recommend spots or activities to include in your itinerary, which are between those places. So, you can stop by as you go to your next destination if they interest you.
Tuscany
Escape the hustle and bustle of the populous cities of Italy, and enjoy a quiet and relaxing time in Tuscany. The vast hills surrounded by cypress hills and vineyards will bring you close to nature. The towers and castles used to defend the region still stand tall. Some of these castles were converted to wineries, where you can join in a wine tour. Others were turned to hotels offering accommodations to guests. Immerse yourself in its history by staying in one of these castle hotels.
Florence
This city has that Renaissance feel, and the most distinguished architecture from that period is the Duomo or the Florence Cathedral. Climbing its cupola will earn you a badge worthy of being proud of as you reach its highest point. There are also workshops and artisan studios where you can admire the works of local artists. Although it looks like it has frozen in time, it doesn't fall short of modern shops that carry luxury brands like Prada and Gucci. It's also famous for its gorgeous sunsets that you can best witness at Piazzale Michelangelo.
One trip may not be enough to experience everything that Italy has to offer. But you can keep coming back to explore more.