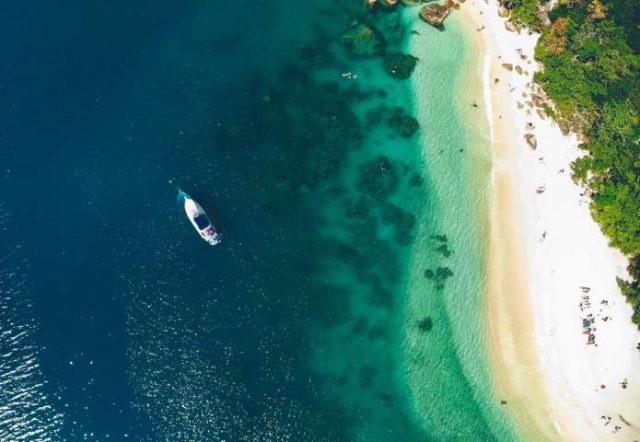 If a tropical getaway is on the top of your holiday list, then stop what you're doing and get those bags packed, because we know the ideal destination for you!
Fitzroy Island is a stunning tropical island that happens to be only 45 minutes from by boat from Cairns. It also happens to be one of the most popular holiday destinations in Queensland – well, actually in Australia.
When you visit Fitzroy Island, it's not hard to see why people love it. Stunning views at every turn, amazing facilities, and let's not forget, it's located in the waters of the Coral Sea, which also happens to be home to the Great Barrier Reef.
If you're looking for a tropical holiday destination that truly, has it all, keep reading to find out why Fitzroy Island is the ideal travel destination!
An amazing location
We've already mentioned how easily accessible the island is – only 45 minutes from the Cairns Marina. So, aside from the convenience, the location has lots of things going for it.
First, the weather – the tropical location means that all year long the weather is sensational. While the rest of Australia is shivering under the depths of winter, Fitzroy Island is enjoying balmy temperatures of around 24 degrees Celsius.
The second thing the location of Fitzroy Island has going for it is its proximity to the Great Barrier Reef. In fact, the Reef is so close that there are coral gardens only metres from the shore of Fitzroy Island, which can only mean one thing – Great Barrier Reef Adventures. Which leads us to our next reason why Fitzroy Island is the ideal holiday destination…
One of a Kind Reef Experiences
Let's face it, pretty much everyone has heard of the incredible Great Barrier Reef, and it's only lots of our bucket lists. It's the largest reef system in the world – spanning an area of over 348,000 square kilometres. It also happens to be home to amazing marine life, like fish, turtles, sharks, sea horses, molluscs, corals and even sea snakes.
And the ways to experience the Reef when you're on Fitzroy Island are truly endless. You can take scuba diving courses and tours, you can snorkel, you can enjoy a glass bottom boat ride, you can swim, you can fish, and you could even take a helicopter ride.
With the Great Barrier Reef right at your doorstep while you're on Fitzroy Island, it's an unmissable place to explore.
Places to discover unlike any other
When you read about travel destinations, you will no doubt hear about how unique a place is, when a lot of the time there isn't anything that unique about it.
Well, we're happy to say that Fitzroy Island really does have some places for you to discover that you won't find anything that compares to it.
One of our favourite things about the island, and something that makes it really special is that it is home to the Cairns Turtle Rehabilitation Centre. This is a place where volunteers look after sick and injured sea turtles.
The workers her rehabilitate these beautiful and friendly sea creatures, with many of them being nursed back to full health and released back to their natural habitat.
When you visit the centre, you will learn more about what they do and the sea turtles themselves through a turtle talk, you'll get to meet some of the residents, and you might even get to feed them!
It's a totally unmissable place to visit while you're on the island, just make sure you book in because it's always popular!
Stunning Trails and Scenery to be Explored
One of the most amazing things you can do while you're on Fitzroy Island won't even cost you anything – it's walking. The island is just waiting to be explored via it's numerous walking trails.
While some routes are more challenging than others, most fitness levels will be able to handle any of the trails.
You can discover the varying landscapes of the island, from granite boulders to woodlands, luscious rainforests to coral beaches – there is a bit of everything. Some favourite walking trails include the Secret Garden trail, the Nudey Beach walking track, and the Summit trail – which if we had to pick any it would have to be the latter. The Summit offers spectacular views of those Reef waters below – truly stunning!
So, if you're thinking about visiting the island, there are lots of accommodations suited to all kinds of budgets at the amazing Fitzroy Island Resort. Visit this tropical paradise today!