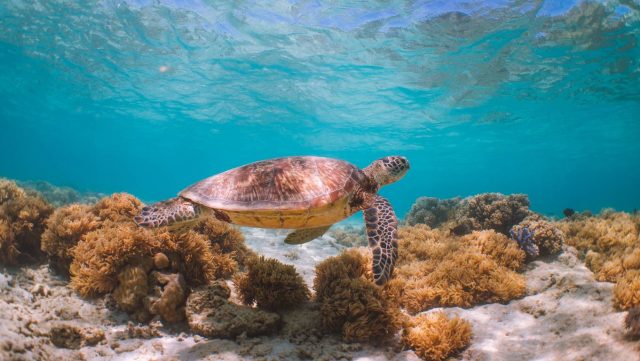 Holiday destinations are not created equal – and this is something that becomes clear when you visit the stunning seaside beach village of Palm Cove in Tropical North Queensland, Australia.
With a coastline of palm trees, gorgeous beaches and of course, ideal weather all-year round, when people visit Palm Cove their worries just naturally disappear.
And while you could spend your entire time in this paradisaic destination relaxing and enjoying the tropical vibes, Palm Cove also happens to be sandwiched between two of the world's most amazing natural attractions – the Wet Tropics Rainforest and the Great Barrier Reef.
So, as you can imagine there is a lot more to do and see than meets the eye in Palm Cove. We've put together a list of some of the amazing activities you can do when you visit this tropical paradise, and there is something to suit everyone, so keep reading!
1. See it all from above
Wake up when the sun does and watch it spread the warmth of its rays across the land while you hover from above in a Hot Air Balloon.
There is something truly magical about the gently floating of a hot air balloon ride, and if you're going to do it anywhere, somewhere that is brimming with true natural beauty is the perfect place to do it.
A totally memorable way to see this part of the world!
2. See it all from down below
The Great Barrier Reef is one of those tourist destinations that is on everyone's list. This amazing ecological wonder is the world's largest reef system, and you can see it in all sorts of different ways.
You could take a scenic plane ride, a sunset cruise, a glass bottom boat tour, or if you really want to get up close and personal with the coral gardens and marine life, then snorkelling or scuba diving is the best way to do so.
There are many amazing tours available for you to discover the majesty of the Reef.
3. Make some fur friends
One of the many things Australia is known for is the vast array of wildlife that call this place home. And when you're in this part of Australia, you have the chance to see many of these furry, feathery, and even scaly critters for you yourself. From koalas to cassowaries, crocs to snakes, and everything in between.
Some of the awesome animal parks you can visit include the Koala Gardens, Birdworld in Kuranda, and Hartley's Crocodile Adventure Park.
No matter your age, you're going to have a blast.
4. Basque in relaxation at the Reef House
The Reef House is a Palm Cove institution. One of the first buildings in this seaside town, the Reef House is now a 5-star boutique hotel that offers guests amazing facilities, accommodation, an award-winning restaurant, and a day spa that people travel far and wide to visit.
You can indulge in a massage, facial and body treatments by the experts at the Reef House Day Spa Palm Cove – you won't even know yourself by the time you're done!
5. Take a trip to a magical rainforest village
The World Heritage Listed Wet Tropics rainforest is home to many amazing attractions to keep you captivated. From waterfalls to unique flora and fauna – you will even find a hidden rainforest village high up in the hills.
Kuranda is the village in question and to get there you can take a charming ride on the Kuranda Scenic Railway. The journey aboard this vintage train is just as amazing at the final destination, offering you views of the rainforest you would believe.
Kuranda has plenty to do while you're there, with an arts and culture vibe to it. Shop for hours at the Kuranda Heritage Market or see how many different species of the butterflies you can spot at the Australian Butterfly Sanctuary in Kuranda – there's more than 1500 different species.
6. Float above the Forest Canopy
If you take the train ride to Kuranda, then on the return trip may we suggest taking the Skyrail Rainforest Cableway home?
You can quite literally float above the rainforest canopy inside an enclosed gondola. The spectacular sights are truly unlike any other. And you can even opt for a glass bottomed gondola – only if you dare!
7. Seek Adventure
If you're after a little bit of adrenaline, then Palm Cove works for you too.
If you've always wanted to give bungee jumping a go, then a trip to Skypark Cairns by AJ Hackett is in order. With bungee jumping, a giant jungle sings and a look out that offers both jungle and ocean views, you'll be able to feed that inner daredevil!
8. Discover the Culture of the Traditional Landowners
The Tjapukai people are the traditional landowners of region, from Cairns to Port Douglas and Kuranda. Their culture is recognised as one of the oldest living cultures, dating back over 40,000 years.
You can learn more about this amazing culture through a variety of tours and trips where you can learn hunting techniques, boomerang throwing, dancing, art, and even cooking – definitely a worthwhile experience.
So, whether you're visiting Palm Cove with friends, family, your partner or alone, there is so much for you to see and do, you'll never be bored. And trust us, you'll be begging to come back!