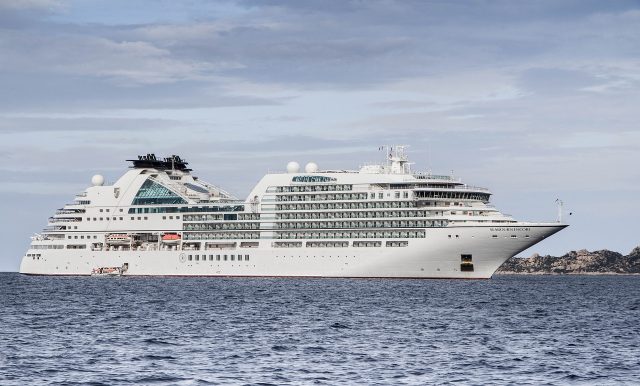 Cruising dress codes have become much more relaxed over the years.  You really can wear what you want with only a few limitations, so if fashion isn't your thing there's no need to stress out about your wardrobe, say the cruise experts at CruiseCompete.
But if it's important to you to be impeccably dressed for every occasion, let's start by understanding the different terms the cruise lines use to describe attire, and what their expectations are for every situation.
The following are commonly-used terms that provide a cruise line dress code:
1.  Casual – Sport shirts for men and anything casual, not cutoff jeans, for women anything resort-like.
Business casual, Resort casual, Cruise casual, Smart casual, Country Club casual – All mean similar things: slacks and shirts for men. Polo shirts are OK on most lines, though some like to see button-down shirts. For ladies, skirts/dresses, slacks and sweaters.
It's a good idea for women to plan to mix and match separates to create different outfits to avoid over-packing. A simple black dress can also be dressed up with a jacket, jewelry and accessories. Sandals with a casual skirt and a white blouse easily transform into cocktail attire with jewels on the sandals and a fancy blouse or top and more jewelry, so do bring your sparkly jewelry.
Elegant Casual, Cruise Elegant, Evening Chic. Semiformal –For men, dress slacks, dress shirts, jackets, preferred, yet optional exception semiformal. For women, elegant clothing of any type.
Black Tie, Gala Attire & Formal – Formal attire for men refers to a tuxedo; a suit and tie; or sport coat, tie and slacks.
For women, formal attire means evening gowns, cocktail dresses and dressy resort wear-at a minimum, think a sparkly top and black pants.
Some guests will wear tuxedos and evening gowns on formal nights, though most guests wear suits and cocktail attire. Others will do the minimum required-slacks, a sport coat and a dress shirt.
Special note for men:  Gentlemen, you might not want to hear this- but your lady would love to see you in a tux-whether she tells you that or not.
Special note for women: If you like dressing very formally, then by all means, do it.  Some of the other guests will dress up, too.  Honestly, what kind of a vacation is it if you cannot spend hours shopping before, during and after your trip?
Dining room guidelines for what not to wear
The main place you'll encounter minimum guidelines is in the formal dining room.  Cut-off or ragged jeans and shorts (including gym and basketball shorts), flip-flops, bathing suit attire, hats, caps, and sleeveless shirts for men are generally not permitted.  Dress requirements for children in the dining room are generally the same as for adults, but you do have more leeway here-especially with the little ones.
Most cruise lines offer various dining options, so you never have to dress up if you don't want to. Fabulous food is offered at buffets on deck, and in little cafés and restaurants throughout the ship, and most lines offer 24/7 room service.
Should I expect to have to dress formally?
Remember, proper dining attire varies from ship to ship, depending on the itinerary and length of the voyage. Typical one-week cruises do have at least one or two formal nights, and luxury cruise lines and voyages with longer itineraries will be more apt to have dressy evenings.
The ultra-luxury cruise lines include:
As with any vacation planning, check with your CruiseCompete cruise travel specialist to determine the specific dining attire requirements for the ships you are traveling on.