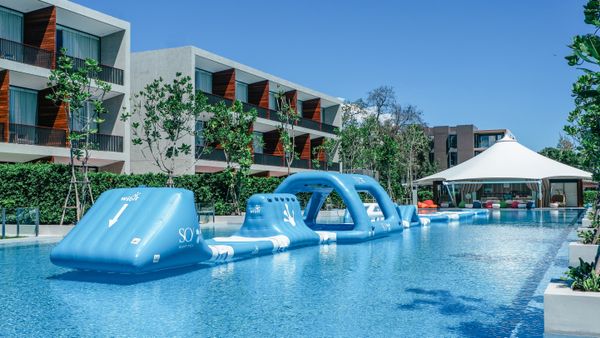 SO Sofitel Hua Hin has unveiled a 2-acre expansion with the launch of its brand new wing with state-of-the-art of leisure facilities and room types for business and leisure travellers. Guests staying at the hotel can look forward to the new 16-meter x 60-meter Signature Pool, consisting of a water playground anchored by a Wibit adventure course running down the middle of the pool.
The new wing also includes the new One-bedroom SO Pool Villas and SO Family Suites complete with bunk beds. Facilities also include a dedicated kid's pool area and a SO Sundae poolside ice cream bar. An added family friendly feature includes Kids Tent, a kids club where young children can enjoy fun activities and entertainment.
"Today's travelers are not just looking for a place to stay, but they are looking for an experience and innovative concept elements. A dynamic player in the global hotel scene, the SO/ brand surprises with a playful and distinctly rebellious interpretation of luxury that includes avant-garde design, a passion for fashion, trendy beats, buzzing destination bars and events," said Mr. Ianic Menard, AccorHotels' VP Sales, Marketing, Distribution Upper Southeast & Northeast Asia and the Maldives.
"Since our first SO Sofitel property opened in 2011, the brand has captured the vivacity and vibe of the locale.  New design elements, textures, colours and influences of the destination are added to the latest expansion of the new wing of SO Sofitel Hua Hin, as part of a designer's guest experience."
The new SO Studio and SO Lofty Pool Access rooms feature an open concept design complemented with a customized television/wardrobe console which can swivel and can be enjoyed from the bathtub or bed. The refurbished SO Comfy Pool Access and brand new SO Lofty Pool Access rooms boast private outdoor terraces providing direct access to the Signature Pool. The latest expansion brings the total number of guest rooms, suites and villas from 78 to 109.
"We've been part of SO Sofitel Hua Hin's creative design of its signature emblem and uniform as part of the resort's Imaginative Escape concept.  It's great to be able to add the final aesthetic touches in line with the SO/ branding as I believe that fashion and design can augment the whole experience for guests." said Polpat Asavaprapha, founder and creative director of ASAVA and signature designer of SO Sofitel Hua Hin.
As part of the expansion, guest can also enjoy a round of golf at the mini 18-hole golf course and a game of tennis or basketball at the resort's multi-purpose court that will open on December 1st. For an evening bike ride, the resort's private 627-meter bicycle track will be opening year-end where bikes will also available for rent.  The resort also features a pillar-less ballroom, an executive meeting room, and a multifunction room. The beachside Event Lawn provides the perfect backdrop for romantic weddings, dinner & dance and corporate retreats.
"This expansion is designed specifically to meet the evolving needs of our guests. The added new wing aims to enhance guest experience to suit their needs with added service facilities and activities available for families travelling with young children.  We look forward to welcoming guest to SO Sofitel Hua Hin to enjoy the latest offerings staying true to the SO/ style," said Ms. Chidchanok Pasinpong, General Manager of SO Sofitel Hua Hin.
The opening of SO Sofitel Hua Hin's new wing comes at a time with recent announcement of the Royal Coast project by the Thai government to boost tourism in the western coastal provinces now referred to as "Thailand Riviera".
Thailand was ranked ninth among the world's most-visited countries by the UN's World Tourism Organization report published in 2017. Foreign tourists who visited Thailand were from East Asian countries, followed by Europe, South Asia and the U.S. compared to the same period of the previous year, the number increased by 15.51%, generating more than 190 billion THB with an increase of 21.03%. A survey of Thai tourism found that 57% of foreign tourist respondents repeated their travel to Thailand and 53% planned their trip to Thailand only.
Situated on the beachfront in Cha Am, 200 kilometers on the west coast from Bangkok, the hotel is 30 minutes from Hua Hin, one of Thailand's most popular beach town destination. In 2016, Hua Hin attracted five million visitors and recently, the Airports of Thailand PCL (AoT) has also announced a 3.5 billion baht upgrade to Hua Hin International Airport over the next five years. Expansion of passenger terminals and widening of the existing runway is expected to increase passengers tenfold to three million a year during this period.
Visit www.so-sofitel-huahin.com for more information.