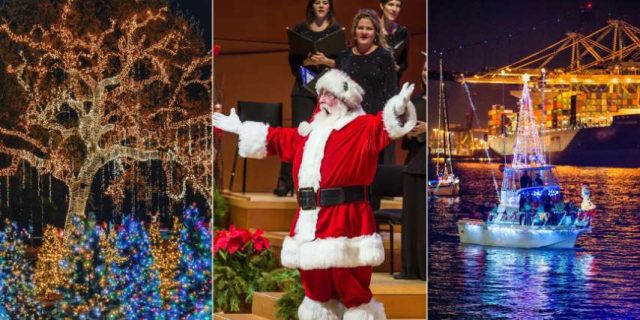 We love a classic Christmas in the snow, but heading south for a Christmas in the sand might just be the perfect gift this year! With the holiday season is upon us, there is no better place to spread some holiday cheer (while escaping the cold!) than in the City of Angels.
Los Angeles—the entertainment capital of the world—has plenty of events and experiences to entertain the entire family to help get you in the holiday spirit. To help you make the most of the most wonderful time of year, The Los Angeles Tourism & Convention Board has pulled together some lists of experiences that will provide holiday fun for the whole family:
The Best Holiday Lights in Los Angeles – Enjoy spectacular and dazzling displays throughout the holiday season, from traditional lighting ceremonies such as the L.A County Holiday Tree Lighting, to festive decorations at popular attractions like the Lightscape, there are plenty of ways to experience the vibrant city and its local neighborhoods lit up at night.
Holiday Movies in L.A. – Catch some of your favorite classic and modern holiday movies with screenings throughout the month of December at landmark theater and outdoor venues across the city.  With interactive experiences, sing-alongs and films paired with fun cocktails and snacks, there's no better way to experience the spirit of the season. 
Spectacular Los Angeles Holiday Parades– Experience some of the world's most famous seasonal parades in L.A.! From the iconic 134thRose Parade featuring spectacular floral floats, marching bands from across the country and high-stepping equestrian units, to the King Harbor Holiday Boat Parade with its decorated boats and stand-up paddleboard parading, Los Angeles' holidays parades are fun for everyone.
Celebrate the Holidays at the Music Center in Downtown Los Angeles – As one of the largest performing arts centers in the country, The Music Center is home to plenty of fun holiday experiences such as the Holiday Sing-Along or Home Alone in Concert at the Walt Disney Concert Hall and the L.A. County Holiday Celebration at the Dorothy Chandler Pavilion.
Whether you're looking to see some spectacular lights or watch some movies or parades, Los Angeles has got you covered, guaranteed fun for the whole family.