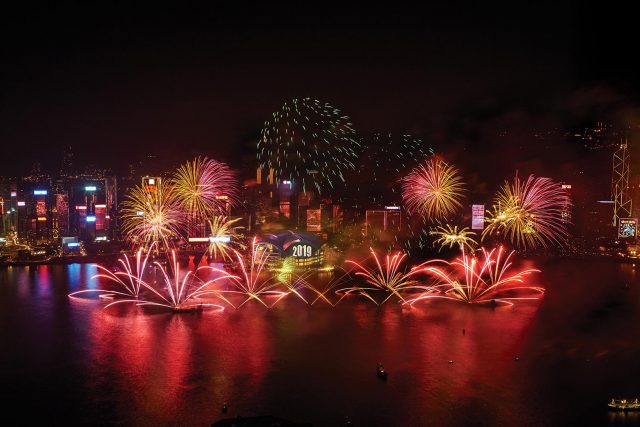 The Hong Kong Tourism Board will usher in the New Year with a spectacular pyromusical above the iconic Victoria Harbour.
The Hong Kong New Year Countdown Celebrations 2019 will take place on 31 December 2018 from 11:55pm (local time). The performance will run for 10 minutes and feature landmarks including the Hong Kong Convention and Exhibition Centre, which will display the numerals "2019" and deliver New Year blessings in various languages on its façade.
The celebration of light and music will culminate as the "Celestial Kaleidoscope" dazzles Hong Kong with brilliant flashes of technicolor hues. Its morphing patterns and varying colours will further enrich the visual and musical elements to create a unique celebratory ambience. The finale will feature 45 different patterns of pyrotechnics and fireworks clustered together for one minute.
The fireworks display and lighting effects have been choreographed in synchrony with a festive soundtrack, highlighted by a hint of traditional Chinese music. From 11:00pm, spectators are invited to make a wish upon the (pyrotechnic) shooting stars launched from various rooftops.
For more information visit www.discoverhongkong.com/countdown
@DiscoverHongKong  #DiscoverHongKong