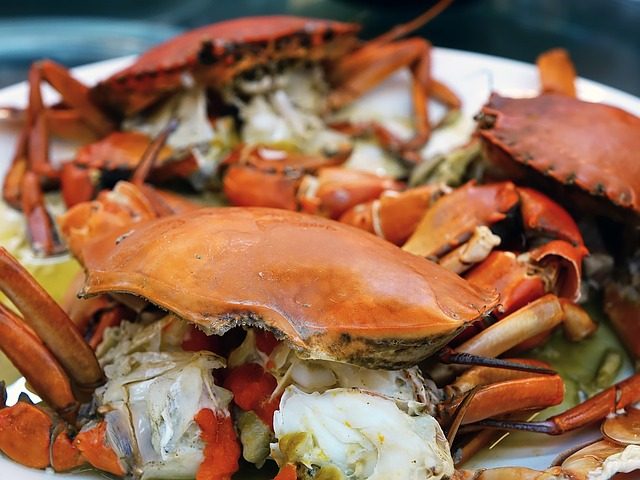 It's a seafood safari this winter as Mendocino County gears up for Crab Feast Mendocino, a 10-day salute to Mr. Crab in all his grandeur. Pack the parka and a pair of crackers for a tasty escape featuring nearly 30 restaurant events, the annual Crab Cake Cook-off and a romp through 25 area wineries set to celebrate the season;  https://ilovecrab.visitmendocino.com.
Each weekend, area wineries will pull out the bibs and feature a signature Crab & Wine Pairing, served with a library stash of dry Alsatian and cool climate Sauvignon Blanc wines, for a spin with their favorite crustacean. Just off the Inspiration Highway (101), Yorkville Highlands AVA steps up with tastings at Meyer Family Cellars and the expansive Yorkville Cellars. In Hopland — the gateway to Mendocino — McNab Ridge and Graziano Family of Wines are key stops. Venturing inland, Anderson Valley is the call for tasty pairings at Greenwood Ridge Vineyards, Handley Cellars, Husch Vineyards, Seebass Family Wines and the stunning Phillips Hill tasting venue, housed in a century old apple-drying barn.
For a true turn through the region's top wine producers, Barrel Tasting 101 takes flight January 19 and 20, 2019 in Hopland and beyond. Taste future releases paired with canapés in a convivial environment with nearly 20 wineries on tap; www.destinationhopland.com.
January 18/19, 2019
Catch a traditional crab feed at Little River Inn or Gualala Lions Annual Crab Feed, backed with wine and entertainment; www.littleriverinn.com
January 20, 2019
Fusing the best of the sea with farmstead fare, Pennyroyal Farm steps up with a delicious crab brunch, including a three-course repast paired with estate wines; www.pennyroyalfarm.com. For a bib-licking adventure, slide onto the Skunk Train for the Crab & Crémant trek from both the Fort Bragg and Willits stations; January 20 and 27.www.skunktrain.com.
January 22, 2019
It's work boots and carpenter belts for the Blue Collar Winemaker Dinner with Navarro Vineyards. Cucina Verona pulls out the pasta for a three-course crab-centric dinner paired with Navarro wines; www.cucinaverona.com.
January 24, 2019
Mendocino's new Noyo Harbor Inn fires up the stoves for a five-course seafood dinner showcasing Navarro Vineyards and Pennyroyal Farm wines. Over the hill in Ukiah it's Chop Chop for a spirited evening of Tamar Distillery cocktails paired with succulent seafood four-course dinner. www.noyoharborinn.com – www.tamardistillery.com
January 25, 2019
Crack out the bib for the annual Cioppino Dinner featuring giant pots brimming with shellfish and local Dungeness crab, served family style with three seatings to benefit for Mendocino Coast Clinics; www.mccinc.org.
January 26, 2019
It's power to the palate at the 20th Annual Crab Cake Cook Off & Wine Competition, pairing regional chefs and winemakers for an afternoon of friendly competition. Graze the amazing line-up of cakes and put the people's vote forth! Live and silent auctions, entertainment and professional judging round out the fork fest; www.mccinc.org; $90. Other events include a dynamic team-up of Anderson Valley Brewing Company and the Pier Chowder House & Tap Room with a five-course craft beer and seafood feast in Point Arena; a sea-inspired wine and food pairing at Pennyroyal Farm and a scrumptious Crab Feed at the Fort Bragg Firehouse on Main Street  www.thepierchowderhouse.net –  www.pennyroyalfarm.com.
Round out a visit with adventures at sea with a crab cruise from Noyo Harbor, take a tour of Point Cabrillo Light Station, hitch a horseback ride via Richochet Ridge Ranch, join a guided hike of Stornetta Headlands or jump aboard a classic Land Rover for a rendezvous with Rothschild Giraffes at B. Bryan Preserve.
For more information visit www.visitmendocino.com.