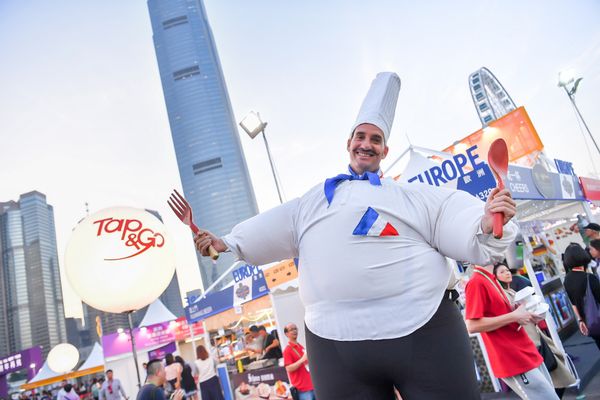 In commemoration of the 10th Annual Hong Kong Wine and Dine Festival, the Hong Kong Tourism Board (HKTB) announced today it will infuse new festival elements, increase the venue size, and enhance the number of wine and food offerings.
The China Construction Bank (Asia) Hong Kong Wine & Dine Festival 2018 will be held October 25 – 28, expanding the event footprint by 20 percent along the Central Harbourfront, and showcase more than 430 booths of fine wines and exquisite delicacies. Aside from the mass expansion in space and tastings, the internationally-acclaimed festival will feature wine-pairing meals designed by master chefs and tasting classes by industry experts. Festival-goers will keep their palates refreshed sampling everything from single malts to single-origin coffee roasts.
The four-day event highlights are as follows:
 "10-Michelin-starred Dinner" @ "Tasting Room"
Five Michelin-starred chefs are coming to Hong Kong to jointly present the"10-Michelin-starred Dinner" in the "Tasting Room". The world-renowned master chefs from France, Thailand, Taiwan, Singapore and Mainland China bring a total of 8 Michelin stars, and they will collaborate with two prominent Hong Kong chefs from one-Michelin-starred restaurants Man Wah and Mandarin Grill + Bar to create a highly anticipated wine-pairing banquet with eight courses, blending an assortment of elements.
The five visiting celebrity chefs are:
Distinguished French Chef Pierre Gagnaire of "Pierre", a two-Michelin-starred restaurant in the Mandarin Oriental Hong Kong;
Chef Bee Satongun of "Paste Bangkok", a one-Michelin-starred restaurant in Bangkok and recipient of Asia's Best Female Chef 2018 by "Asia's 50 Best Restaurants";
Chef Lin Cheng Ching, Chinese Executive Chef of "The Guest House", a two-Michelin-starred restaurant in Taiwan;
Chef Kentaro Chen, Executive Chef of "Shisen Hanten", a two-Michelin-starred restaurant in Singapore; and
Chef George Chen of "Wujie", a one-Michelin-starred restaurant in The Bund, Shanghai.
Limited 10th Edition
Every year, new elements are introduced into the CCB (Asia) Hong Kong Wine and Dine Festival, and this year is no exception. Especially tailored for the wine connoisseur is  "Wine & Dine 10th  Edition Specials" and "2009 Vintage". These not-to-be-missed exclusive series are available only this year. Featured items include:
"Wine & Dine 10th Edition Specials": Happy 啤 Day (pronounced "Happy Birthday") (chocolate imperial stout, aged in bourbon and brandy barrels) and Favilla Fuji (Baileys Chocolat luxe and Junmaishu Nigori Sake).
"2009 Vintage": This commemorative series, dating back to the founding year of the Wine and Dine Festival, includes selections from Robert Parker's 100-point red wines.
For dining, HKTB is introducing two new tasting zones to the festival, "International Street Eats" and "Coffee Fiesta".
"International Street Eats": The latest gourmet sensations introduced to Hong Kong will be the focal point in this section, including Jiu-Wu Beef Noodle from Taiwan and local delicacies from seven regions, including Korea, Europe and Latin America, bringing tastes from all around the world.
"Coffee Fiesta": This zone gathers some of the most famous coffee and pastry shops in the city, such as Coco Espresso, by a champion barista; Say Hey Bakery, the award-winning baker; and celebrity dessert shop Alice Wild Luscious, guaranteeing festival participants wonderful delicacies alongside fabulous wine-tasting experiences.
Perfect 10 Passport
A new "Perfect 10 Passport" will be introduced this year to encourage visitors to experience various wonderful food and wine combinations. In addition to wine tokens, food tokens will be included in the Perfect 10 Passport to inspire guests to explore creative wine pairing options with family and friends. The Perfect 10 Passport will include a welcome drink and a 10th edition limited wine glass, a worthy addition to the collection of every wine enthusiast.
Prizes to celebrate the 10th anniversary
No celebration is complete without entertainment and special giveaways. During the four-day event, live music performances will be held each evening on the main stage. Additionally, there will be games played every day, with prizes including airfare tickets, wines, gourmet food and wine tokens.
In addition to the above, this year's wine options will expand, featuring fine wines from first-time participating chateaus from countries and regions like Burgundy, Croatia, and Russia to capture the hearts and tastes of festival-goers. Popular attractions returning include the "Robert Parker Wine Advocate Pavilion", a quality wine tasting experience from established classics and rising stars to off-the-beaten-track producers selected by the Robert Parker Wine Advocate; and the "FeedMe Lane", where you can discover and eat Hong Kong's most current culinary darlings.
For more event details visit: http://www.discoverhongkong.com/eng/winedinefestival/