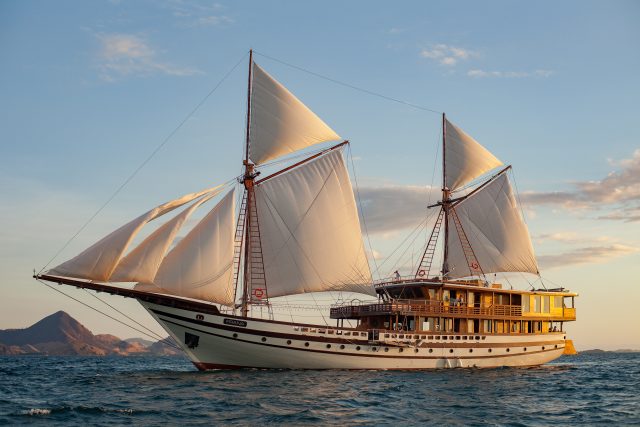 September 2018 sees the launch of a magnificent luxury Phinisi super-yacht, Prana by Atzaro. This beautiful handbuilt boat is the biggest of its kind in the world. At just over 55 metres in length, Prana has been crafted in the style of a traditional Indonesian Phinisi (a sail boat with two masts), built entirely of ironwood and teak according to traditional methods.
Created by the founders of the world famous Atzaro Group in Ibiza (loved by the Hollywood A List), Prana is a spectacular new extension of the Atzaro brand. Victor Guasch, founder and CEO of the Atzaro Group says, "After many years of developing Atzaro to be Ibiza's number one luxury spa hotel, we are really excited to be expanding the group into Indonesia with the launch of Prana by Atzaro, our beautiful new Phinisi yacht. The yacht encapsulates our philosophy of natural luxury, offering our guests impeccable service, lavish design and the chance to experience the stunning natural beauty of Indonesia's marine parks."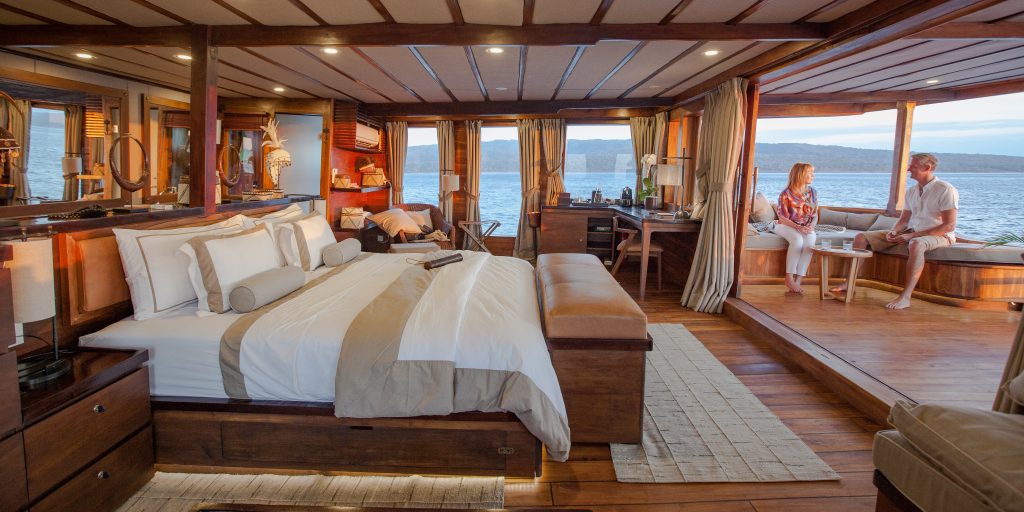 Designed with the utmost luxury, 'Prana by Atzaro' offers guests space and comfort in nine elegant suites, each with their own private ensuite bathrooms. Fully soundproofed the suites are decorated with sumptuous vintage fabrics and contemporary linens in a sophisticated palette. Prana offers more space and comfort than any other Phinisi, with all the super deluxe mod cons of a lavish five star hotel. There are one lavish master suite and eight further suites on-board.
Oversized gangways and 4 spacious decks with king size daybeds offer abundant places to retreat and relax. A yoga deck doubles as an open-air cinema and Prana's main deck has inside and outside living, a luxury spa, a water sports deck and a further suite.
The 18-man crew includes a Cruise Director, Dive Instructor, several chefs, stewards and expert spa therapists; all on hand to deliver a seamless experience and to ensure all your needs are met.
With fine dining, unlimited water sports, on-board spa treatments, unforgettable diving and the chance to visit some of the world's most beautiful heritage sites, 'Prana by Atzaro' encapsulates a perfect unison between ancient craftsmanship and contemporary luxury.
The cuisine on-board, carefully created by the yacht's chef, includes both Asian Fusion and Western dishes. Everything is made from the freshest, local ingredients and served by discreet staff alfresco under the stars, in the cool of the air-conditioned on-board dining room or, Robinson-Crusoe style, on a powder white sandy beach. After dinner you can relax at the open-air cinema or indulge in a pampering spa treatment. In the morning, as the wind catches the sails, take a yoga class on the topmost deck – sun salutations will never be the same again.
Moored in Indonesia, a voyage on Prana is a once in a lifetime experience, with the opportunity to explore one of the world's most exquisite coral reefs at Komodo National Park, a UNESCO World Heritage Site, or visit the prehistoric caves and primordial tribes on the 1500 islands that make up Raja Ampat. Voyages criss-cross the Coral Triangle famed for its fantastic reefs and plethora of species as well as some of the most remote and untouched islands on earth. A voyage with Prana offers up an endless flow of incredible experiences.
Learn to scuba dive with Prana's resident dive instructor or take a leisurely drift snorkel across volcanic vents. Alternatively, launch sea kayaks and paddle boards to explore the jungle-draped coastlines or get your thrills wake-boarding and water-skiing around the calmest of lagoons. Fishing equipment is also supplied along with towable floats for effortless fun.
Destinations
Prana's destinations take guests to the edge of the civilisation. Visit long forgotten tribes, trek surreal volcanic landscapes and dive some of the most incredible waters on earth.
Komodo
Get up close and personal with the world's largest lizards in their untamed natural habitat, visit surreal pink beaches, watch spine-tingling sunsets and dive some of the world's most pristine coral reefs. Three big islands form Komodo National Park: Komodo Island, Rinca Island and Padar Island, plus a few other islets. This area is a World Heritage Site with over 2,000 square kilometres of protected wildlife including roughly 5,700 Komodo dragons as well as wild boar, water buffalos, deer, horses, snakes, monkeys and the magnificent marine life under the waves.
Raja Ampat
Notorious for the untouched natural beauty of its cays and shoals, Raja Ampat offers our guests one of the most remote destinations on the planet. Here you can cross the equator with giant manta rays, explore prehistoric caves, visit primordial tribes, kayak around virgin coastlines and discover dive sites famed for having the most species recorded on a single dive. Raja Ampat translates as the 'Four Kings' and is located off the northwest tip of the Bird's Head Peninsula on the island of New Guinea. This region embraces over 1,500 small islands surrounding the four main islands of Misool, Salawati, Batanta, and Waigeo.
Banda Sea
The Banda Islands are as fascinating as they are remote, revealing a rich culture and colonial history as well as a plethora of underwater wonders. Hike up the perfectly shaped Mount Api, race the locals into the harbour, wonder at the gorgeous colonial architecture and explore incredible reefs, teeming with aquatic life.
Alor
Another journey to the edge of civilisation, Alor's wonders range from vividly coloured lakes and sulphur spewing active volcanoes to the miracle of well-preserved ancient tribal cultures. Set within the Coral triangle and with a strong maritime history, flawless beaches and epic coral reefs this voyage is the stuff of legend. It is one of the rare places where there are still descendants of the Bugis fisherman (the original creators of the Phinisi boats).