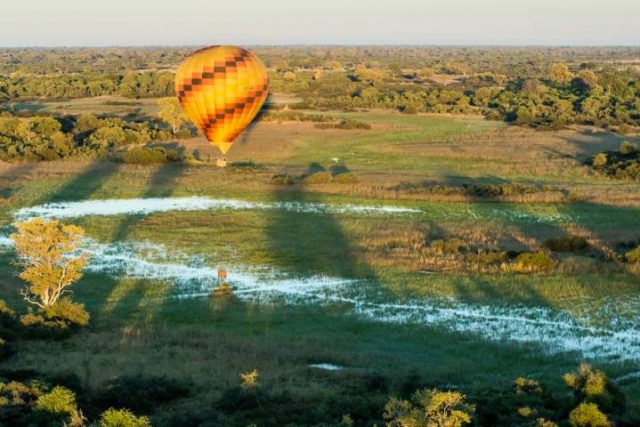 Wilderness Safaris is delighted to announce the start of its hot air ballooning season at Vumbura Plains Camp in Botswana. From 18 April through 15 September 2021, guests can enjoy a unique hot air balloon safari, drifting slowly over the Okavango Delta. This exciting excursion offers more than just a balloon ride; it is the ideal opportunity for guests to experience a bird's-eye view of some of the spectacular remote areas that are not often explored on game drives.
"A maximum of eight guests are transferred to the balloon launch site via a helicopter flight – with all COVID-19 protocols strictly adhered to. This full air safari offers an extraordinary opportunity to explore some of the waterways in search of wetland species, like elusive sitatunga and forgotten pods of hippo in remote areas. After taking in the spectacle from the balloon for approximately 45 minutes, upon landing, guests are met with a celebratory glass of champagne followed by a light breakfast, before returning directly to camp by helicopter. Guests can also choose to extend the experience by adding on a 15- or 30-minute scenic helicopter flight back to camp, at extra cost", notes One Mazunga, Wilderness Safaris Vumbura Concession Manager.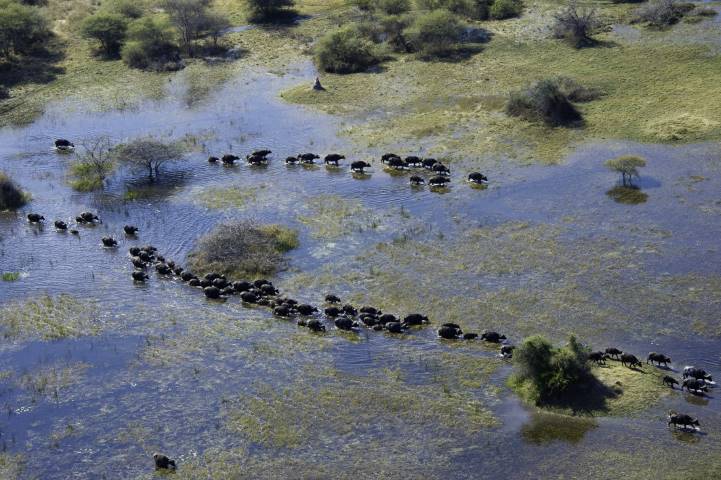 This exhilarating balloon safari adds to the diverse list of already popular activities on offer at Vumbura, including mekoro (dugout canoes), game drives, game walks and boating led by experienced Wilderness Safaris guides.
The Okavango Delta is a World Heritage Site, and one of the largest inland delta systems in the world; it is home to hundreds of species of animals and birds. The 60 000-hectare Vumbura Concession comprises a varied mix of mopane, acacia woodland, floodplains and permanent swamp. Key mammal species include herds of elephant and buffalo, sable, zebra and wildebeest. In addition to the resident lion pride, cheetah, spotted hyaena and wild dog are also seen.
Vumbura Plains Camp is the perfect base from which to explore this pristine wilderness area. The camp is also strongly rooted in a core purpose, and deeply committed to making a positive impact. The Vumbura Concession is leased from five villages, through the Okavango Community Trust, in a partnership that ensures that the benefits of conservation tourism are shared with its neighbouring rural stakeholders, positively impacting the local community.
"Guests visiting the concession can be assured that their life-changing journey is one that not only gives back to the conservation of this incredible wilderness area, but to the empowerment of its people. They can also be assured that we continue to place the health and safety of our wider community first, through a variety of proactive measures, all in line with the World Health Organisation guidelines", concludes One.