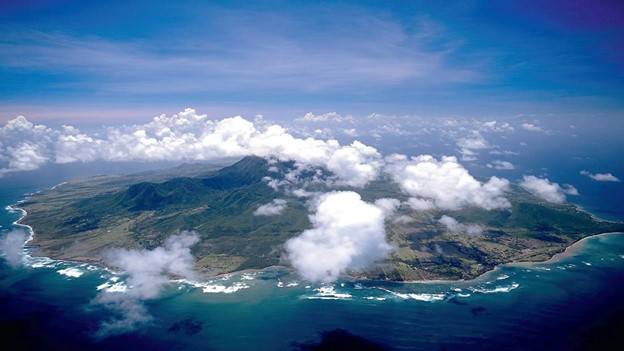 The beautiful island of Nevis is rich in both its history and culture, offering visitors the chance to escape the mundane and marvel at the nature surrounding them. Nevis is a 10-kilometre wide and 13-kilometre-long piece of paradise, with a terrain that offers both adventure and relaxation to all who choose to visit. The island has luxurious hotels and resorts, with scenic golf courses and other amenities. For those looking to lay down and bask in the sun, Nevis is home to some beautiful beaches, with Pinney's Beach in Charleston rated the top beach on the island.     
For those who love the water and marine life, dive into the tons of fun activities Nevis offers visitors such as renting out a private yacht, scuba diving and interacting with wildlife!
Nevis Yacht Charters
Enjoy the allure of the Caribbean while lounging on the Nevis Yacht Charters' Revenge, a 45 ft luxurious explorative vessel. Learn how to sail around the coast with Nevis' own Captain Miles Denne. Denne, a marine biologist and experienced diver also provides snorkeling tips to help visitors experience the wonders under the sea! For those hopeless romantics, make sure to check out the sunset charter, as nothing says I love you more than holding your loved one in your arms and gazing upon the sun as it gently sinks over the horizon.  
Nevis Turtle Group
While vacationing at Nevis, you are bound to encounter some amazing animals throughout your stay on the island, such as some breathtaking sea turtles! The Nevis Turtle Group works to preserve the conservation of these turtles, offering different programs to educate visitors about Nevis' four finned friends. There are four species of turtles found on Nevis: Hawksbill, Leatherback, Green and Loggerhead turtles. The Nevis Turtle Group works with local hotels to provide some awesome turtle watching experiences for guests.
Scuba Safaris
Scuba Safaris is located at Oualie Beach on the northern end of the island and is also Nevis' only full-fledged scuba outfit. The five-star PADI centre (Professional Association of Diving) offers programs and courses regardless of previous experiences. Guests can visit mysterious underwater caves, colourful reefs and even some historic shipwrecks. For those who prefer to just peek into the world below, there are daily "Snorkel Safaris" which depart at 1:30 pm. These tours are led by master divers, who are ready to impart their knowledge of local marine life on eager guests.
For those looking for a thrilling adventure without the need for a towel, Nevis also has amazing land-based opportunities including horseback riding, jungle tours, and hiking trails to capture the most breathtaking of views.
Hiking
If you are looking for memorizing views and a sense of bewilderment, look no further than Nevis. The island has many different trails for all levels of experienced hikers. Sunrise Tours is one of the many touring companies available on the island to guide you on your journey. The most popular trail leads to Nevis Peak which stands as the highest point of the island at 965 metres. The hike is a four-to-five-hour round trip but will leave an unforgettable impression to all who make the journey.
Horseback riding
Celebrating their 25 years of horseback riding tradition, the Nevis Equestrian Centre has passed the reins to hundreds of visitors, including celebrities such as Soni with Hootie & The Blowfish and professional athletes. With the ability to get a thrilling adventure while resting your feet, the Nevis Equestrian Centre offers multiple rides to choose from. The most popular ride is 'The Beach n' Trail', which shows visitors some of the hidden gems of the island including unforgettable beaches and historical sites such as St. Thomas' Anglican Church – the oldest active Anglican church in The Caribbean founded in 1643.
ATV tours
Ranked number one on outdoor activities on Trip Advisor in Charlestown, Funky Monkey offers all thrill-seekers the chance to cut loose and have some fun! Equipped with safe and non-tippy Polaris 4×4 RZR's these bad boys are ready for any terrain that comes their way. Funky Monkey focuses on making a unique experience for all its guests, removing them from busy crowds and creating fond personal memories. Guests leave Funky Monkey with an amazing story to tell their friends and an itch to return to put the pedal to the medal!
Whether you are picking your honeymoon, family vacation or even your work retreat, remember Nevis offers these incredible opportunities to create long-lasting memories!