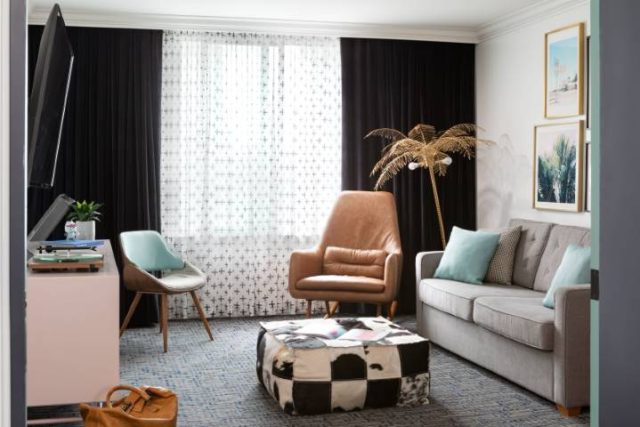 Accor announced that effective today, December 1st, 2021, Hotel Belmont Vancouver will join the Group's global portfolio of hotels and resorts as the first Canadian property in the MGallery Hotel Collection. Located at the epicentre of Vancouver's entertainment district, the heritage property is a cultural and artistic nexus for locals and visitors alike, making Hotel Belmont Vancouver a perfect fit for MGallery's storied collection of individual, boutique-styled hotels.
Hotel Belmont Vancouver – MGallery Hotel Collection marks the brand's first foray into the Canadian market, joining a global network of more than 100 unique addresses, now in more than 30 countries around the world. Created in 2008, MGallery shares a new vision of accommodation: the luxury of experiencing new emotions and sensations. Today this ambition is reflected in a collection of distinct hotels chosen for their memorable character, intended for those fuelled by passion, curiosity and interest in the world around them. From the more than 234 pieces of Second Empire furniture displayed at the Grand Hôtel Beauvau in Marseille, France – to INK Amsterdam, the former home of the Dutch newspaper – to the Kyoto Yura Hotel, built around a Japanese garden, each MGallery has its own distinct design and story to tell.
As part of the MGallery Hotel Collection, Hotel Belmont Vancouver will maintain its unique personality and bespoke design while also featuring some of the MGallery brand markers, such as sensorial mixology and artful storytelling. Upon joining Accor, Hotel Belmont Vancouver – MGallery Hotel Collection also becomes a part of one of the most attractive and powerful loyalty programs in the world, ALL – Accor Live Limitless.
"We are thrilled to welcome Hotel Belmont Vancouver into the Accor family, and to celebrate the Canadian debut of the MGallery Hotel Collection. It is exciting to bring a new brand into a market in which our legacy dates back more than 130 years, building
on the strong foundation we have established with Fairmont, Sofitel and Novotel across the country," said Heather McCrory, CEO, Accor North & Central America. "We continue to see growing demand for our collection brands, such as MGallery and the recently launched Emblems Collection, the Group's newest luxury brand. Our collections offer the opportunity to celebrate the distinctive style and character of properties such as Hotel Belmont Vancouver, and welcome even more unique destinations and experiences to the Accor portfolio."
Located on the lively Granville Street in the heart of Vancouver's entertainment district, Hotel Belmont Vancouver – MGallery radiates energy and embraces innovation, local art, and music. The 5-story, 82-room boutique property features retro-modern design, upscale finishings, and curated art throughout.
With a storied legacy that dates back to 1912, Hotel Belmont Vancouver has played a role in the evolution of downtown Vancouver for more than 100 years. The hotel has a glitzy past, famous in the city for hosting many performers over the years, including young crooner Michael Bublé at the start of his singing career. Hotel Belmont Vancouver completed an extensive renovation in 2019, blending history and modernity for a playful aesthetic that is more than just Instagram-worthy. Preservation of original design elements celebrates the hotel's heritage and character, while flamingo pink and sea- foam green colours in the bar and neon-lit public areas create a spirited setting with a retro-cool feel.
The Living Room at Hotel Belmont Vancouver – MGallery serves as the property's full- service restaurant lounge. The Den and The Kitchen serve as private spaces for small events and gatherings.
"Hotel Belmont is a unique asset within Pacific Reach's hotel portfolio with its historic charm, iconic presence and eclectic design elements," said Jeff Leung, Director, Hotel Operations, Pacific Reach. "Since acquiring this hotel, Pacific Reach has made significant investments in the improvement of the property and in the creation of the Hotel Belmont brand, with the goal of embracing and enhancing the historic lights and legendary nights of the Granville Entertainment District. We are proud of what Hotel Belmont has accomplished since it reopened in May of 2019 after a transformative renovation. We are confident that this new partnership with Accor as the first MGallery hotel in Canada will further elevate and expand Hotel Belmont's global presence in the boutique hotel segment."
Hotel Belmont Vancouver – MGallery joins four additional Accor properties in Vancouver
– Fairmont Hotel Vancouver, Fairmont Pacific Rim, Fairmont Waterfront and Fairmont Vancouver Airport. Within the Accor portfolio, which offers unique experiences in more than 5,200 hotels and residences across 110 destinations around the globe, MGallery
sits alongside globally renowned brands including Raffles, Orient Express, Fairmont, Sofitel, Emblems Collection, Pullman, Novotel, ibis and many more. Flagship Accor properties include Canadian icons Fairmont Royal York in Toronto, Fairmont The Queen Elizabeth in Montreal, and Fairmont Banff Springs; The Plaza in New York and The Savoy in London, both Fairmont managed hotels; Raffles Singapore and Le Royal Monceau Raffles Paris; Sofitel Legend The Grand Amsterdam and Sofitel Legend Santa Clara Cartagena; Hotel Molitor Paris and Hotel Muse Bangkok, both in the MGallery Hotel Collection; and the recently opened Fairmont Century Plaza in Los Angeles.
The MGallery Hotel Collection is poised for growth with over 50 hotels in varying stages of development, of which more than 30 are expected to open within the next two years. Earlier this year, Berkeley Park Hotel reopened in Miami, following a top-to-bottom $18 million renovation, as the then newest North American member of the MGallery Hotel Collection. Both Hotel Belmont Vancouver and Berkeley Park Hotel are franchise partnerships with Accor.
"Accor's pipeline remains strong and signings continue, demonstrating the confidence of our partners in both Accor and the future. Our lifestyle, ultra-luxury, luxury, premium and collection brands are driving Accor's growth in Canada and the US, with both conversions and new builds, both franchise and managed opportunities," said Mark Purcell, SVP, Development, Accor North & Central America. "It continues to be a record- breaking period of growth for the region, and we are excited for what is to come."