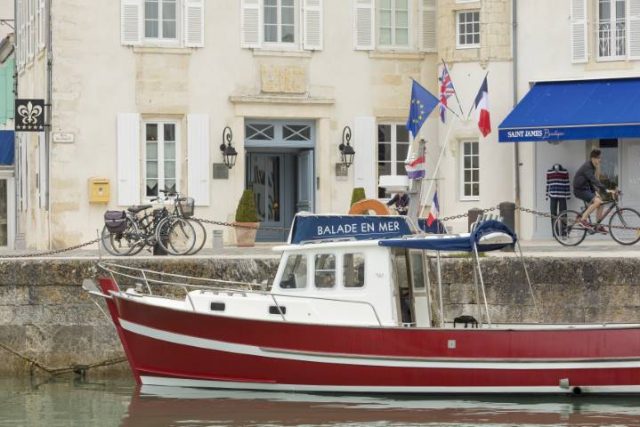 Hôtel de Toiras will once again welcome back its guests from 12th May. The hotel, located at the entrance to the harbour of Saint-Martin-de-Ré, has taken advantage of its winter closure to begin a transformation in partnership with designer Pierre-Yves Rochon including a new lobby, lounge, bar and restaurant with large terrace reaching to the harbour.
The new-look lobby, located at the new entrance on Avenue Victor Bouthillier, has a nautical feel, decorated in shades of cool blue, and reflecting the seaside-spirit of the island.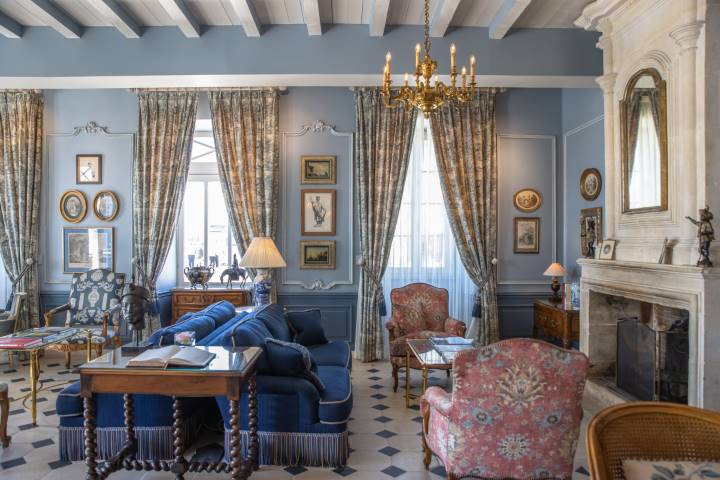 The former restaurant La Table d'Olivia is now an informal lounge offering light dishes, and a new contemporary brasserie, George's, is opening on 5th June on the water's edge with a large terrace looking out on the Saint-Martin-de-Ré harbour. Both a breakfast location, a restaurant, a wine cellar and a cocktail bar, George's will also enjoy music by Maison Sérieuse for a warm and buzzy atmosphere.
The new chef at George's is Gregory Vingadassalon – who worked for four years alongside Alain Ducasse. He intends to showcase quality local produce, particularly seafood or dishes inspired by the ocean. Customers will be able to choose from a range of classic French dishes or fresh sushi and sashimi. The wine list is created by Eric Beaumard, who won the 2020 Michelin Sommelier Prize and Head Bartender is Alexandra Rochet who has previously worked at Domaine de Manville and Le Bristol, developing exceptional cocktails. Within George's, La Cave de Clarisse will offer guests the chance to purchase the finest wines, produced at the owners' vineyards in Saint-Emilion: Château Clarisse.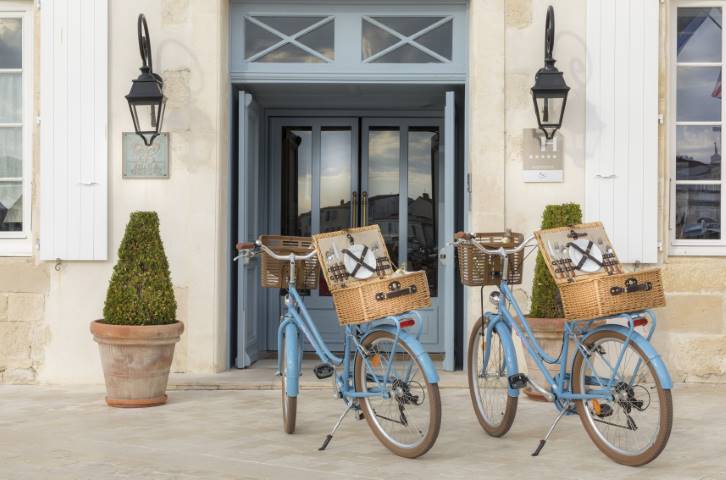 Le Salon d'Olivia has also been entirely altered, creating a new living space located next to an elegant bar and opening onto a lovely patio, landscaped by designer Louis Benech. Decorated in pastel hues, the Le Salon d'Olivia will become a haven of relaxation where customers can linger to read, chat or drink tea, after a stroll by the sea. Le Salon d'Olivia will be serving meals to guests from 19th May in alignment with the easing of government restrictions, and room service will be available 24/7 from 12th May.
A UNESCO World Heritage Site, and brimming with things to do, Saint-Martin-de-Ré has something for everyone, be it cycling, eating, drinking or relaxing, and Hotel de Toiras offers the perfect base from which to explore.