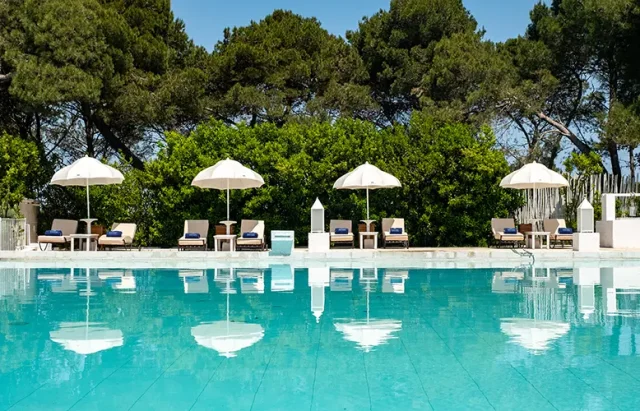 Nestled between Baia dei Turchi, one of Salento's finest beaches, and the picturesque Alimini Piccolo Lake, Baglioni Masseria Muzza is part of the ultra-luxury Baglioni Hotels & Resorts collection. Located just 10 minutes from the UNESCO heritage city of Otranto, this enchanting resort is centred around an ancient whitewashed farmhouse, steeped in history and dating back to the 17th century. Embraced by five acres of breathtaking countryside, it promises an unforgettable experience.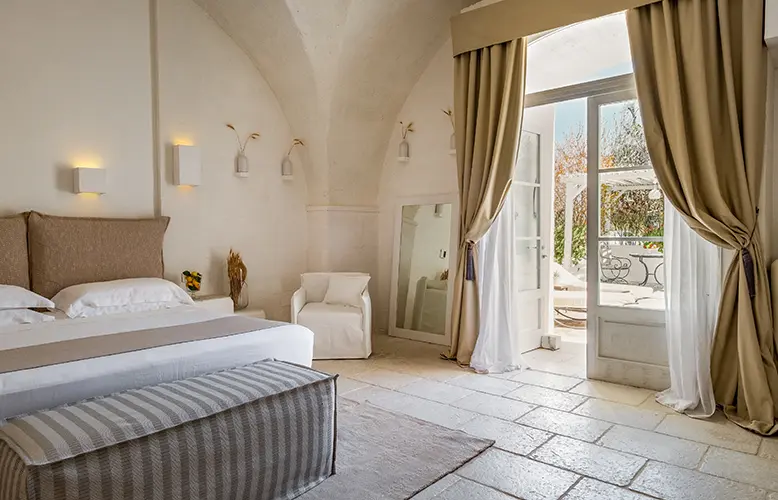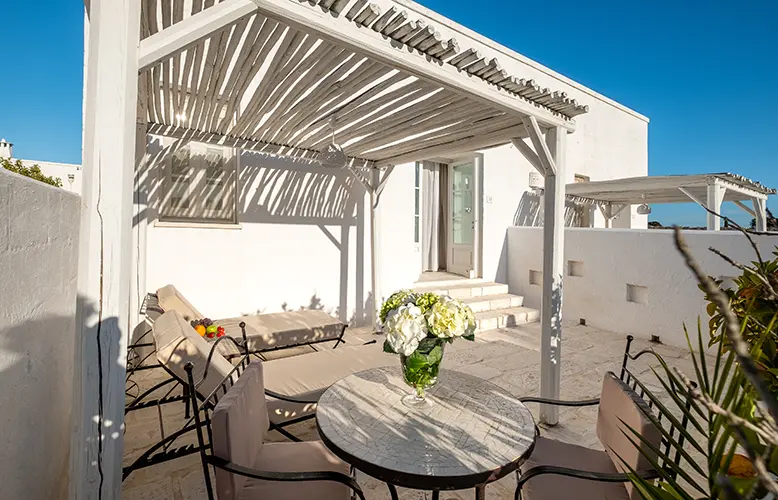 Romantic Hideaway Package
Package includes a two-night stay with a 50-minute spa treatment per person, a romantic dinner for two at La Limonaia Restaurant, a welcome bottle of Champagne with fresh fruit upon arrival and a free minibar during the stay. An enchanting escape for couples seeking a romantic retreat.
Wellness & Relaxation Package
The package includes a 2-night stay, indulging in a rejuvenating 50-min spa treatment per person (for 2 people). Upon arrival, guests will be welcomed with a complimentary bottle of Champagne and fresh fruit, setting the tone for a truly serene and tranquil retreat.
Escape From The City Package
The package includes a 2-night stay and a delightful dinner for two at La Limonaia Restaurant (beverages not included). To enhance the getaway, guests will receive a warm welcome with a complimentary bottle of Champagne and fresh fruit upon arrival. A perfect opportunity to unwind and rejuvenate in this tranquil Puglia retreat.
Puglia
Puglia, located in the southern region of Italy, is a captivating destination that offers a unique and unforgettable experience to travelers. This charming region is renowned for its stunning coastline, featuring crystal-clear waters and picturesque beaches. From the iconic trulli houses in Alberobello to the Baroque architecture in Lecce, Puglia is a treasure trove of cultural and historical gems. Exploring the quaint villages and towns, visitors will be immersed in the rich traditions, warm hospitality, and delicious cuisine that the region is famous for. Puglia's culinary delights include fresh seafood, delectable olive oil, and a variety of mouthwatering pasta dishes, making it a paradise for food enthusiasts.
Beyond its cultural heritage, Puglia boasts an enchanting natural landscape. Visitors can meander through ancient olive groves and vineyards, which contribute to the region's reputation as the "garden of Italy." The region also offers unique experiences like cycling through the countryside, discovering underground caves in Grotte di Castellana, or simply basking in the Mediterranean sun on the exquisite beaches along the Adriatic and Ionian coasts. With its pleasant Mediterranean climate and warm temperatures throughout much of the year, Puglia provides an ideal setting for an unforgettable vacation. Whether seeking a relaxing escape or an adventure-filled journey, Puglia's diverse offerings make it a great destination to visit for travelers of all tastes and preferences.
Read more about the Puglia region in the 2023 Spring issue of DRIFT Travel Magazine.