The Hotels.com Rewards Visa Credit Card was designed with the traveler in mind, offering rewards that transform everyday spending into more rewarding travel.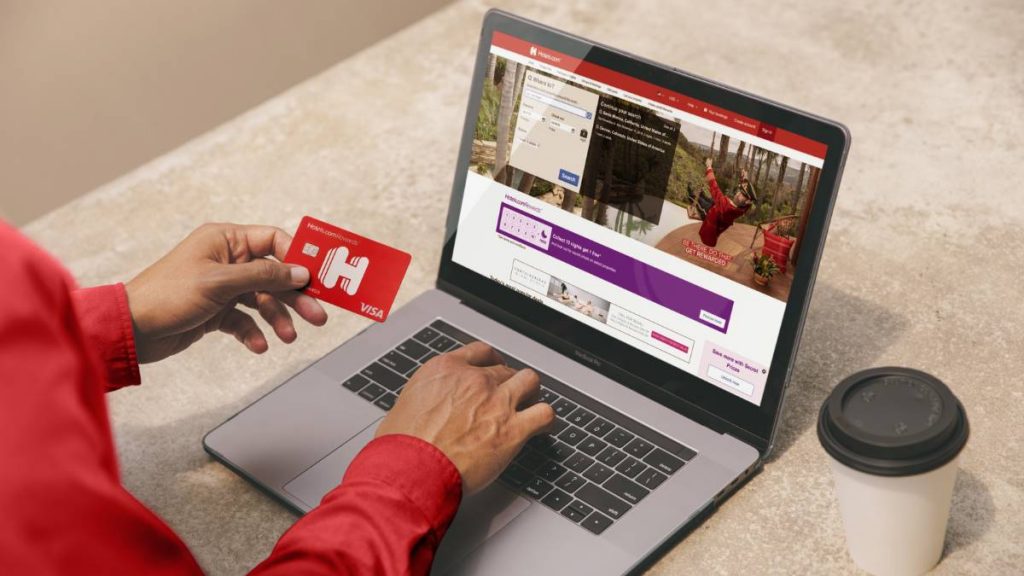 Benefits and features of the Hotels.com Rewards Visa Credit Card include:
Reward Night – As a new cardholder, you'll get a reward night worth $125 when you spend $1,000 on card purchases in the first three months of opening an account.
Getting Stamps When You Spend … And When You Stay

Hotels.com already has one of the most rewarding loyalty programs: for every 10 stamps (a night = stamp!) you receive a reward night  . 
For every $500 spent, you receive a stamp valued at $110. So for example, if you buy $200 worth of groceries, spend $100 on gas, and another $200 on back to school shopping, you've already received one stamp!

No Annual Fee – Refer to Important Credit Terms.
Silver Membership – In your first year as a cardholder, you'll enjoy an upgraded membership level that offers travel perks such as free breakfast, airport transfers, free Wi-Fi and more at select VIP properties.
Cell Phone Protection – Pay your monthly cell phone bill with your card and get up to $600 protection against damage or theft (subject to a $25 deductible). Learn more.
No Foreign Currency Conversion Fee – A great benefit for the international traveler. Refer to Important Credit Terms.
Turn everyday spending into more relaxation, more exploration, more me-time, more we-time, and more glee-time. Cardholders hold the key to unlocking personalized travel adventures with the ability to redeem at over half a million properties in over 200 countries and territories around the world.
"We believe that traveling should be rewarding, and Hotels.com is excited to offer another way for travelers to earn more rewards through their everyday spending," said Ben Blake, Senior Vice President for Hotels.com brand. "The Hotels.com Rewards program already offers freedom and flexibility to redeem reward nights at half a million properties — you're not tied to any one city, chain or room type. And now the Hotels.com Rewards Visa Credit Card helps unlock way more, even faster."
The no-annual-fee card1 is issued and serviced by Wells Fargo. Interested applicants can visit www.hotels.com/creditcard beginning in September of 2020 to submit an online application and start earning rewards. For a list of cardholder benefits, visit www.hotels.com/creditcard.
"We're thrilled to enter into this relationship with Hotels.com, and expand our co-brand business with such an influential consumer travel partner," said Joe Wold, head of Co-brand Credit Cards in Wells Fargo's Card, Retail and Merchant Services group. "Our shared vision for elevating the customer rewards program has resulted in one of the most competitive travel cards in the industry."